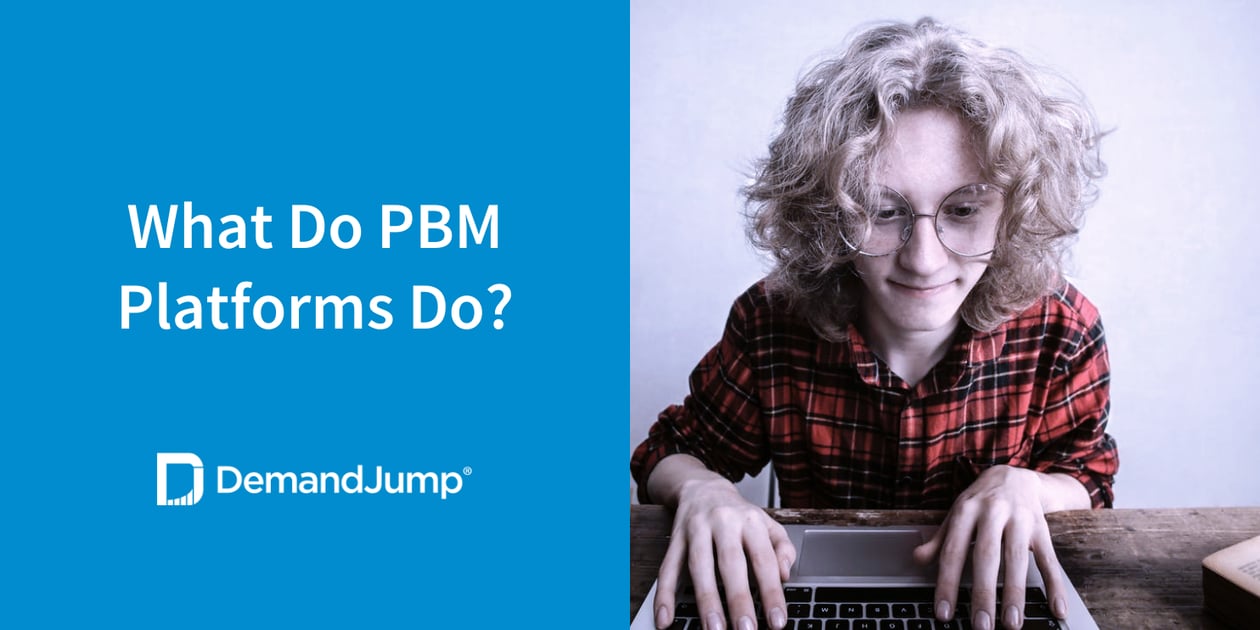 Pillar-Based Marketing (PBM) platforms will show you the exact content to create to increase first page rankings, monitor those rankings, and provide insight on ways you can improve your performance and drive outcomes.
DemandJump is one of the first PBM companies on the market to offer a platform specifically designed for creating a pillar strategy. If you're new to the ways of PBM and have been wondering, "What should I look for in a PBM platform?" keep reading, and we'll get you up to speed.
What Is PBM in Simple Words?
Pillar-Based Marketing is about creating a cluster of content around a centralized topic. PBM is designed this way because one-off blogs or articles rarely perform well on search engine page results (SERPs).
Think about it—when you're seeking expert advice, do you want answers from someone who has only written one thing about a topic? Or do you want to learn from someone who has written a wealth of resources and content that cover every nook and cranny of a topic? We'd take the latter any day. Google and other search engines have recognized this, so their algorithms look at the entirety of a knowledge base to determine who gets the number one spot on SERPs.
Of course, there's always more to the story when it comes to what drives search engine algorithms. Any marketer will tell you that search endive behavior on one day could easily change the next. This is why a PBM platform is such a powerful tool for building up your own database of information. It not only helps with content creation, but it also assists with monitoring your current content and how that content performs over time.
And that's only the beginning of what a PBM platform can do. To demonstrate, we'll show you some of the top features of our own DemandJump platform, allowing you to understand what PBM can do for your business.
What Are the Best Qualities of PBM Technology?
PBM technology offers a bounty of benefits to all businesses, regardless of industry or size. This is one of the best parts of PBM—it can work for anyone! If you use the DemandJump platform for your PBM needs, here is a sample of what you can expect.
Topic Insights
To begin a PBM strategy, you must first identify a phrase you want to rank number one for on search engines. Then you simply type that phrase into the DemandJump platform to generate an Insight Report. This is what our Topic Insights page looks like: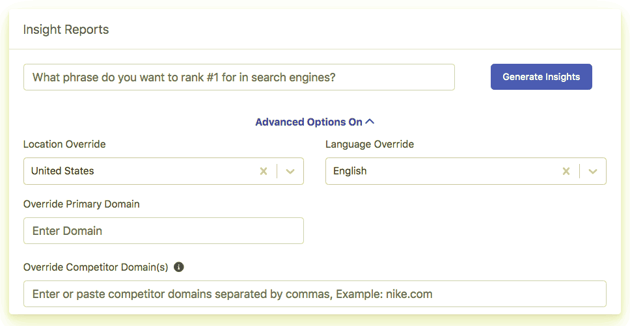 Additionally, you can play with more advanced options for your Insight Report, such as changing the primary location of where your insights should be generated from or the language to be used. This is also where you can enter the domains of your competitors, which will deliver some of the more interesting insights that allow you to pinpoint the best topics to write about.
Competitor Rankings
Speaking of competitors, competitor rankings is one of the most exciting qualities of a PBM platform. You can always measure how your content is doing, but it's even more helpful to see how it's doing relative to the competition.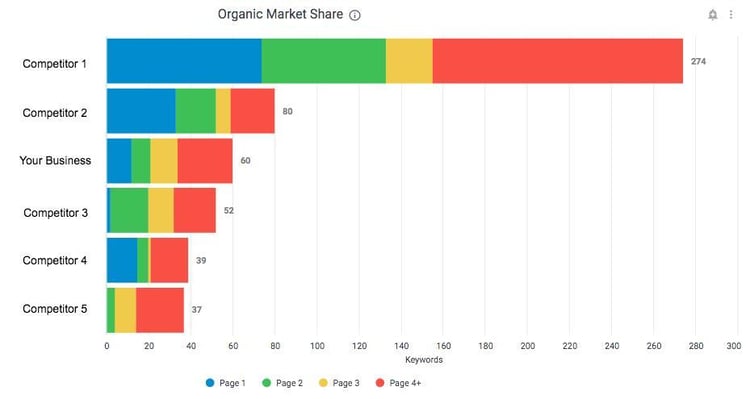 Above is an example of what an Organic Market Share graph may look like in the DemandJump platform. As you can see, we include all competitors you enter into the platform and your own business on the same graph.
We've also made every graph or chart within the DemandJump platform interactive, meaning you can click on any of the lines and colors within the graph to learn more. For example, you might start by checking out your page two rankings to see what small changes you can make to bump those up to page one. By clicking on the green page two results for your business, you'll open a new window with information about all your page two topics and keywords, their estimated search volume, and your exact position on page two for each topic.
As a bonus, we include a DJ Score for every keyword. This is a 1-100 rank score signifying the power of a phrase or question, driven by its connectivity within the network and its page rank. All of this information is designed to help you create the best PBM playbook for whatever topics you'd like to rank on page one for.
Pillar Strategy Management
This is where the magic of PBM happens. PBM is based on creating a unique set of content via a pillar page, sub-pillars, and supporting blogs that all link together in a specific manner. You can learn the ins and outs of each on our own pillar page, Pillar-Based Marketing.
In the pillar management section of the DemandJump platform, you'll encounter an interactive flowchart where you can map out what your sub-pillar and supporting blog topics will be based on your chosen pillar topic. And once you settle on the keywords and questions you'd like to focus on, you can download the data in a variety of formats to share with your team.
Content Briefs
You've checked the competition, determined a pillar topic, chosen all your sub-pillar and supporting blog titles—now it's time to write!
For some, this might be the fun part. For others, this could be the part you've been dreading. Wherever you fall on that spectrum, our automated Content Briefs will make the writing process significantly easier. You can click on any keyword or phrase within the platform, select "Write about this," and you will soon have an entire content outline to get you started.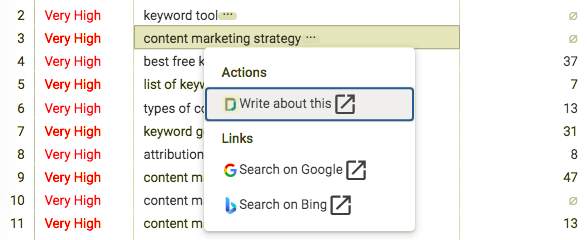 Within each Content Brief, you'll encounter more options to assist with your PBM framework and strategy. For example, you can adjust the Set Content Length slider to pull more keyword options for pieces with higher word counts. If you'd like to designate specific people to write specific pieces, we've included an Assign option to help your team stay organized. And when it comes to the actual writing, you can write within the DemandJump platform or download the Content Brief to use in your word processor of choice.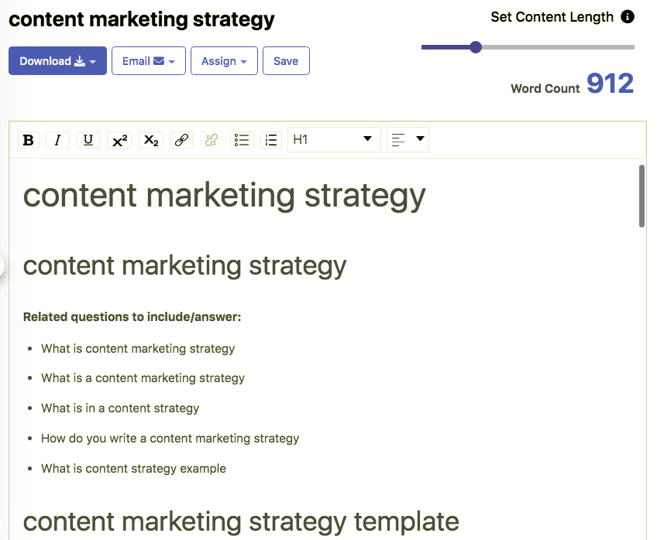 How to Implement a PBM Strategy Successfully—Use DemandJump
To implement a successful PBM strategy, look no further than DemandJump. The above is only a small sample of what our platform can actually do. We continue to see amazing results for all of our clients, and our PBM platform can easily do the same for you!
If you're not convinced yet, we understand—you need proof! Check out some of our Pillar-Based Marketing case studies to see what our PBM platform has helped other businesses accomplish. Or if you'd rather try it yourself, get started for free today!