What Does A Content Marketer Do?
December 23, 2020 •DJ Team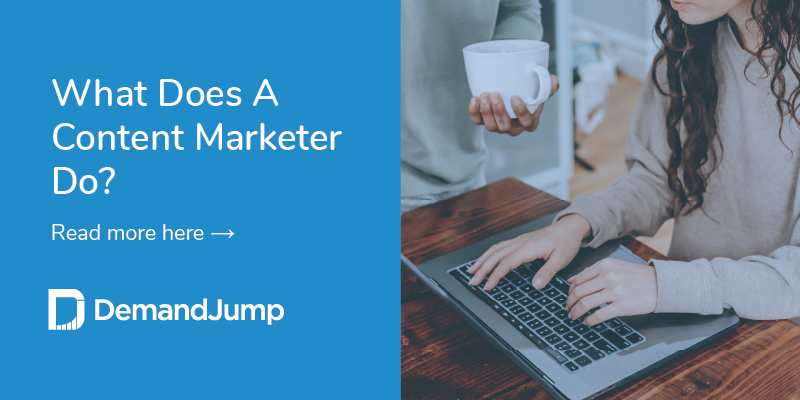 A content marketer is tasked with the role of playing mediator between the business they represent and the interests of a specific audience—and content is the medium to connect the two. It's a balancing act, and, like other marketing jobs, much of their talent is spent thinking about why certain messages resonate with an audience, how content can grow business relationships, and how to ensure a content strategy represents the business as authentic and valid.
To oversimplify the role: content marketers are responsible for planning, creating, and sharing valuable content to grow their readership and relationships to potentially create new business for the company they represent. But it comes down to communication, and we'll explore how this can play out in this role.

How to start content marketing
Content marketers first need to know the lay of the land—how else can you contribute to a field if you don't know what's already happening in the conversation? Any writer will tell you, the first step is to read. The same goes with content marketing. You're exposed to it every day—social media, every time you get online, when you research the best product for whatever challenge you're facing today. Study the content of your industry, study yourself as an audience, and learn to spot those messages and appeals that connect with you—and those that don't.
This process will allow you to see strategies that are successful, and those that fail. In doing so, you're adding tools to your toolbelt, thickening your skin as a content marketer, so when you're tasked with a project or to write a piece of content, the process will be organic, based on your research and not a creative vision. Remember: the job of a content marketer is to understand their audience and provide them with content they'll value, and the pursuit of those goals should be any good content marketer's primary drivers.
Content marketing skills
Content marketing involves different types of content, different means of sharing or publishing that content, and many other content marketing jobs that support, develop, and analyze content marketing campaigns. To be effective, a content marketer has to have a good grasp on the following skills:
Communication
You understand rhetoric and understand that content's purpose is to connect a business with an audience. As a content marketer, you form content that appeals to the audience's interests and showcases a business's product or service as a solution to a problem the audience needs fixed. Easier said than done.
You know how to learn what your audience values, know how to appeal to them, and know how to create content that connects.
Research
You know the importance of getting your hands dirty and looking in-depth for as much information about a topic as you can. You like speaking with subject-matter experts, connecting ideas, and determining the most crucial information an audience will value. You can condense hours of research into content an audience can read in minutes.
Storytelling
You're good at identifying what's unique about a business, an individual, a service or product. Good storytelling creates a hook—it gets the attention of the reader—and gets the audience invested. Most consumers care less about the "what" of a business, and care more about the "why"? Tesla makes great electric cars, for example. But people buy them because Tesla wants to make the best, industry-defining electric car with technology that will change the world. Tell that story.
Digital marketing
Finally, there are some technical elements of content marketing that any writer or creative should learn in order to maximize their potential. Start reading up on search engine optimization (SEO), social media best practices, the ins-and-outs of digital advertising platforms like Google and Facebook, and the basics of email marketing. Learning commonly used software like Adobe products, WordPress, HubSpot, and other digital marketing tools will help you hit the ground running.
Companies you can work for as a content marketer
The question isn't really whether or not a given company has a need for content marketing—the question is whether they hire their own marketers and content team, or if they use an outside agency. Any business worth their salt knows the importance of content development.
If you're interested in becoming a content marketer, know that content creation isn't always about selling a service or product; the role might include a host of different content strategies:
Creating content for government or education

Creating content for social media for nonprofits

Working on political campaigns or legislation

Building public awareness strategies or incentives
Once you understand the vastness of what content is, you'll start to see the limitless possibilities of roles you might find yourself filling.
Content marketer salary
As with most jobs, a content marketer's salary will vary depending on experience, training and skill set, geography, and the company you work for. Most median estimates put content marketers between $40,000-$75,000 annually.
The skills and understanding you develop as a content marketer translate well into more senior content marketing jobs, and you can pull from your background as a content marketer if you plan to work in any capacity of content management, which would put you in charge of a team that includes content marketers.
To push that idea further: become a student of every aspect of content marketing. You'll learn how your work as a content marketer fits into the greater strategy—and your work will be better because of it. DemandJump is a unique online tool that content marketing teams use to better understand what makes their audiences tick and how those audiences are responding to their content—all in one space.
Get Your Free Content Marketing Strategy Report