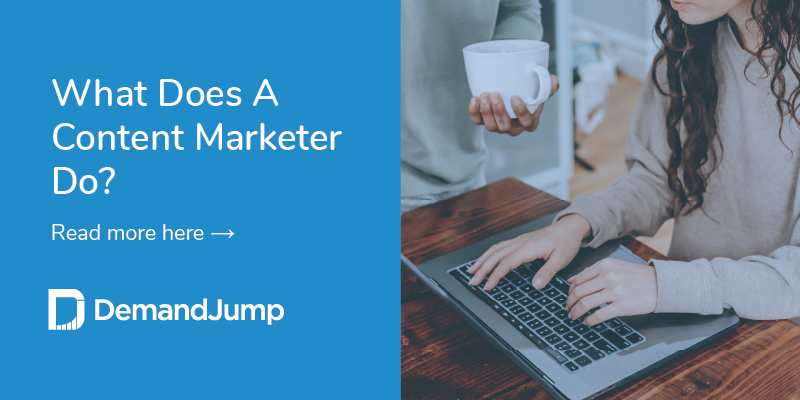 A content marketer is tasked with the role of playing mediator between the business they represent and the interests of a specific audience—and content is the medium that connects the two. To give a clear picture of what content marketing is all about, let's take a look at what marketers should accomplish for each interest group:
What do content marketers want? Content marketers want to create content that connects with their audience, provides value, and ranks on search engine results pages (SERPs).
What does content marketing do for a business?

Content marketing

helps a business sell more of their product or service by:

establishing authority in their industry.
marketing to people who are receptive to their message.
positioning themselves as the solution to common problems.
It's a balancing act, and, like other marketing jobs, much of a content marketer's talent is spent thinking about why certain messages resonate with an audience, how content can grow business relationships, and how to ensure a content strategy represents the business as authentic and valid.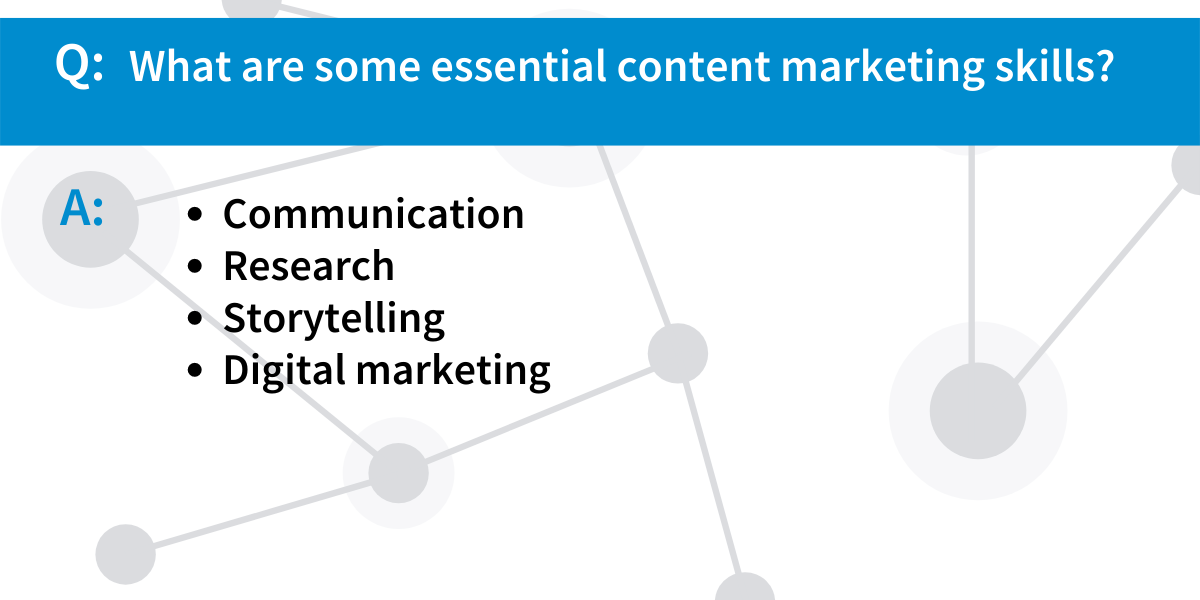 To oversimplify the role: content marketers are responsible for planning, creating, and sharing valuable content to grow their company's audience and relationships to potentially create new business. In this ultimate guide, we'll prepare you for a role in content marketing by answering frequently asked questions like: "What are content marketing skills," and "How do you do content marketing as a career?"
How To Start Content Marketing
So, what do you need to be a content marketer? Content marketers first need to know the lay of the land—how else can you contribute to a field if you don't know what's already happening in the conversation? Any writer will tell you that the first step is to read. The same goes with content marketing. You're exposed to it every day—social media, every time you get online, when you research the best product for whatever challenge you're facing. Study the content of your industry and learn to spot the messages that connect with you—and those that don't.
This process will allow you to see strategies that are successful, and those that fail. In doing so, you're adding tools to your toolbelt and cutting your teeth as a content marketer. When you're tasked with a project or to write a piece of content, the process will be organic, based on your research and not a creative vision. Remember: the job of a content marketer is to understand your company's audience and provide them with content they'll value, and the pursuit of those goals should be any good content marketer's primary drivers.
Content Marketing Skills
You might be wondering, is content marketing a skill, and is it easy to learn? To start, content marketing requires a collection of skills to be done effectively. What skills does a content marketer need? You'll want to become familiar with any techniques that give you a better understanding of who your target audience is and how to provide them with value through your content.
Content marketing involves different types of content, different means of sharing or publishing, and many other content marketing jobs that support, develop, and analyze campaigns. To be effective, develop the following content marketer skills: communication, research, storytelling, and digital marketing. Keep reading to see what qualifications you need.
Communication Skills
You should understand rhetoric and that content's purpose is to connect a business with an audience. As a content marketer, you form content that appeals to the target audience's interests and showcases a business's product or service as a solution to a problem the audience needs fixed. Easier said than done.
You know how to learn what your company's audience values, how to appeal to them, and how to create content that connects.
Research Abilities
You know the importance of getting your hands dirty and looking in-depth for as much information about a topic as you can. You like speaking with subject-matter experts, connecting ideas, and determining the most crucial information an audience will value. You can condense hours of research into content that's easily digested.
You also know the tools that save you time and yield better results. For example, DemandJump's Insight Reports show you exactly which phrases and questions customers (or future customers) are searching. These reports also show you how you are currently ranking for these topics compared to competitors. The best part? This valuable knowledge is also easy to access. You just need to input the topic you want to create content about and list your competitors. And with DemandJump University (free with any account), it's never been easier to learn how to conduct market research that leaves the competition dizzy.
Storytelling Skills
You're good at identifying what's unique about a business, an individual, or a service or product. Good storytelling creates a hook—it gets the attention of the reader—and gets the audience invested. Most consumers care less about the "what" of a business and care more about the "why." Tesla makes great electric cars, for example. But people buy them because Tesla wants to make the best, industry-defining electric car with technology that will change the world. Tell that story.
Digital Marketing Abilities
Finally, there are some technical elements of content marketing that any writer or creative should learn in order to maximize their potential. Start reading up on search engine optimization (SEO), social media best practices, the ins-and-outs of digital advertising platforms like Google and Facebook, and the basics of email marketing. Learning commonly used software like Adobe products, WordPress, HubSpot, DemandJump, and other digital marketing tools will help you hit the ground running.
What Are Content Marketing Manager Skills?
In addition to the skills required of content marketers, managers will need to be able to lead teams and ensure the long-term success of campaigns. Specific skills include: time management, strategic thinking, and interpersonal communication. Effective managers know who can get the job done and trust them to do it while making sure that the moving pieces all come together.
What Are the Roles in Content Marketing?
A content marketing team is made up of an executive, managers, and content marketers. In larger companies, each role will be filled by a different professional and teams can be split up by type of content (blog vs. social media, etc.). In smaller companies, team members will often take on multiple roles. For example, the executive and manager could be the same person, and one content marketer could handle SEO and social media while another works on newsletters and graphics.
In the following sections, we'll break down the responsibilities of each role and what you need to include on your resume to be considered for the job.
What Is a Content Marketer Salary?
The national U.S. average salary for a content marketer was $61,306 in early 2022. The answer to "How much does a content marketer make?" does vary depending on location, company size, and your experience, so be sure to do your research to get the most value out of your career.
How To Be a Content Marketer
As mentioned above, content marketers need to have strong skills in communication, research, storytelling, and digital marketing. You can prove your command over these skills on your resume in two ways.
The first is with experience. What previous positions have you held where you've had to have excellent written communication skills? When did you help a business tell their story? How have you helped spread awareness with digital marketing tools like paid ads or social media? Freelance and volunteer positions count, too, so add those in! It can also help to have samples of your work to show potential employers. If you aren't allowed to share anything from previous jobs, create a portfolio of example blogs (Or infographics or social media posts or videos…) to show the quality that you are capable of producing.
The second way to prove your skill set is with certifications in different marketing techniques. A four-year degree is usually a good idea, and programs like marketing and communications are preferred. However, you can bring experience from any background and still succeed as a content marketer! You can supplement your education with certificates that are specific to certain marketing tools like Google Ads. Another great place to start expanding your skillset is DemandJump University. Free with your account (which is also free to sign up for) our DemandJump University courses explain how to develop a content marketing strategy, how to actually create content, and how to make sure your content is supporting your marketing goals.
Content Marketing Specialist Description
Within the broader category of content marketing are more specialized roles such as content writers and social media managers. You'll encounter these positions as you start researching larger companies, because they'll have the budget for specialized marketers whereas smaller businesses will rely on the same people for social media, web content, and video production.
To get a better idea of what you might encounter during your job search, let's take a look at what social media content marketers are responsible for.
Social Media Content Marketing Job Description
Social media content marketing specialists spread brand awareness and drive marketing outcomes—such as increased ecommerce sales—by using social media platforms like Facebook, LinkedIn, Instagram, and TikTok. Key responsibilities often include:
Creating and scheduling posts for social media platforms
Interacting with target audience through social media
Analyzing engagement and traffic from social media
To see which jobs are available for social media marketers and other content specialists, visit the postings on Indeed.
What Does a Content Marketing Manager Do?
A content marketing manager description in a job listing will often qualify a manager as someone who can identify goals and create and lead strategies to meet them. Content marketing manager responsibilities typically involve:
Researching competitors
Developing content plans to meet specific marketing goals
Creating a calendar for content creation, editing, and publication
To be considered for the job, you'll likely need to meet these content marketing manager requirements (and possibly a few others):
A bachelor's degree, typically in marketing, business administration, communications or a related field
Experience in content marketing and/or team management
Proficiency in content management tools like

Hubspot

or marketing research tools like

DemandJump
How To Be a Content Marketing Manager
You can become a content marketing manager by working your way up in your current team or applying to a company that is accepting external candidates. Ultimately, your experience is what will set you apart from other applicants. If you are seriously considering a position as a content marketing manager, start tracking projects that you are taking a leadership role in. As a content marketer, are you responsible for creating content as well as publishing it? Are you well-versed in SEO, blog writing, social media, and other forms of content? Do your team members look to you for guidance or do you put together organizational documents to make processes easier for everyone?
A brand and content marketing manager can expect an average salary of $103,131 in the United States.
What Does a Head of Content Marketing Do?
The head of content marketing is responsible for answering the big picture questions, like who the target audience is and what strategies will reach them. Marketing executives at top companies can earn an average salary of over $300,000.
What Does a Content Marketing Director Do, and What Does a Content Marketing Executive Do?
When searching for a content marketing executive job description or a content marketing director job description, you'll often find responsibilities that include: developing and overseeing content marketing campaigns, conducting research to identify audiences, and leading idea generation for promotional strategies.
In essence, content marketing executives are at the top of the pyramid where they set long-term goals. Managers then see which strategies can work towards those goals and which team members can get them done. Content marketers are responsible for the creation, delivery, and analysis of individual pieces of content.
Companies You Can Work for as a Content Marketer
You can work as an in-house content marketer or for an agency that provides marketing services to a variety of businesses. Every business has a need for content marketing, so the question isn't "Which type of company can I work for?" as much as it is "How will I connect with businesses to help them with my skill set?"
Keep an eye on our careers page to see what types of jobs are available for content marketers!
If you're interested in becoming a content marketer, know that content creation isn't always about selling a service or product; the role might include a host of different content strategies:
Creating content for government or education
Creating content for social media for nonprofits
Working on political campaigns or legislation
Building public awareness strategies or incentives
Once you understand the vastness of what content is, you'll start to see the limitless possibilities of roles you might find yourself filling.
Take a listen to DemandJump's "Page One Or Bust" podcast for more information on why having a high-quality content marketing strategy with pillar pages is so important. Check out a clip below:
How Can I Find a Content Marketing Job? Become Indispensable with DemandJump!
There isn't a business in the world that wouldn't benefit from brilliant content marketing, but how do you convince teams that you're the one to provide it? One way to set yourself apart from the competition is to have training in specific, cutting-edge content marketing tools like DemandJump.
With certification from DemandJump University, you'll prove that you understand the fundamentals of content strategy, creation, and management. You'll also know how to find keywords that will boost your page rankings and outmaneuver competitors while creating content that engages your audience.
Get Your Free Pillar Strategy Report