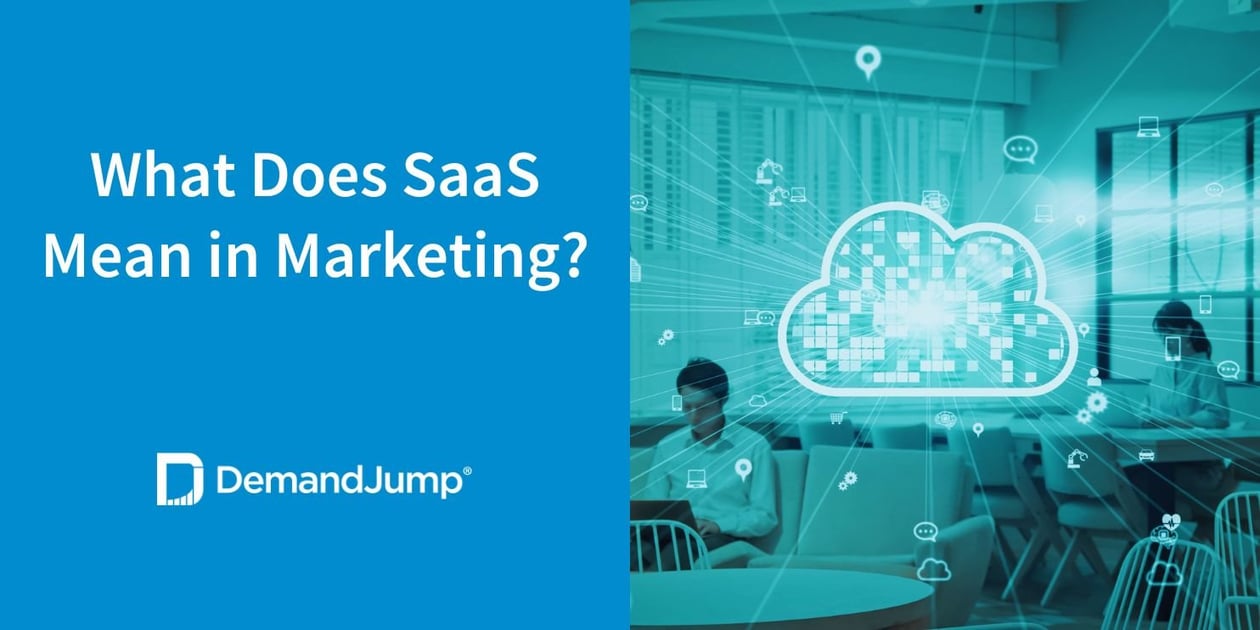 SaaS is an acronym that stands for Software as a Service. As it applies to marketing, SaaS is just a term to describe the kind of product or service that's being marketed—in this case, a software solution. We can further break this down into two categories: business to consumer (B2C) and business to business (B2B) SaaS marketing.
SaaS B2C marketing is intended to target individuals, and the solutions are primarily for consumer use. What is an example of a SaaS company in this category? Common products include Netflix, Spotify, Duolingo, and Facebook.

SaaS B2B marketing

is intended to target decision-makers at businesses with solutions like customer relationship management (CRM) tools, project management solutions, HR platforms, and more. You've probably heard of big-name B2B SaaS products like Hubspot, Slack, Microsoft, and more.
If you're looking to learn more about the basics of marketing for SaaS companies, why it's so unique, and how DemandJump can help, we've got you covered. Keep reading to find out more.
What Is SaaS Marketing?
SaaS marketing describes the marketing of a product or service that a software company sells. But we know that's easier said than done, and that's why marketing SaaS products requires a high-performing strategy. An effective SaaS marketing strategy is made up of a variety of channels and techniques to boost your organization's brand awareness, establish your company as an expert in your field, and bring in qualified leads.
For companies in B2B, SaaS marketing strategies commonly include:
Content Marketing: Both short- and long-form content play an important role in content marketing and search engine optimization (SEO). Content may include pillar pages, blog content, case studies, white papers, eBooks, and more. At DemandJump, our platform helps SaaS organizations develop better content marketing strategies to rank higher and faster on search engines like Google.
Videos: Because SaaS products are, by nature, intangible, video content can be an effective means to show off a SaaS product. This may include how-to videos, demos, customer testimonials, and more.
Social Media Marketing: While LinkedIn is perhaps the most popular channel for SaaS B2B marketing, other channels like Facebook, Instagram, Twitter, or TikTok are other options. Social media is an avenue for both organic and paid marketing efforts.
Email Marketing: Email marketing helps to promote your SaaS solution. For example, you may develop an email marketing campaign around new products or services for existing customers, or you may develop a lead generation campaign for individuals who signed up for a free trial.
Events and Webinars: Events and webinars are an excellent way to bring in current customers and prospects alike. Current customers may enjoy events around best practices and how to get the most out of a SaaS service while prospects may be interested in more introductory webinars.
Paid Ads: There are a lot of options for paid ads, including social media, paid search, display ads, retargeting ads, and more. Paid ads help promote brand awareness, which can be especially useful for newer SaaS companies.

Why Is SaaS Marketing Different?
Of course, every kind of marketing is distinct—no arguments here. But ask any experienced marketer around and they'll tell you that SaaS marketing is just different. We think there are three primary reasons why this is the case.
In SaaS marketing, you're selling an intangible product. Prospects can't pick it up or examine it in the way they might a physical item. That means you've got to build out demos, how-tos, and other kinds of guides that clearly illustrate how your product works and why it matters.
The second S in SaaS is service. That means you're not only selling an intangible product, you're selling intangible services as well. The best SaaS companies have killer customer success departments and services that keep their customers coming back for more, but you've got to communicate why and how your services are top-notch.
A large percentage of SaaS companies operate on a subscription model. That means every year (or however long your contracts are), your customers have the opportunity to churn. To stop them from seeking other solutions, you've got to continually market your products and services to illustrate the return on investment you're providing.

How Do You Supercharge Your SaaS Marketing?
Check out DemandJump. Our data-backed content marketing platform is revolutionizing SaaS marketing with a Pillar-Based Marketing approach to SEO. Built for marketers and by marketers, DemandJump saves you time and takes the guesswork out of marketing. With our Insight Reports, you can:
Automate the SEO keyword research process
See where you're losing out to your competitors
Know exactly what content to create to boost your ranks on Google
Access automated one-click SEO content briefs to help your writers write fast
Ready to find out what DemandJump can do for you? Sign up for a free account to get started!
Get Your Free Pillar Strategy Preview!