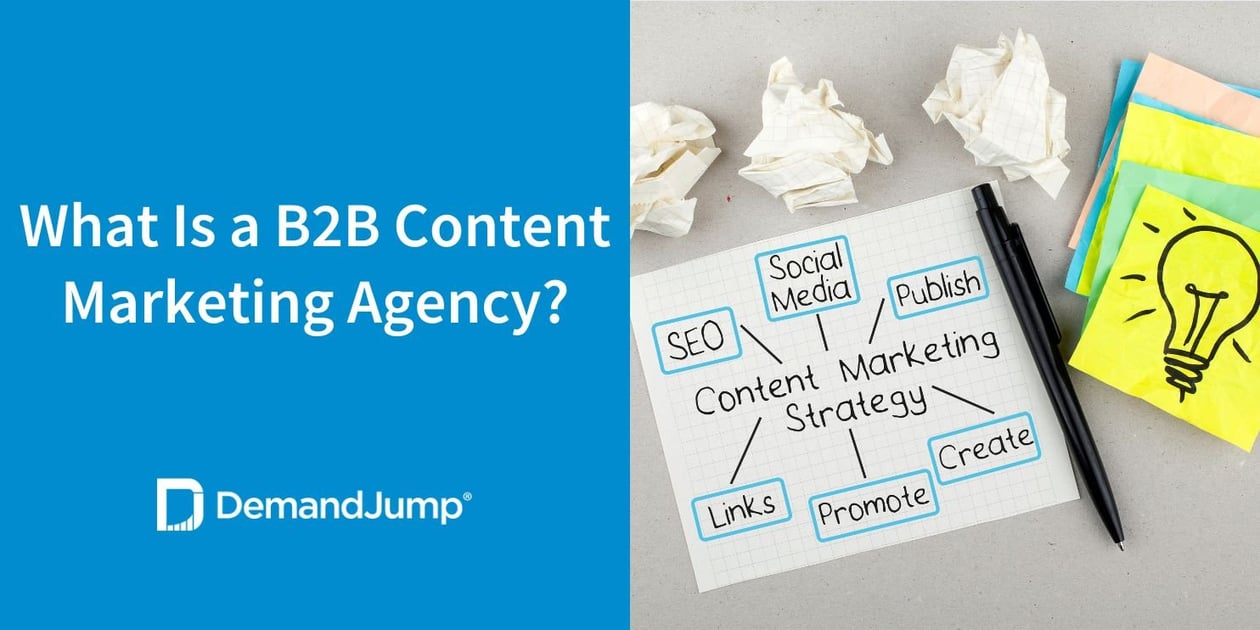 Creating and implementing a content marketing strategy can take up a lot of time, especially for businesses without a designated SaaS marketing team. However, it's necessary to have a stellar strategy so that potential customers can find you. By hiring a SaaS content marketing agency, you can have the best of both worlds: amazing content to share with your target audience and more time to focus on your business.
Never heard of a content marketing agency before or not sure what services they offer? That's okay, because that's what this blog is all about. First, though, you should understand what effective business-to-business content marketing is and what makes good content.
What Is B2B Content Marketing?
Business-to-business (B2B) content marketing is a business's way of connecting with other companies, and decision-makers at those companies, through content. The businesses they target are the ones they want to turn into customers.
The B2B content marketing strategy framework focuses on creating and sharing content that other businesses find helpful. By educating your audience through their content, you can attract potential customers to your website and even persuade them to purchase your services or products.
The key to effective B2B marketing is to write content that your target audience wants. That means using the voice that those businesses use and answering the questions they're asking. It also means creating the kinds of content they consume. Examples of content that your business can create include:
Blogs
eBooks
Podcasts
Social media posts
Webinars
Whitepapers

It's not enough to just create this content, though. You have to create good content—content that will keep your readers coming back for more.
What Makes Great B2B Content?
To write great B2B content, you need to do a few things:
Keep it relevant. Make sure to write about what you know. If you sell workload automation software to other businesses, you shouldn't write about real estate trends. When establishing your business as an expert in a particular industry, you have to create content that shows off your knowledge in that field.
Keep it engaging. That means creating content that speaks to your audience's pain points and offers a solution. You should use language and a tone that your audience can understand and connect with. And you have to make your content readable. When we say readable, we mean taking advantage of white space on the page, bolding important information, and using numbered or bulleted lists. Breaking up your content this way will also make it easier for readers to digest and read on their phones.
Keep it researched. Adding statistics and other research to back up what you're saying will create a much more compelling story. Find reputable sources that know what they're talking about and cite them so that the reader can look at them if they want. You can even use your business's own research in your content to show readers why you stand apart from the competition.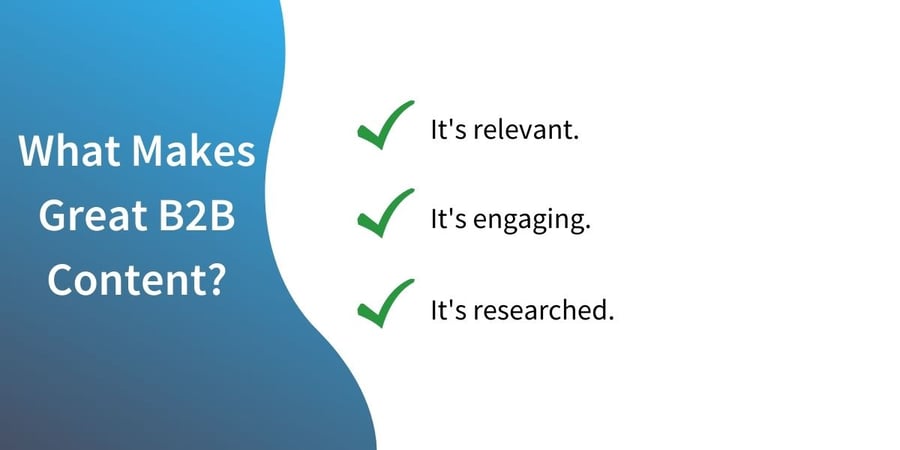 Now that all sounds well and good, but what if your business doesn't have a writer or content marketer on staff? How do you get good content? No worries! You can still create and implement an effective marketing strategy by hiring a content marketing agency.
How Does a Content Marketing Agency Work?
A B2B marketing agency will create a B2B content marketing strategy for your business. Working by your side, they'll take your goals and objectives and come up with a plan for what content you should create and how best to promote it. Ultimately, then, a content marketing agency's goal is to boost brand awareness for your business. This, in turn, can increase organic traffic to your website and generate leads.
Hiring a content marketing agency comes with the added benefit of freeing up time for your team so that they can focus on their areas of expertise. Meanwhile, you get an outside perspective that keeps the ideas flowing about how best to attract customers. It is important to note that some content marketing agencies' primary responsibility is not to write your content. They merely come up with a plan on what to create. However, if your team is in need of writing services as well, some marketing platforms like DemandJump do offer them.
Get B2B Content Ideas Using DemandJump
DemandJump offers content marketing agency services to boost your content to page one of search engines. With our Consumer Insight Reports, our platform will recommend topics for you to write about and keywords to include in your content to get it in front of your target audience. We also created Pillar-Based Marketing, a marketing strategy that will teach you how to link articles together in a way that will create a web of content. This strategy will prove to search engines that you are an expert on whichever topic you want to focus on.
Lastly, if you need help with your writing, we have a team of writers who are certified in Pillar-Based Marketing and can write the stellar content you need to boost traffic and sales. Not sure if you want to commit to hiring a content marketing agency? Try our platform out for free and see the difference we can make to your marketing strategy.