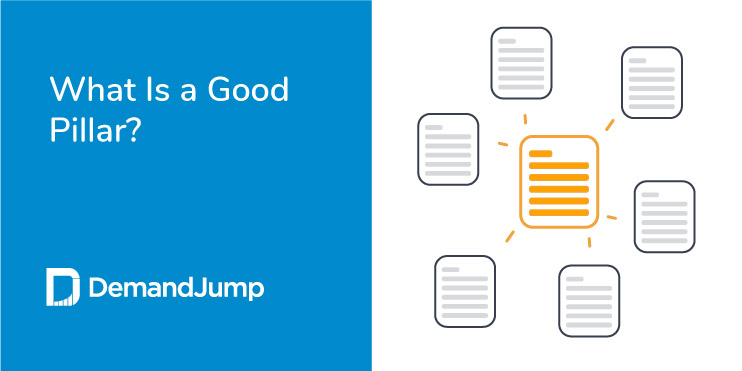 As marketers, we all want to get as many eyes on our site as we can. More visitors results in more marketing qualified leads (MQLs), which results in more customers. But what's the best way to get more folks to your site? With good content. And there's the challenge. The fact is, nearly 91% of content on the web doesn't get any traffic from Google.

Let that sink in: For every one piece of content that's being published that actually gets some traffic, there are nine others that won't see any.
If you don't like the sound of those odds, we've got some good news. Developing an SEO pillar page, and a keyword strategy to go along with it, can help ensure your content—and your product or service—are seeing the light of day. But what is a pillar page and how do you develop one that works? Keep reading to find out.
What Is a Pillar Page?
A pillar page is a piece of content, but it's not just any piece of content. A pillar serves as the ultimate main event for any given content cluster. Think of your pillar as the highest-level, longest piece of content you'll write about a topic—typically about 3,000 words in length. That pillar will then be supported by support pillars (1,500+ words) and blogs (750+ words) that'll cover subtopics and get into the nitty-gritty and finer details of your topic.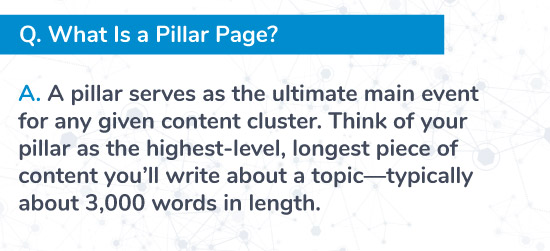 Let's look at some pillar examples for more clarity. Say you're a low-code mobile app company. One of your pillars might be about low-code apps, and you'll cover as much as you can about that topic. Then, you might have support pillars and blogs breaking down detailed topics like mobile app development, apps for iPhones, apps for Android phones, and more.
Need a fleshed-out example? Check out our SEO keyword research pillar. You'll notice that it has a ton of headers, with links to all the support pillars and blogs on the side. Feel free to use this as a content pillar template of sorts, showing you just one way to set up your pillar page.
How Do I Make a Pillar Post that Works?
In other words, how do you write a great pillar page that engages your audience and achieves your goals? Well, it's roughly equal parts art and science.
The technical side is making sure you're using the right keywords and research-backed information to make yourself an authority. Then, the creative side comes in to make sure you're writing content that keeps folks on your page and reading.
Here are a few tips on how to write a pillar page that's great.
Identify the Right Keywords: Your pillar isn't going to go anywhere if you don't find the right keywords. A good pillar starts with thorough keyword research to develop a pillar content strategy that includes terms searchers actually type into Google and other search engines. At DemandJump, this is our specialty. Our platform helps you develop a full-blown strategy, find the right keywords, and know what to write about.
Use Your Keywords Strategically: It's not enough to simply put the right keywords in your pillar—a good pillar does it in a way that makes sense to your reader. Organically work in your keywords in a way that sounds natural. Avoid keyword stuffing. Use long-tail keyword questions as headers (H2s and H3s) as much as possible to make your content skimmable—this is also a great way to set up a pillar page outline before beginning to write!
Become an Authority that Educates: At the end of the day, your pillar page is all about becoming an authority on the topic you're writing about. Once Google sees you as an expert, your pillar page SEO will only increase. That means putting in the research, adding clear pain points and questions your audience has, and generally trying to inform them. Good pillar pages can have some marketing about your own product or service, but the focus should be on educating, not selling.
Keep it Clear: Ever read Finnegans Wake? It's commonly regarded as one of the most difficult books to get through. When it comes to content marketing and developing a good pillar, you're not James Joyce. Your content should be easy to skim, read, and understand. While some humor, metaphors, and other devices can absolutely be used (see our next point), your content must make sense. Full stop.
Make it Interesting: Ok. After all that, there's one more big thing you have to remember to develop a great pillar. If you want to keep folks on your page, you have to keep them interested. Here's where your creative side can really shine. Throw in a witty aside. Use statistics. Make sure your content speaks to your audience's specific needs and wants—and show that you get it. Make a joke here or there. In short, find a way to make sure they stay with you from the title to your call to action (CTA).
Ready to Create Great Pillar Pages?
Check out DemandJump. Our platform was made for marketers by marketers to help brands increase their revenue while minimizing the costs. Our platform is designed to show you the exact content to create to increase your first-page rankings on Google and drive better outcomes. Interested in learning more?
Create your free account today to start getting insights to build better content fast.
Get Your Free Pillar Strategy Preview!