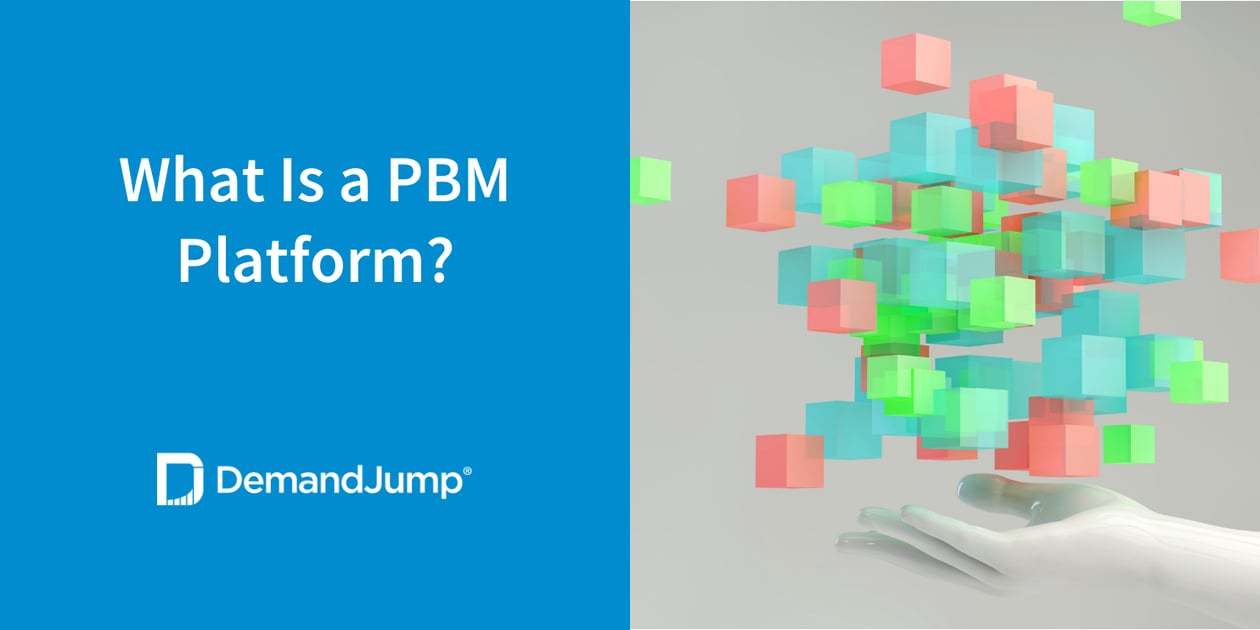 Successful marketing is all about connecting with your audience in a meaningful way. Over time, companies have adopted all sorts of strategies and approaches to try and engage with customers and clients. Naturally, some techniques are more effective than others. At DemandJump, we developed and coined the latest and most effective content marketing tactic…Pillar-Based Marketing (PBM). If you haven't heard of PBM yet, don't worry. We're confident that you'll be seeing it just about everywhere in a matter of time.
Pillar-Based Marketing is an organic written content strategy that seeks to make your company the authoritative voice on your subject area. The idea is to create key-word driven content that addresses every search query your audience has in a series of articles ranging from broad to specific. Then, through a set of publishing and linking tactics, the power of SEO drives your content to the first page of Google. Once you are on page one, the traffic comes in and you let the content do the heavy lifting of educating, selling, and converting.

While you can technically create and execute a PBM campaign on your own, it is easier and almost certainly more effective to enlist help from top PBM platforms. You may be wondering "What should I look for in a PBM platform?" That is precisely what this blog is here to answer. We take a look at the basics of PBM, Pillar-Based Marketing examples, and how to use a PBM platform to get started today!
How Do I Start PBM Marketing?
To get started with PBM you need to understand a few terms and ideas. The first is the hierarchy of content that goes into a pillar plan. Specifically, there are three types of content in PBM: pillars, sub-Pillars, and supporting Blogs.
Pillars
Pillars are the biggest and broadest piece of content you will write. They will focus on the exact search term you are trying to rank for. This could be anything from SaaS Marketing to Financial Advising to 5 Gallon Buckets. Whatever your area of expertise is, that should be your pillar topic. Pillar pages should be around 3,000 words long and include around 20 SEO keywords and questions.
Sub-Pillars
Sub-pillars should be about 2,000 words and pick up where your pillar left off. A sub-pillar will get into more depth on a few topics that the pillar page only scratched the surface of. A sub-pillar should include around 15 keywords and questions.
Supporting Blogs
Supporting blogs start to really hone in on specific and nuanced topics within your pillar subject. They should be around 750 words and answer niche questions. Supporting blogs will include 8-10 keywords.
Now it's worth noting that we could say a lot more about each piece of content in a pillar plan. Instead we just gave a brief overview. So, if you want to learn more about any piece of content, be sure to check out our other blogs on the subject.
Aside from understanding the actual content itself, you also need to know how it all works together. For each pillar, you need at least three sub-pillars and three supporting blogs that all link back to the pillar. Additionally for each sub-pillar you need at least three supporting blogs which will link back to their corresponding sub-pillar and the pillar itself.
When you have all of your content ready to go, publish it in one large batch. Altogether, your mix of keywords, content types, linking, and mass publishing will signal to Google that you are an authority on this subject.
What Are PBM Tools In Marketing?
Among the most useful PBM tools is a PBM platform. Essentially, a PBM platform is software that helps you with every step of the PBM strategy. For example, DemandJump is a PBM platform that provides you with tools like:
Insight Reports
Content Briefs
Pillar Planning
Competitor Rankings
Performance Analysis
With all of these tools (and more) DemandJump helps you create your very own PBM plan, and actually execute it from creation to publishing. Our reports and briefs provide you with the exact keywords your audience is searching for. Our pillar planning feature helps you decide what topics to write about as a pillar, sub-pillar, or supporting blog. With our performance analysis and monitoring you can see how your pillar stacks up against your competitors and understand exactly where you are ranking on Google.
While these tools are great, you may still have a couple of questions. In our experience, DemandJump customers who are hesitant to dive right in usually ask:
Do I Need a PBM Platform?
Technically, you don't need a PBM platform, but it sure does make things a lot easier. With a good PBM platform you can take the guesswork out of content creation by knowing exactly what to write about and exactly what keywords to include. You also save time and headaches because a good PBM platform (like DemandJump) does the keyword research for you. Plus a PBM platform can make it easy to quantify your ROI on marketing spend.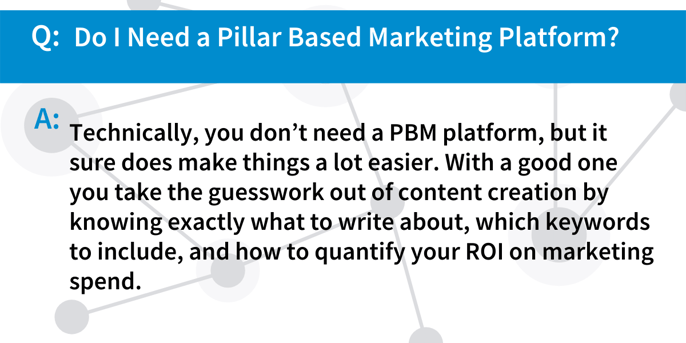 How Do I Choose a PBM Platform?
As for how to choose a PBM platform, in our opinion that's a pretty straightforward answer (for a couple reasons)… just choose DemandJump. In the spirit of full transparency, at the time of writing this, DemandJump is the only PBM platform on the market. But like we said earlier, because PBM is so effective we fully expect other SEO and marketing companies to enter the competition quickly.
More importantly though, you should go with DemandJump because we are truly obsessed with Pillar-Based Marketing. Plus we are living proof of its efficacy. We have all the tools you need (and then some) and a price point for everyone. With our PBM platform, you can:
Know exactly what content to create
Easily find exactly what keywords to use
Track your results as your rankings skyrocket
Get support at every step of the way
And if you need any more convincing, feel free to see what companies use PBM on our website. Just click the button below to get started for free today!