The marketing world is fast-paced, competitive, and ever-changing. With an unprecedented amount of content being published every day, how can companies secure a spot on page one? The answer: pillar-based marketing(PBM). Don't believe us? Our DemandJump customers see an average ROI of 229% after just 60 days of using our PBM platform. Who would turn down this kind of ROI?
In this guide, we'll explain why the PBM marketing strategy works so well and show you how the DemandJump PBM platform pushes your content to page one and in front of your target audiences.
How Do You Use PBM?
In the past marketers have relied on backlinking, SEO, and keyword stuffing techniques. More often than not, these methodologies produced mediocre results. In short, guesswork simply doesn't cut it anymore.
Pillar-based marketing is a targeted approach, rooted in providing content that delivers relevant information and solutions to your target audience's problems. The PBM strategy casts a wide net of searches and properly aligns your marketing efforts with the exact information your target audience is looking for. Here's a visual representation of how it's done.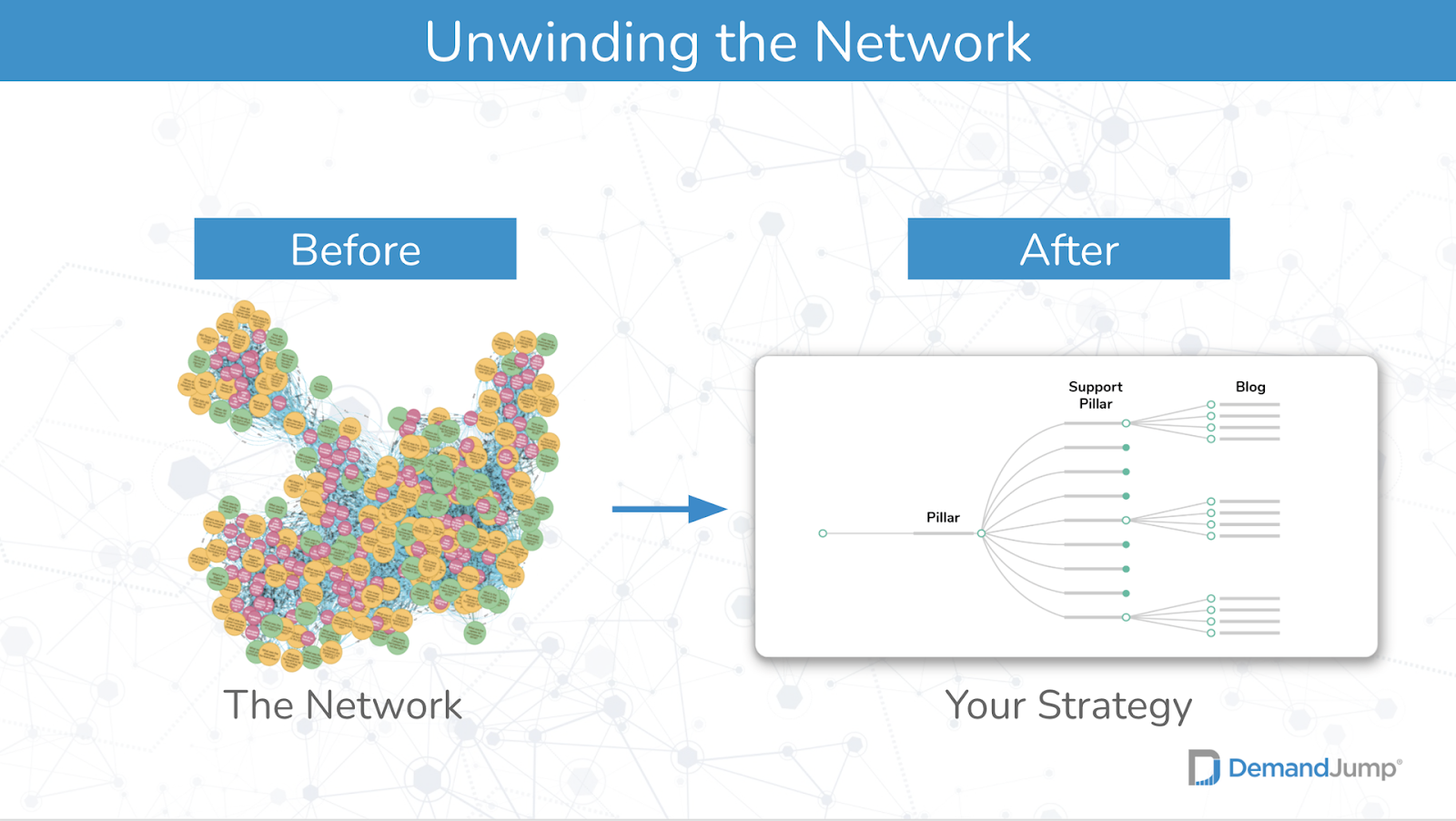 First things first, what is a PBM platform? Currently, DemandJump is the first and only PBM platform available. Using complex AI, our tool is designed to assemble the world's search data, develop networks of customer touchpoints around your chosen topic, and tell you exactly what content to create.
The DemandJump PBM platform enables you to create a network of content based on a specific topic your customers are interested in. This content ecosystem then works to establish your brand as an authority on a specific topic, boosting organic traffic and generating more leads. Thus your PBM strategy is born.
There are three main components of a PBM content strategy generated by the DemandJump PBM tool:
Pillar Pages
Your pillar page is the first and largest piece of content in your PBM strategy. A pillar page is around 2,500-3,000 words in length, and provides a broad overview of your chosen topic. Regarding the title of your pillar piece, you should choose a short-tail keyword based on the recommendations from the DemandJump platform.
Sub-pillar Pages
After you create your pillar page, your sub-pillars are next in line. Sub-pillars are 1,500-2,000 words in length and describe a key topic from your pillar in more detail.
Your sub-pillar topics are also generated by the DemandJump platform and are keywords related to your broad pillar topic.
Supporting Blogs
Lastly, you have your supporting blogs. The titles of your blogs are long-tail keywords again generated by the DemandJump platform. These should be 650-750 words in length. Oftentimes blogs aim to answer commonly searched questions related to your pillar and sub-pillar topics.
Your complete pillar strategy will include 16 pieces of content total.
1 Pillar Page
3 Sub-pillar Pages
12 Supporting Blogs
In order to create a proper content network, all of this content should be linked together. Every sub-pillar should link back to the pillar page while each blog should link to both its corresponding sub-pillar and the pillar page. One last thing to note, you should not utilize keywords that are the title of any supporting blogs within your pillar strategy in any other piece of content within that plan.

What is a PBM example?
We know all of this might sound complex at first, but it's actually quite simple. Here's an example of what a PBM strategy template should look like:
Topic: Wedding dresses
Pillar: Choosing a wedding dress
Sub-pillar 1: Wedding dress fabrics
The following blogs link this first sub-pillar and the pillar
Blog 1: How to choose the right veil to match your wedding dress?
Blog 2: Who do you bring when trying on your wedding dress?
Blog 3: How do you choose bridesmaids dresses?
Sub-pillar 2: Classic wedding dress styles
The following blogs link this second sub-pillar and the pillar
Blog 4: How do you find an affordable wedding dress?
Blog 5: How do you determine your wedding dress style?
Blog 6: What are some of the most famous wedding dresses?
Sub-pillar 3: Modern wedding dress styles
The following blogs link this third sub-pillar and the pillar
Blog 7: What wedding dress styles are popular now?
Blog 8: What are popular non-traditional wedding dress styles?
Blog 9: How to wear a pantsuit instead of a wedding dress
Pillar: Choosing a wedding dress
The following blogs only link back to the pillar
Blog 10: What's an appropriate amount to spend on a wedding dress?
Blog 11: How do you know what wedding dress to choose?
Blog 12: What do you do when you can't decide on a wedding dress?
Why Do You Need PBM?
Although we could go on and on about how great PBM is, here are just a few of the many benefits PBM has to offer:
Lower cost-per-click for paid search.
Higher domain authority, making it easier for new content to rank higher faster.
Increases in qualified leads.
Lower cost per lead.
Tangible ROI for traditionally difficult-to-quantify tactics like SEO and content marketing.
As the only PBM vendor, and leading source for PBM knowledge, DemandJump can help you achieve all of these things and more. Built by marketers, for marketers—our platform is primed and ready to help companies successfully scale the constantly evolving world of marketing. If you're eager to learn more, check out our totally awesome and completely free pillar-based marketing course.