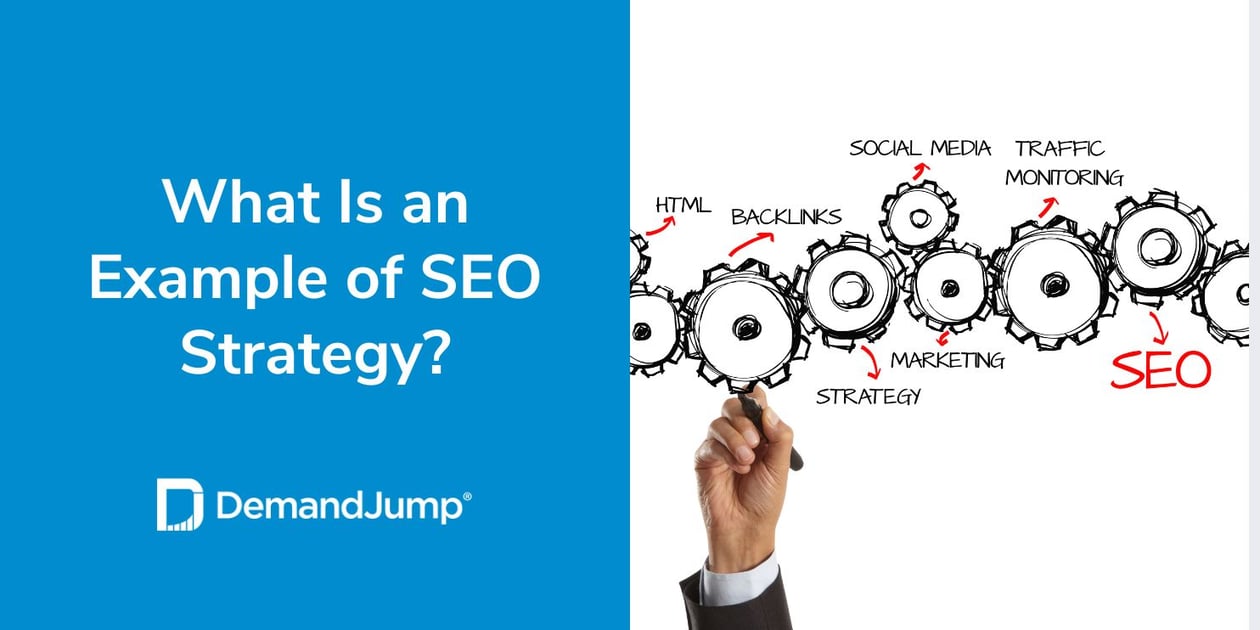 An example of a good SEO strategy uses the four types of SEO techniques—on-page, off-page, technical, and local—to improve a website and move it up the search engine results pages (SERPs).
On-Page - Helpful website content and thoughtful keyword usage are the main cornerstones of on-page SEO. Other prominent players in the on-page SEO game include image optimization, URL formats, internal linking, title tags, and meta descriptions.
Off-Page - Social media marketing, backlinks, guest blogging, podcasting—anything you do off your website to improve your website's organic traffic is considered off-page SEO.
Technical - Technical SEO gets into the nitty gritty of your website's back end. Adding structured data to your site, increasing page loading speeds, and improving mobile-friendliness are all prime examples of technical SEO.
Local - Businesses that rely on local demand and foot traffic need to consider local SEO. If that's you, make sure you have a Google Business Profile and keep your contact information consistent across the internet. You can also gear your content toward local news, trends, and keywords.
But what does an SEO strategy look like in practice? Let's explore how businesses are using SEO strategies out in the wild.
Examples of Companies Using SEO Strategies
Below are two prime examples of how top companies are using SEO strategies to boost their presence on search engine rankings. Even though all businesses have their own unique goals, there are still valuable and applicable lessons to be learned from these examples.
1. Allrecipes's Structured Data Earns Enticing Google Preview Boxes
You want to make it easy for search engines to understand your website. This practice is made possible by structured data, as it defines everything on your site using a standardized organization method. Many website creation platforms will structure your data automatically, but it's always good to check. You can use the Schema Markup Validator to see how your website data is structured.
What is a good SEO strategy using structured data? Allrecipes, one of the top recipe resource websites on the internet, is an excellent example. In the diagram below, you can see on the left the Allrecipes featured snippet Google shows as a top hit for "one bowl chocolate cake." Google includes the highlights of what bakers want to know before starting a recipe, like a drool-worthy chocolate cake photo, the total time it will take, and a general idea of the ingredients.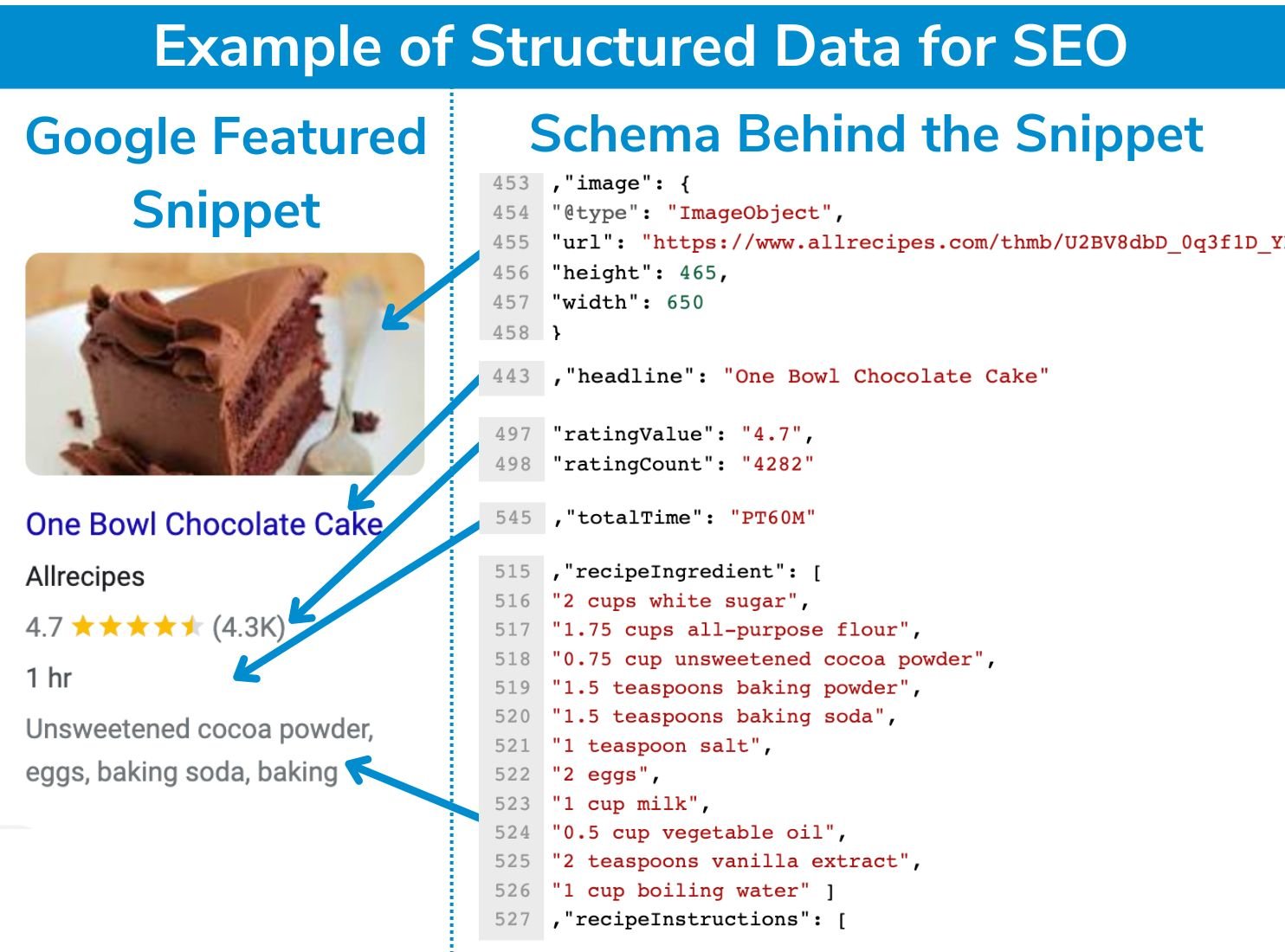 Data from Allrecipes and Schema.org, 2023.
On the right are screenshots pulled from Schema Markup Validator demonstrating the schema Allrecipes used to mark this information for search engine web crawlers to understand. By doing so, search engines can display this information in an enticing way, pulling clicks from folks who are sick of doing dishes but still want chocolate cake.
2. Planhat Uses SEO Techniques and Tools to Increase First-Page Rankings with Helpful Content
Google is constantly updating its algorithms to promote content that is clearly written by humans (versus AI-created) and helpful to readers. The team at Google made this clear with their 2022 "helpful content update," which directs that content writers concentrate on two goals.
Write with a people-first mindset. Focus on the value your content brings your audience while providing a satisfying experience.
Don't write for search engines. Practices like keyword stuffing, writing without expertise, and simply restating what's already on the internet will only hinder your content's performance.
Planhat, a Software-as-a-Service company with a customer platform, designed an SEO strategy that aligns well with this Google update. Through helpful content creation, Planhat increased its total keyword search engine rankings from 37 to 283 in only a couple months. Two things were vital to this growth—Pillar-Based Marketing (PBM), a content marketing strategy, and DemandJump, a PBM SEO keyword research tool.
PBM involves writing a content network around a particular topic that a business would like to rank highly for on search engines. All the pieces are written around related short- and long-tail keywords to increase a brand's authority on a topic. The types of content include 750-word supporting blogs, 2,000-word sub-pillars, and 3,000-word pillars, with the blogs linking up to the sub-pillars and pillar, and the sub-pillars linking up to the pillar.
Did we lose you? We know it sounds confusing at first, but we promise it's quite straightforward—check out this diagram below for a better understanding.

For Planhat's strategy, the chosen pillar topic was "Net Revenue Retention," as this is one of the business metrics their platform monitors. They used DemandJump to build a pillar plan based on keywords they felt spoke to their audience. A few examples of SEO keywords they used as titles for pieces in this PBM plan include:
"Net Revenue Retention" as the pillar title.
"Gross Revenue Retention vs Net Revenue Retention" as a sub-pillar title.
"What Is the Difference Between Gross and Net Retention?" as a blog title.
While all of these keywords may sound similar in subject, that's also kind of the point. Not everyone searches the web for information the same way—one person may search "gross revenue retention vs net revenue retention," and another may search "what is the difference between gross and net retention?" With a PBM strategy in play, Planhat offers valuable information for either way someone searches.
After publishing this network of content on their website at the same time (which is a PBM best practice), Planhat saw a healthy increase in their keyword rankings. Before posting this new content, they had about 37 keywords ranking on their website. After posting, their total rankings went up to 283 in about two months, which you can see in this graph pulled from the DemandJump platform.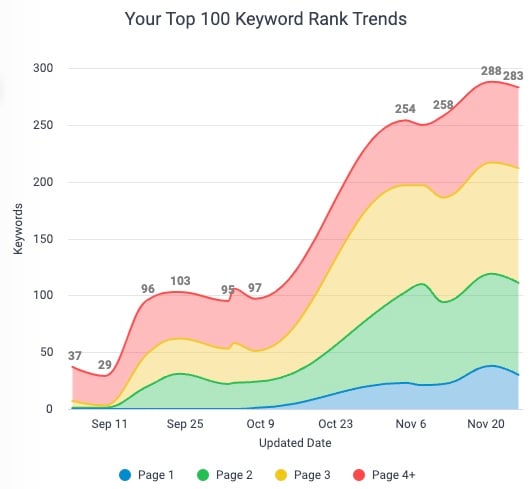 How Do I Write an SEO Plan with DemandJump?
If you'd like to implement PBM as your next SEO strategy and see these results for yourself, try DemandJump. We understand that helpful content is only one part of a well-rounded SEO strategy—but according to the algorithm overlords at Google, it's an important piece of the puzzle.
To get started, try our platform for free by clicking the button below. No pressure. We know our platform gets incredible SEO results time and time again for our customers, and it can do the same for you.