What is Content Marketing in Digital Marketing?
November 24, 2020 •DJ Team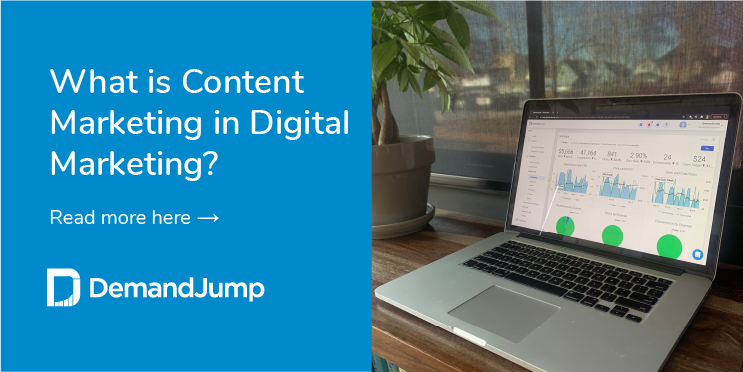 Digital marketing is all about connecting with your audiences on the internet. One of the best ways that marketers have found to connect to do this is through content marketing. While it should fall under the overall strategy you've built for digital marketing, content is a beast all its own, and requires planning and thought. So what is content marketing in digital marketing? Let's take a closer look and learn how it fits into the larger scheme of digital.
What is Content Marketing?
Content marketing is another means for providing information to customers and audiences, but it serves a lot of purposes within the realm of digital marketing. In simple terms, content marketing is the creation of collateral and other informational materials, and the distribution of them through various online networks. And above all, content marketing should create some kind of action. A CTA, or call to action, is usually found at the end of any piece of content. If the content worked, then ideally your reader will do what you ask, whether it's to click through and send an email, or just read another article.
Content marketing—or at least good content marketing—needs to be a lot of things. First, it has to be informative and relevant to the person you're serving it to. You want them to interact with it, be engaged by it, and find it helpful. Maybe it solves problems for them. Whatever it is, it needs to mean something to the reader.
Second, it has to serve some kind of goal. Maybe businesses use content just to raise awareness of their brand. Others use it to establish themselves as thought leaders in an industry by sharing insights they've gleaned from the work they do. Or you're trying to show up on page one of search engine rankings when your ideal customers are looking for help. You get to define what goal you're trying to achieve with the content you're creating. It takes trial and error, but content marketing pushes you forward.
Third, it really helps if the content you create is entertaining—at least on some level. You're asking people to engage with what you're creating, and we love to be entertained. If we're being educated while being entertained simultaneously, all the better. Make your content something people really want to watch or read, and you'll find it usually performs better.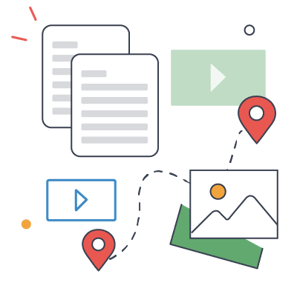 Types of Content Marketing
The best way to understand content marketing is to see examples of it. The real beauty of content marketing, though, is that it really knows no bounds. If you can create something in some form of media, and then get it in front of your audience, you're content marketing.
One of the best known content marketing types is the humble blog. These articles that live on your website are an opportunity for you to share expert information, relevant stories, or highlight your team or coworkers. They provide SEO value for your site, and can attract potential customers to your brand.
The next logical step from a blog is a video. You're still able to share that valuable information, but you're putting yourself (or someone you trust as a face of your brand) in front of your customers. Adding in the element of personality and voice while still providing quickly digestible information is valuable to people who would rather watch than read.
Customers love to know that other people love your product or service too. For that reason, case studies are a prime piece of content that are easy to produce. They look at a problem a customer had, and explain how you were able to solve it.
Infographics add a visual element to otherwise quickly digestible bits of information. Often based in numbers or data, they're an engaging way to spiff up information that people otherwise may simply glaze over.
Whitepapers, ebooks, emails, how-to guides, podcasts—the list is nearly endless. The most important thing is to meet your audience where they are, and produce content specifically for those channels. You can look at other channels as well, and you may see benefits from them, but don't expect someone who spends half the day on YouTube to come read a long-winded ebook.
How to Do Content Marketing
Content marketing is so incredibly accessible. It doesn't matter if you're a marketer by trade or anything else. You can create content. Granted, you can't create it without some sort of strategy, but there are simple steps to take to get you there.
First, find where your audience is. Do they spend their time on YouTube watching how-to videos, or do they read lengthy instruction manuals? Create content for the places where they're already going.
Next, create a list of topics you can talk about. Start with questions you get frequently asked by customers or clients. Move on to relevant things in your business that only an expert would know how to do, or that are interesting.
Finally, ask for what you want. Want them to share your blog post? Fill out a form for a free consultation? Stop into your store? Use a clear call to action at the end of your post that asks for what you're after. Never expect someone to simply do it on their own. You're far more likely to get the action you want when you ask for it.
The primary purpose behind content marketing—like any marketing—is to generate leads and drive sales. Want to know which content is driving people into your pipeline and closing revenue? DemandJump connects marketing and sales data to help you find what's working. That way, you keep creating successful content, and keep driving sales. Sign up for a free, seven-day trial of DemandJump today to see for yourself.
Get Your Free Content Marketing Strategy Report