Simply put, Pillar-Based Marketing (PBM) is the future of the digital marketing landscape. PBM is a unique growth strategy that is used to align content marketing and demand generation tactics with the search behavior of prospective customers.

PBM increases web traffic through highly-targeted content designed to rank high on search engines quickly. This will provide users with a self-service discovery experience within a brand's area of expertise. In the past, your organization may have created content or marketing campaigns around what you think your audience is looking for. PBM makes guesswork a thing of the past.
What Does PBM Mean for Marketing?
So, how will PBM change the world of marketing as we claim it can? Primarily by how PBM boosts the performance of all other marketing efforts, including the old and popular Account-Based Marketing (ABM) that most companies are familiar with and use. Where ABM focuses on creating a personalized buying experience for a set of high-value accounts, the PBM framework assists ABM by placing the focus of written content on high-value keywords and questions for written content to establish your company as an authority on a subject. These efforts can help with some of the heavy-lifting that ABM does for high-value potential customers. Think of PBM as what gets the customer in the door, and ABM pertaining to all the efforts that lead to that door closing with a sale.
This framework means when your target audience searches for an answer to a question, or hopes to gain deeper insight on a topic, your content will bring them to you.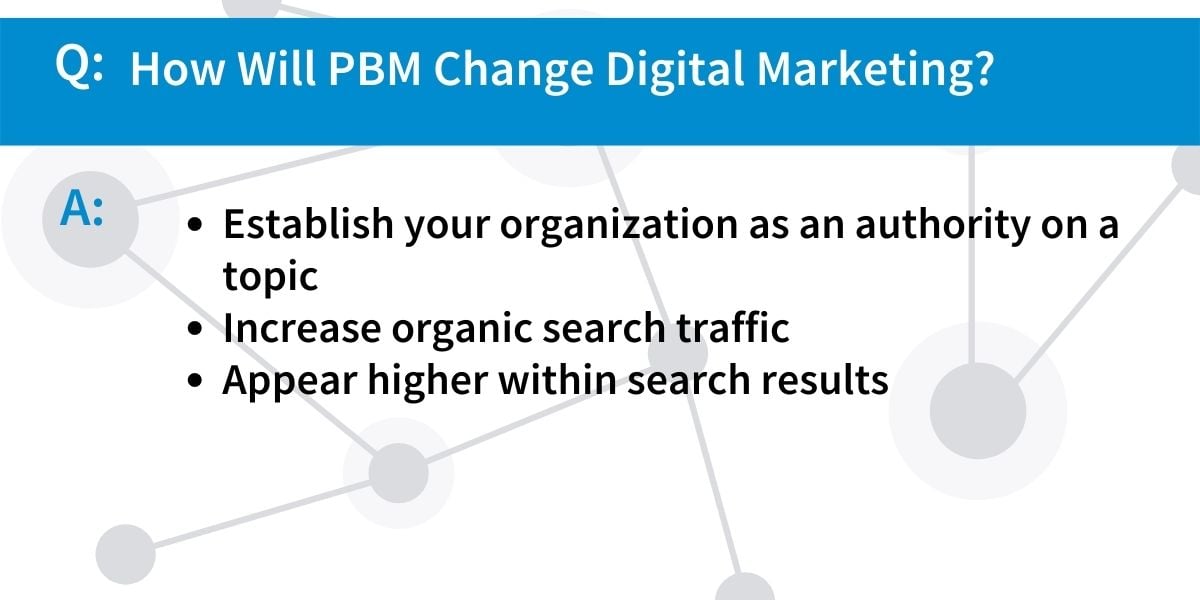 This makes the buying experience easier as the customer will feel they are purchasing from the best source. PBM allows any company to answer the most important and burning questions their audience has while simultaneously selling them on their services.
What Is a PBM Strategy?
If PBM can truly revolutionize your company's marketing efforts, you're not alone in asking, "how do I start a PBM strategy?" Step one, partner with an organization that knows everything about PBM to get your strategy up and running. Who better to partner with than the creators of the strategy? Yes, DemandJump created the Pillar-Based Marketing strategy, and we want you to reap all the benefits.
So, what does the actual strategy look like? It is all designed around strengthening written content by utilizing high-value keywords. This is achieved through three distinct pieces all working together to create a linked content ecosystem that answers what your target audience is searching for online. Those three pieces of content are the Pillar page, Sub-Pillar pages, and Supporting Blogs.
Pillar: Each unique PBM strategy will call for a Pillar page at the top of the plan's content hierarchy. This page is a roughly 3,000-word piece of content with ~20 keywords. A best practice is to have this piece live as one of the main navigation pages on your website. These pages will also typically share a name with your corresponding pillar topic and have a URL that matches. For example, yourwebsite.com/pillar-topic.


Sub-Pillar: The second longest form of content in this digital strategy, the Sub-Pillar pages are roughly 2,000-word pieces of content with ~15 keywords that link internally only to the original Pillar page they fall under in the greater Pillar Strategy. These pages can live on your website as main navigation pages or as individual blog posts. Sub-Pillar pages generally cover different aspects of your main Pillar Topic in more detail. For example, if your company sells life insurance policies and your pillar topic is "Life Insurance," Sub-Pillar page topics could include "life insurance settlements" or "life settlement calculator."


Supporting Blog: Rounding out the PBM strategy are the Supporting Blogs. These are 750-word articles of content with 7-8 keywords that link to the Pillar page (and Sub-Pillar page if possible) under which it falls in that greater overall strategy. Typically, these pieces share their titles with high-value, long-tail keywords, and are most commonly questions. These articles aim to dive into specific detail in answering questions to provide practical value to your target audience. Building on our life insurance example, a few blogs under that Pillar Strategy could be, "can I sell my life insurance policy?", "do you get taxed when you sell a life insurance policy?"
With a basic strategy including one Pillar page, three Sub-Pillar pages, and three Supporting Blogs for each Sub-Pillar, that is a lot of content to create and publish. This can be overwhelming if your organization has not been in the content game before. There are plenty of online courses to get you started with content writing and marketing, but none make the process of understanding and being able to implement PBM as easy as DemandJump University. Through our PBM training course, you'll learn everything from how to use our system to writing your very own keyword-driven content that will rank higher in search results for your audience.
DemandJump: The Future of Content Marketing
If you are looking to enter the world of content marketing for the first time, or want better performance out of your current efforts, our platform is the one-stop shop for everything you could ever need. We can show you where you currently rank for important keywords for your business, where your competition is ranking, and exactly what content you need to create to overtake them.
Our goal is to power the world's content. That journey starts with companies like yours discovering all the wonderful opportunities the future of digital marketing has to offer with strategies like PBM. Try our platform for free today.