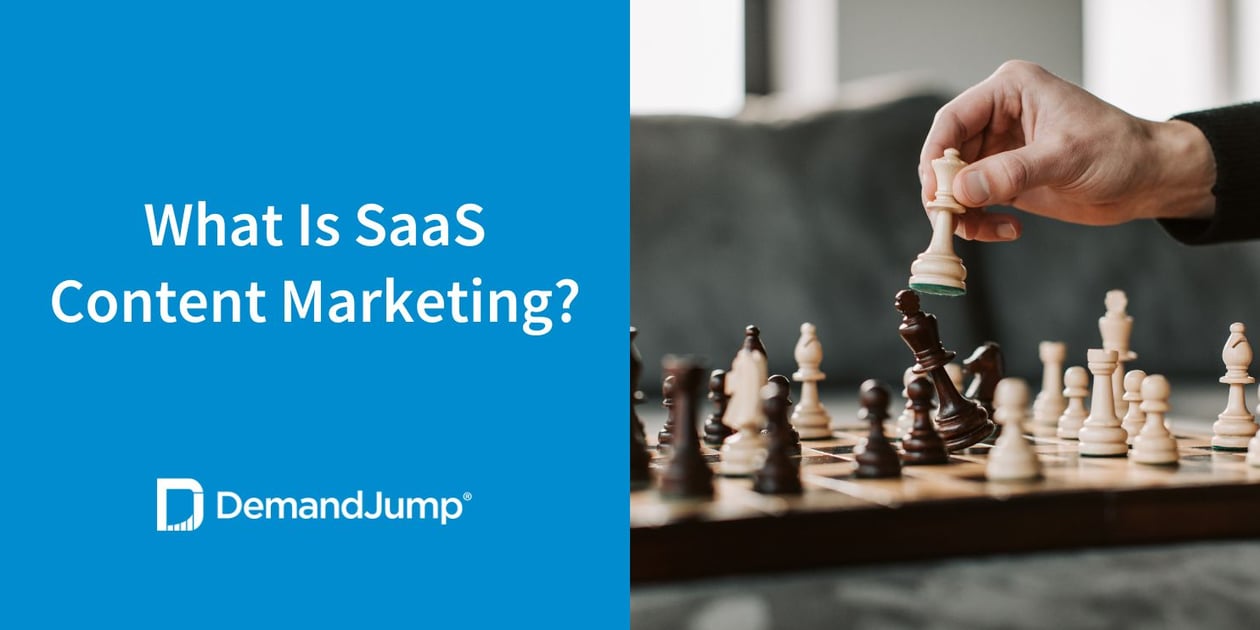 Software-as-a-Service (SaaS) is on the rise. In fact, about 70% of software use is SaaS. With that many companies using software, SaaS providers need to find a way to stand out from the competition. Marketing strategies, such as content marketing, can help them do just that.
What is content marketing for SaaS companies? It means creating, publishing, and promoting SaaS content not only to inform readers, but to establish your brand as an authority on a topic so that your readers come to trust you and turn to you for solutions to their pain points.
Why Is SaaS Marketing Different?
SaaS marketing is different from other kinds of marketing because SaaS products and services are inherently unique. Instead of customers buying individual products or services, they typically have to pay by subscription for SaaS ones. For a SaaS company and its marketing team, that means they have to find new ways to encourage current customers that their product has enough value to make it worth renewing their subscription.
SaaS companies also have to find ways to attract new customers. However, it can be like a game of chess trying to stand out from the competition because competing software platforms can accomplish the same goal in a vastly different way. Marketing teams have to work with what they know about their company's solutions and present their value in a way that shows customers why subscribing will accomplish their needs.
What Are the 7 Steps of Content Marketing in SaaS?
To best market your content, you should:
Create an ideal customer persona. If you're a business to consumer (B2C) company, you might ask these questions to create a persona: What does my customer do on a daily basis? Where do they live? How old are they? If you're a business to business (B2B) company, you might ask: What industry is my customer in? How big are they? Where are they located? Answers to these questions will get the gears turning and help you figure out how best to market to your ideal customers.
Discover your customers' pain points. What slows your customers' workflow down or creates headaches for them? Find these problems and determine how your company's solutions can help.
Identify keywords. Including keywords in your content will help your prospective customers find you when searching for solutions to their problems. Make sure to use both short-tail and long-tail keywords and questions to show search engines that your topic is relevant to what people are searching for on a given topic. DemandJump can help you identify which keywords to include based on what you want to write about.
Set marketing goals and metrics. Before you even begin your marketing campaign, you'll want to set SMART (specific, measurable, achievable, relevant, time-bound) goals to track how your campaign is doing. Also, determine how you want to measure your success. Some common ways include looking at churn rate (how many customers stop subscribing), amount of organic traffic to your website, and conversion rate (how many visitors take an action based on your content).
Create your content. There are many different methods out there for creating content. With Google's helpful content algorithm update, it's important to write content that will help or inform readers in some way. Pillar-Based Marketing (PBM) assists with that. If you choose this strategy, you should create 1 pillar of 3,000 words, at least 3 sub-pillars of 2,000 words, and at least 12 blogs of 750 words for each campaign. This strategy will help your company establish itself as an authority on a certain topic. DemandJump can help you create one of these strategies by giving you the topics to write about. Don't forget about other forms of content in addition to your blog, such as how-to videos, social media posts, and emails.
Distribute your content. If you decide to create a PBM strategy, we recommend distributing all your content within a matter of weeks of completion to see the biggest results. Once you post it on your website, make sure to share it on your social media so that your followers can find it. You may decide to share content other ways, too, like through paid ads or emails.
Track your results. This will give you a better grasp of what worked well and what didn't in your strategy. From there, you can make adjustments to make it work better next time.
Effective content marketing can drive your company to the top of your prospective customers' search results and lead to more conversions.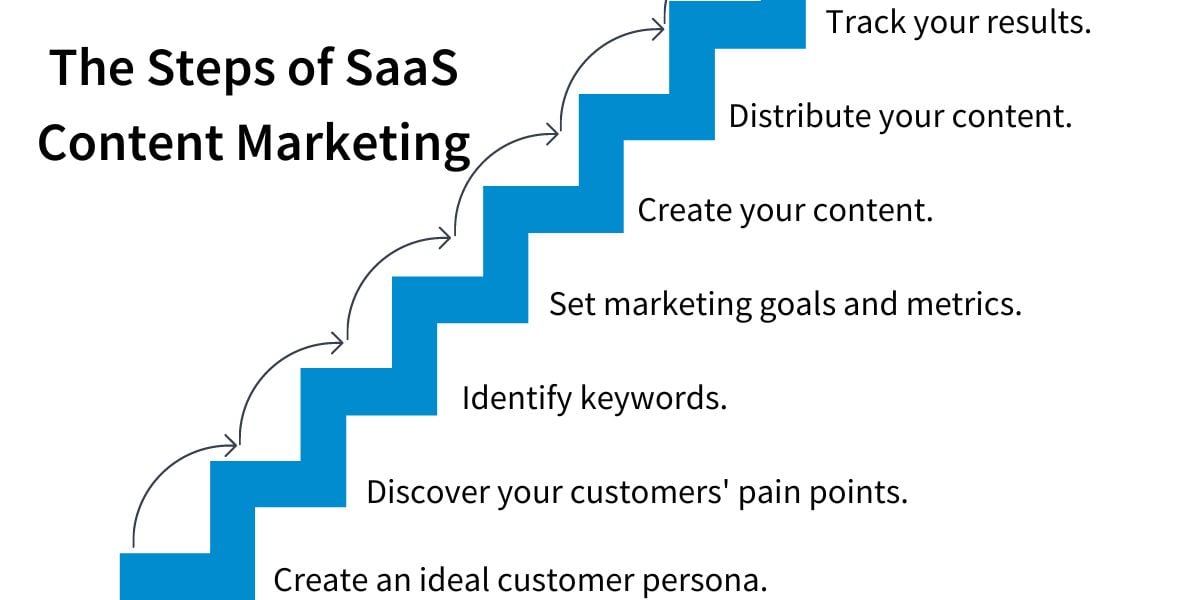 Why Is Content Marketing Important for SaaS Companies?
Content marketing is critical for SaaS companies to master because it can assist them in:
Creating a distinct brand voice and spreading brand awareness.
Establishing themselves as trustworthy, reliable sources of information within their industry.
Boosting traffic to their website, whether it's prospective customers still trying to figure out what they want or those who are ready to buy and just need to find the right combination of value and affordable price.
Moving prospective customers through all stages of the buyer's journey once they reach the company's website.
Implementing it along with other SaaS marketing strategies will allow you to reach prospective customers on all sorts of platforms.
Trying new strategies will allow companies to figure out what their customers like and what they don't. From there, companies can shift their SaaS content marketing strategy to better appeal to prospective customers.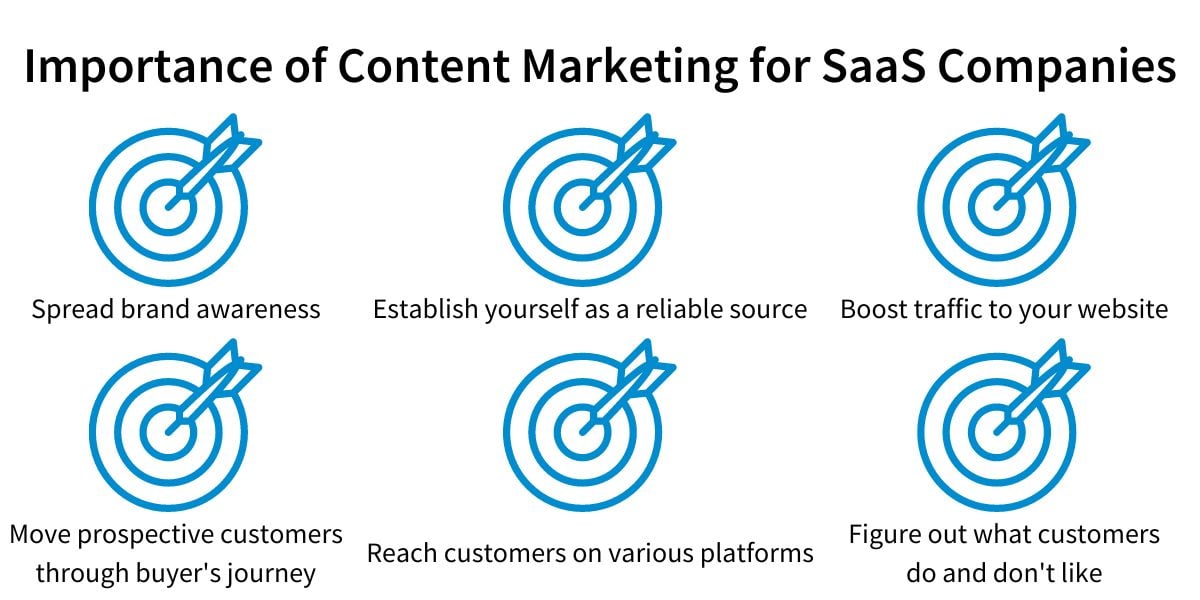 Ultimately, content marketing is important because it allows SaaS companies to identify and relate to customers through content that answers pressing questions and speaks to unique pain points.
Create Your SaaS Content Strategy With DemandJump
The key to attracting customers to your SaaS solutions is to create a content marketing strategy. The key to creating an effective content marketing strategy is to use DemandJump. Our platform will give you titles to write about based on the topic you want to rank for and what your prospective customers search for. It will also provide you with keywords and questions that those same people use to include in your content. When you write about what your potential customers are thinking, you will find more people visiting your website and even more leads. Get more page one rankings, give your readers the information they want, and drive sales.
Our customers have seen impressive results. So can you!