What Is Search Engine Optimization? (SEO)
April 3, 2020 •Billy Krawzak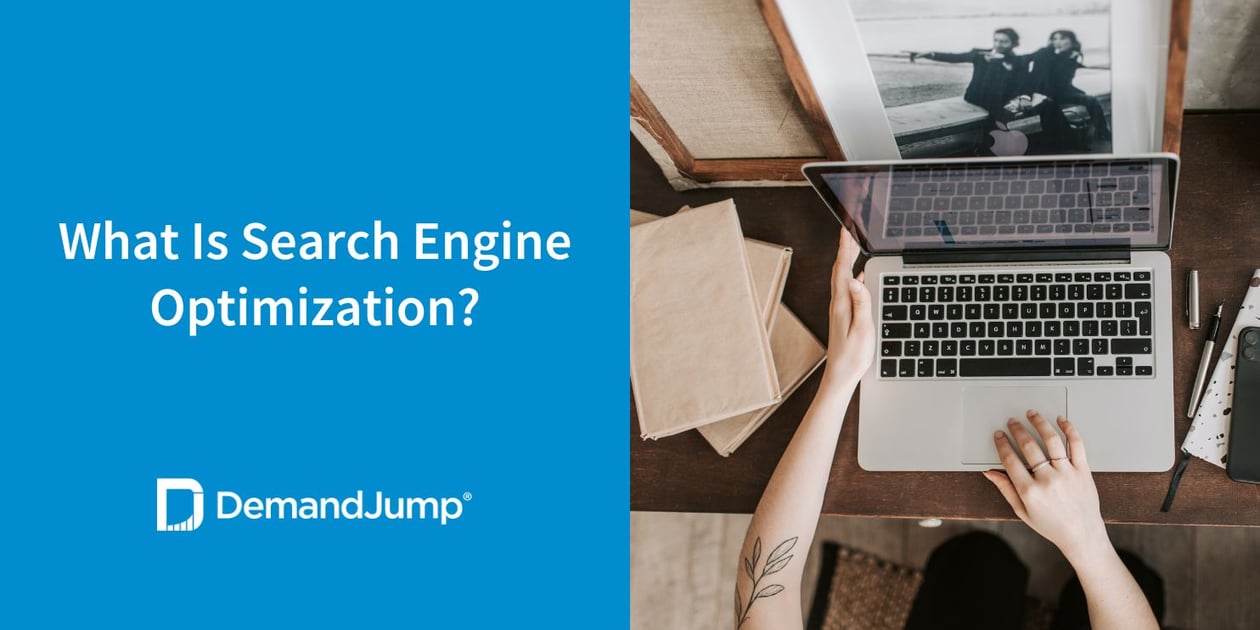 In the ever-evolving world of digital marketing, we've always heard about SEO and the mythical impact it has on our website. We are told that it takes months to see any changes from our website optimizations and that we are at the whim of Google's next "algorithm update". In this article, we will provide a definition of SEO, how it works, and some SEO techniques you can use to ensure you have control of your website's destiny through playing by Google's rules.
What Is SEO How Does It Work?
SEO is an acronym for Search Engine Optimization. In a nutshell, SEO refers to how easy it is for a search engine to understand the contents of your website and relate that to what a consumer is searching for. Good SEO means your website is easily readable and aligns to what a consumer is searching for, and when you have good SEO, you'll rank higher on Google and become more readily discoverable. The Core Variables of SEO are:
Site Content
Site Structure
Domain Authority
Once a search engine analyzes your website's data, it determines how relevant each page on your site is to consumer searches, allowing your site to rank on the search engine results page (SERP). [SERP is the acronym for Search Engine Results Page. The higher SERP rank your website's landing page receives, the more relevant your website is to a consumer's search.]

SEO Techniques To Improve Your SERP Rank
Align Page Content To Target Keywords You Want to Rank For
When writing content for every page on your site, try to think of what a consumer might search to get to that page. Try to fill that page with prioritized keywords you'd want your target consumers to search for that are relevant to that page on your site. This also means including those prioritized keywords in your meta titles & descriptions.
Optimize Images for Search
Another component of good SEO is properly naming your image files as well as applying alternative text with your keyword included. When you save your image files, make sure the file name describes the contents of the image. Instead of leaving the file name for a photo of shoppers on Black Friday something like "IMG_0057", try more accurately naming the file something like "Black-Friday-Shoppers-2020".
Follow Metadata Best Practices When Writing Meta Titles Descriptions
Meta titles should use a maximum of 60 characters
Meta descriptions should use a maximum of 160 characters
Place prioritized keywords closer to the beginning of your titles descriptions.

Search engines read from left to right so the closer your prioritized keywords are to the beginning of your titles descriptions, the more relevant a search engine will find that page to be.
Research What Your Target Consumer Is Searching
The first step to using SEO to bring in quality traffic to your website is identifying the right keywords to include across your site and in your blog content. In order to find out what consumers are searching for, there are a variety of tools out there that can show you search opportunities for any term - for example DemandJump's consumer insights product shows you what consumers are searching for around any topic or phrase. Get with your teams to brainstorm a few topics or phrases you think you would like to rank for, then plug these terms into such tools.
Try to answer the questions your consumers are asking by providing relevant information on your website.
Click here see the questions your target audience is searching in our free report.
For example, let's say your target consumer searches "Where can I find a good search engine optimization tutorial?" In the landing page, be able to provide educational content that answers that very specific question and offer the consumer a concise search engine optimization tutorial.
Optimize Landing Page Speed
Ensure that your site functions at an optimal level. The longer it takes for your site to load after a consumer clicks from the search results page, the less likely your page is going to have a high SERP rank
Be Sure Your Site Is Mobile-Friendly
With a majority of searches taking place on mobile devices, your website must now be fully functional on mobile devices. When page load speed times increase and page formatting gets out-of-whack on mobile devices, search engine will dock you points and give you a lower SERP rank
Take Advantage of Blog Writing
Write blogs. Even if you think nobody will read blog content, just know that search engines read it. When search engines see a robust blog on your site with content relevant to what your target consumer is searching for, your site will receive a higher SERP rank
Align your Content Messaging Across Channels
Be sure you're messaging is consistent across all channels - paid search, display, social media
Align your ad copy from paid search social media to content on your landing pages
Use Linking To Enhance your Site's Domain Authority
By utilizing backlinks from sites with high domain authority linking back to your site, search engines will view your site as being more accurate and authoritative
In the reverse point of view, linking to sites with high domain authority from your blog can also enhance your site's domain authority seeing that you connect with relevant sites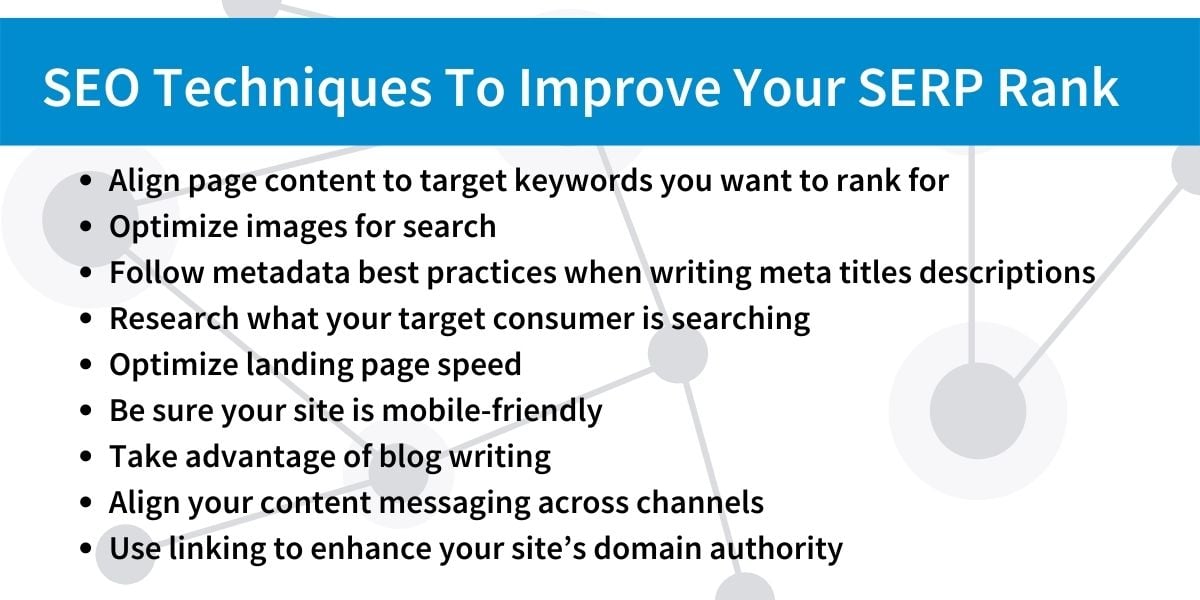 By taking advantage of these search engine optimization techniques, we hope this article answers your question of: What is search engine optimization?