What Makes SaaS Marketing Unique?
November 2, 2022 •Clare Sheehan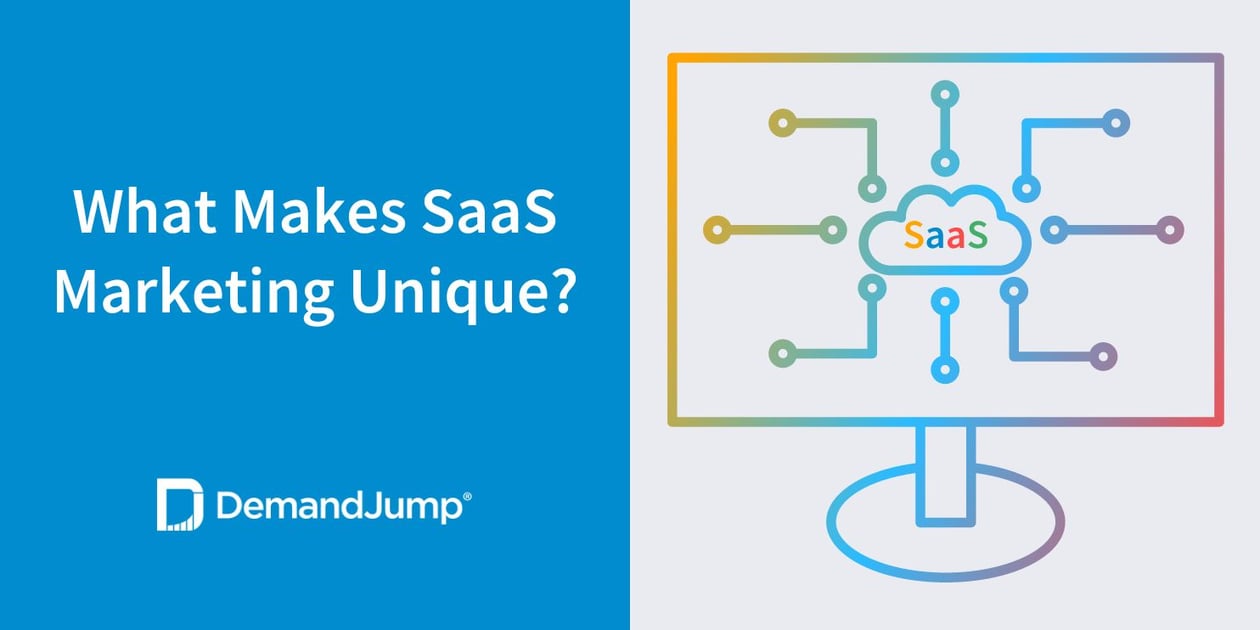 Every marketer knows, the Software as a Service (SaaS) industry is built differently. Of course, SaaS companies have the same basic goals as other businesses—maintain customer relationships, generate revenue, source quality leads; you get the picture. That being said, there are a few added hurdles and quirks involved in the SaaS marketing processes that other industries don't have to consider.
Let's take a look at some examples of the distinct challenges of SaaS marketing:
Everything a SaaS company sells and does is intangible, making it extremely difficult to help customers visualize how a SaaS product works, and why they should subscribe.
SaaS is ever-evolving. To stay competitive, SaaS companies are constantly updating and adding to their product. This means their marketing strategies need to keep evolving as well.
SaaS companies operate in an extremely fast-paced buying environment compared to any other type of business. The average sales cycle for non SaaS companies

usually lasts

102 days, while the typical SaaS sales cycle

only lasts

84 days. If a SaaS company's marketing strategy can't keep up and draw in those high-quality leads, then trouble is not far behind.
For SaaS companies, their marketing journey doesn't end once a deal is closed. It's vital that SaaS marketing efforts keep existing customers engaged and delighted to foster more upselling and cross-selling opportunities.
So, how can you tame the beast of SaaS marketing? DemandJump's got the answers. Our team thought long and hard and came up with some vital tips for tackling a SaaS digital marketing strategy.
What is a SaaS Marketing Strategy?
A solid SaaS marketing strategy is data driven, customer focused, scalable, and highly adaptable. Here are some of the top components that'll help you succeed.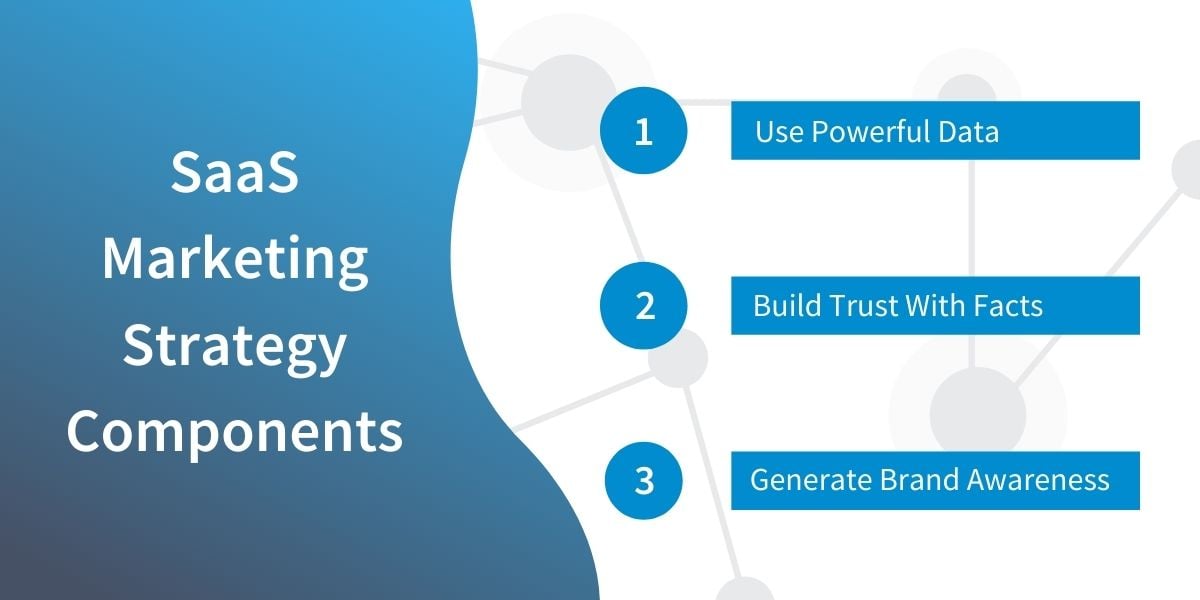 1. Use Powerful Data
When it comes to SaaS, every marketing action needs to be 100% purposeful and targeted. Therefore, the best marketing strategies are built on reliably sourced customer data, buyer behavior insights, marketing intelligence tools, and in-depth analyses of SaaS industry trends. If you want your data to work for you, assets like performance monitoring, SaaS analytics, and data-centric content marketing tools are your greatest allies.
2. Build Trust With Facts
At its core, the SaaS industry is all about problem solving. Therefore, it's critical for SaaS marketers to focus on their ideal customer's pain points. Once you've identified these core issues, then it's time to present your SaaS solution as the knight in shining armor. But be careful! If you spend too much time explaining how great your company is, potential customers could become wary. Instead, present hard facts and show your audience exactly how your solution works to solve their biggest headaches. For example, case studies, webinars, and testimonials are all great ways to foster trust with current and potential customers!
3. Generate Brand Awareness
Cultivating brand awareness is a cornerstone of any solid marketing strategy, including SaaS marketing. When focusing on conversions, you'll likely have to explore multiple marketing channels to gain the traction you need. Here are some examples of the best channels for SaaS:
Why is Content Marketing Important for SaaS?
Okay, we've outlined the basics. But there is still one piece of the puzzle missing—content. Content is everything in a SaaS marketing strategy. Quality content can help you foster trust, build your brand authority, and drive more leads straight to your webpage. Really, the benefits are endless.
Here's why content is the crown jewel of SaaS marketing.
It helps you explain the intricacies of your platform to your customers, and clearly address any roadblocks or issues they're experiencing.
Content is extremely fluid and allows you to continually add value for your loyal customers through videos, written resources, blogs, and much more.
Content marketing allows you to better communicate with and engage your customers. In fact, 80% of decision makers prefer to receive information

from a series of articles

rather than a single ad.
So, what do you think? Are you as excited about content marketing as we are? If so, you're going to like what we have to say next.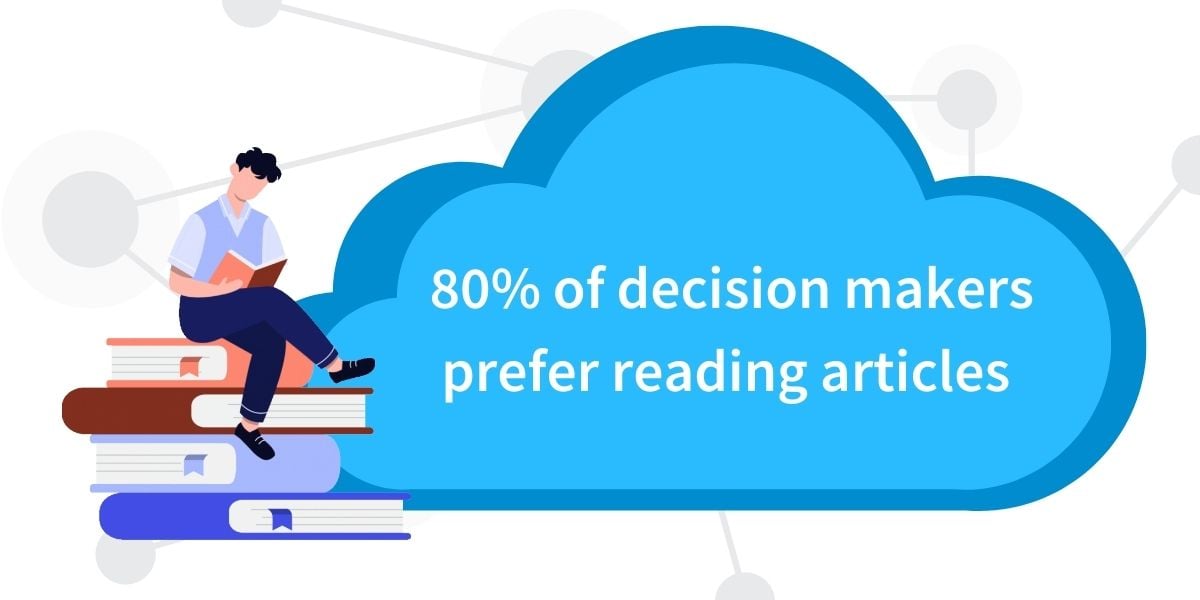 The Best SaaS Marketing Campaigns Are Fueled By Content
As a SaaS company ourselves, we understand the unique and complex marketing challenges SaaS organizations face. Having experienced these challenges first-hand, we've been able to create one of the best SaaS marketing tools for content creation. DemandJump's platform assembles the world's data to help SaaS professionals uncover a comprehensive Pillar-based content marketing strategy that'll attract, engage, and delight your customers.
SaaS marketers have to move fast to stay ahead of the curve, which means there is no time for mistakes. DemandJump can help you develop a content strategy with confidence. Get started at no cost, today!
Get Your Free Pillar Strategy Preview!