Website content includes countless elements, small and large, from lengthy blog posts to "contact us" buttons at the bottom of each page. The sheer amount of moving parts you have to keep track of when developing your website content ideas and layout can make the process feel like a chore.
If you'd like to simplify your website content creation, keep reading. We'll guide you through the must-haves of website content, ways you can boost your content after you've accomplished the basics, and how to create content that drives results.
But first, let's define what "good" website content means.
What Is Good Website Content?
Good website content ultimately accomplishes whatever your goals are, like selling more products, getting people to sign up for something, raising awareness about a particular issue, etc. You'll find a plethora of tips on the internet about how to create good content—we actually have a few for you down below! However, keep in mind that any change, update, or addition to your website should be geared toward supporting your overall goals.
5 Most Important Things for a Website
Like we said, the internet is full of advice on things that need to be added to a website, but sometimes all the tips and tricks can be overwhelming. To cut through the noise, we've narrowed down the best practices to these five must-have elements of a website layout:
1. Who You Are and What You Do
This one is a bit of a "duh" moment, but it's also easy to overlook! Your website should make it extremely clear who you are and what you do at every turn. When a visitor arrives at your homepage, they should be able to identify these two pieces of information within the first few seconds. Use concise and catchy chunks of language to accomplish this and express your purpose.
For example, if you run an online clothing store that focuses on sustainability and fair trade, your website might include bite-sized copy like "Buy clothing that looks good and supports fair trade" or "Let's make sustainable clothing a permanent trend." This copy should be front and center, no hunting around or scrolling down required.
2. Educational Content
Making educational content for website visitors is a tried and true method for driving conversions. When you provide content that addresses the pain points and questions of your target audience, you gain their trust and build brand awareness. You do this through a variety of mediums—blogs, white papers, e-books, case studies, videos, infographics, and so much more. If you're not sure where to start, use a keyword research platform to identify the exact words and phrases your audience is searching for. Then, focus your educational content around those keywords and concepts.
3. Call to Action
A call to action (CTA) is how you direct visitors to the next step, like buying your product or signing up for a newsletter. You should have your CTA in various places throughout your website. For example, having an attention-grabbing button at the top of every webpage with your CTA is an excellent way to keep this top-of-mind for your visitors. Your CTA can ask folks to act now, try it for free, contact us, join today, learn more, donate now, browse our products, sign up today, etc.
4. How to Contact You
This is another basic, yet vital component of any website—how can visitors get in touch with you? Most websites have a dedicated "Contact Us" page specifically for this. You should definitely list your phone number, email address, and mailing address, but it can also be helpful to include a built-in messaging form where users can instantly send you a note with their questions or concerns.
5. A User-Focused Interface
You've likely been the victim of bad website interface at least once. Maybe you came across a page so littered with ads you could barely read the content, or perhaps the layout of the website was so cluttered you had no luck finding what you were looking for. Your website interface should carefully guide visitors through the buyer journey, making it easy for them to find what they need when they need it. Including a menu that's easy to navigate, making your website mobile-friendly, and optimizing your page loading speed are three great examples of how you can improve your website's user experience.
Things to Add to a Website to Make It Better
Once you've implemented the above must-haves, you can branch out and look for other methods of boosting your website's effectiveness. Here are a few suggestions to get you started:
Imagery and videos are a great way to break up large blocks of texts and keep your visitors engaged.
Trust factors, like customer reviews or case studies, will prove to visitors you aren't all talk with no results.
Team member biographies and photos put faces to your brand and can make your website feel a little more personable.
Interactive elements can capture a visitor's attention, like quizzes, social media sharing options, calculators, virtual product testing and try-ons, surveys, etc.
An FAQ page is a simple way to address the questions and concerns your audience cares about the most.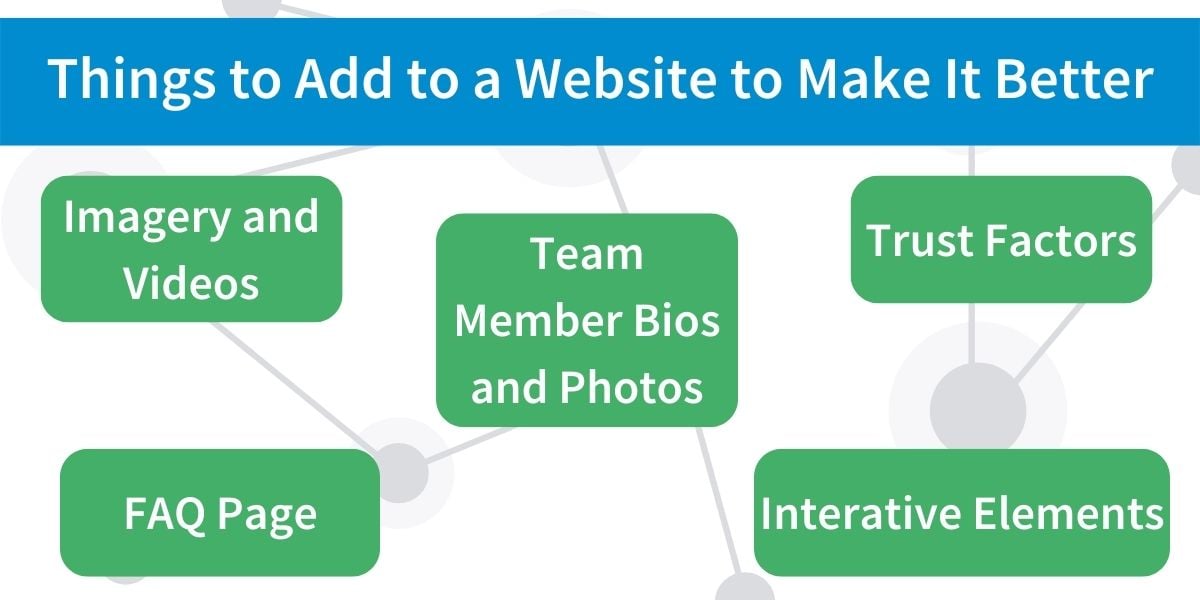 Need a little help writing all of this website content? We have some solutions for that, too!
How to Write Website Content
Did you know that around 90% of webpages on the internet get no traffic at all? When you think of all the effort that people put into the millions of websites out there, this statistic is a little disheartening. So how can you write website content that actually gets seen? By using DemandJump.
DemandJump is the number one marketing strategy platform that shows you the exact content to create to increase first page rankings and drive outcomes. We make it easy to optimize all your website content for search engines with our automated keyword research and insight reports. Curious how it all works? You can try our platform today for free!