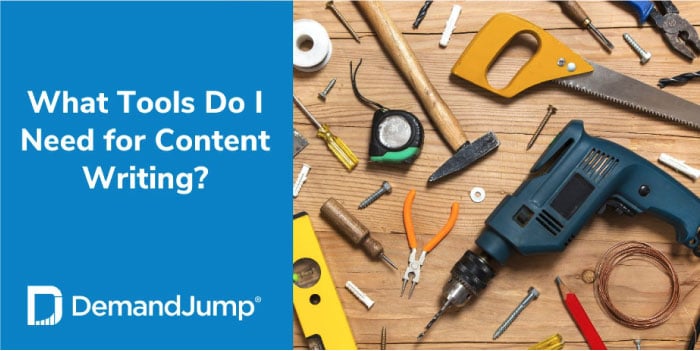 To get the best results, your SEO content tool arsenal should assist you from researching concepts to writing and polishing your work. But with so many options and new and exciting tools—like artificial intelligence—constantly emerging, it can be tough to make a decision. To help cut through the noise, use a simple three-item SEO content checklist:
Will this tool help me connect with the human readers in my audience?
Will this tool help my content rank higher on search engine results pages (SERPs)?
Will this tool make my writing process more efficient while achieving better results?
In this blog, we'll kickstart your research by discussing which tools can enhance each and every step of the content creation process.
What Is the Best Tool Used for Content Writing?
The best tools for content writing enable you to create content that connects with people and search engines. Because there are many steps to the content writing process, there is also a wide variety of tools to help you get the job done. Let's take a look at content tools examples that are useful during specific steps in the writing process:

Researching Topics: Decide which broad topic your content strategy will cover. Take into account your organizational goals, keyword search volume, and competitor rankings. Content writing research tools—like

DemandJump

—provide these insights for different topics, so you can decide which direction to take your strategy based on data.


Creating a Strategy: After you know what broad topic you want to cover, you need to map out exactly which pieces of content you will create to achieve your organizational goals.

Pillar-Based Marketing

(PBM) is a methodology that you can use to structure your strategy. Essentially, PBM groups pieces of related content together to help the entire network rank higher. DemandJump is a platform that is specifically designed around PBM best practices. With our

content strategy tools

, you can have a bird's eye view as you choose topics to connect to your Pillar.
You can also benefit from tools that help you execute your strategy. Monday.com and other project management tools allow users to assign responsibilities, track progress, and adapt to strategic changes in an easy-to-use platform.
Researching Individual Blog Topics: Including high-value keywords and authoritative sources in your blogs will help your content rank higher while building trust with readers. DemandJump's

SEO keyword research tools

show you exactly which short- and long-tail keywords your audience cares about.
To get started gathering data for your content, try trusted sources like Statista, Gartner, McKinsey & Company, and industry-specific publications. When writing about time-sensitive topics, use recently published sources to give your readers current information.
Writing Content: Using a cloud-based content writing software program has a couple of key advantages. First, it's easier to collaborate with other writers because you can easily grant access to your documents. Second, it's far easier to recover your work should you run into technology issues. For many content writers, a simple yet effective tool like

Google Docs

is enough.


Revising Content: To make the best impression on your readers, it's critical to publish content that is free from errors and confusing language. To help you through the revision process, you can use tools like

Grammarly

and

Hemingway Editor

. These tools can help you spot and fix grammatical and punctuation errors, passive voice, hard-to-read sentences, conflicting tones, and more.
With these types of tools in your arsenal, you'll be able to produce content more efficiently and effectively, which helps your customers see better results after they publish your work.
For more great SEO content nuggets subscribe to Page One or Bust! wherever you listen to podcasts.
Can I Use AI for Content Writing?
AI tools can be helpful during certain steps of the content writing process—like research—but these tools can't replace the human touch needed to write helpful and engaging content. For example, many of the tools we listed above are actually AI content writing tools. Grammarly and Hemingway Editor both use artificial intelligence to analyze your writing for errors. At DemandJump, we use data aggregated with AI to draw meaningful connections from search engine use patterns.
However, while AI does have its place in the writing process, even the best AI tools struggle when it comes to actually writing SEO content. That's because AI writing tools recycle existing content. According to Forbes, this can increase the risk of plagiarism, which negatively impacts search engine rankings. AI generated content also lacks the human ability to evoke strong emotions and come up with creative ideas.

Rather than relying on AI to create your content from start to finish, you can use these tools to speed up research and revision, which gives you more time and energy to write the best content possible for your audience.
Can I Learn Content Writing on My Own?
Yes! If you're looking to start learning or sharpen your SEO skills, look no further than DemandJump University. Whether you're interested in content writing best practices, SEO strategy tips and tricks, or you want to get the most out of the DemandJump platform, we've got a course for you. The best part? DemandJump University is free!
Get Your Free Pillar Strategy Preview!