Which Is an Example of On-Page SEO?
February 22, 2023 •Allison Black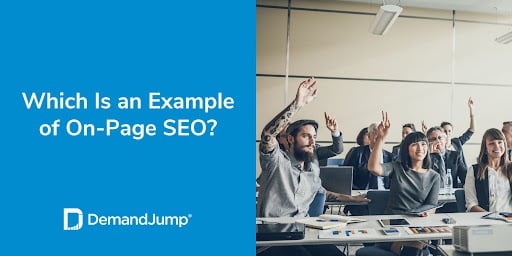 Test your knowledge—which choice is an on-page SEO practice?
Titling an article with a popular keyword question like "Which Is an Example of On-Page SEO?" to pull in young marketers clearly Googling for answers to a test question.
Creating a network of helpful and original web content around a topic like "on-page SEO strategy" to increase organic traffic.
Using a clean and easy-to-read URL structure, like: /blog/which-is-an-example-of-on-page-seo
Making an image with alt text like "examples of on-page SEO" for a blog about on-page SEO.
If you answered "all of the above," you are correct! Keyword research, helpful content, URL structures, and images with alt text are all vital parts of on-page SEO.
What Is On-Page SEO in Digital Marketing, Exactly?
On-page search engine optimization (SEO) is the process of enhancing what's on the pages of a website, like content, images, titles, and more. The goal is to improve search engine visibility and earn more organic traffic. With the right on-page SEO strategies in place, the customer-facing part of your website should make a good impression on search engine algorithms and the visitors they bring to your site.
What Is the Most Important SEO On-Page Factor?
Overall, the most important on-page factor for SEO is striking that perfect balance between search engine optimization and user satisfaction. Google made it clear in their recent Helpful Content Update that content creators should focus on "people-first content" and "avoid creating content for search engines first."
This update means that unethical and unhelpful SEO practices—like keyword stuffing or duplicating content—are no longer effective ways to move up search engine rankings. You must instead focus on delivering high-quality, valuable content so visitors "feel they've had a satisfying experience."

Let's face it—this is no easy feat. You can't go through an on-page SEO checklist once and expect your click-through rates to skyrocket and your bounce rates to disappear. It's an ongoing process that requires time and consistent adjustments to be effective. However, you have to start somewhere, and we recommend addressing the three primary components of on-page SEO first.
What Are the 3 Primary Components of On-Page Optimization?
The three primary components of on-page optimization include creating valuable content, using keywords strategically, and improving your website's user interface (UI). Let's examine each more closely.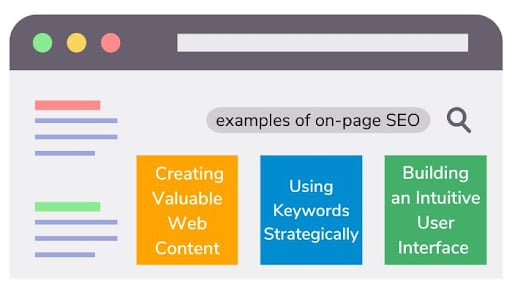 1. Create Valuable, Grade-A Web Content
Isn't it lovely to find an online resource that satisfactorily answers your search query? When we go to a search engine, we're looking for answers. We don't want clickbait. We don't want to be bored. And we definitely don't want to be sold to.
Now, remember this when you're calling the shots on what website content to create. To make content that resonates with your audience, focus on the following:
Readability - The average reading level in the U.S. is equal to a 7th or 8th grader, according to The Center for Plain Language. What does this mean for you? No throwing around fancy vocabulary words or jargon—keep your language simple and to the point. Even if you know your audience is well-educated, it's always best to write in an easily understood manner. Consider using editing platforms like the Hemingway app to check your readability score.
Innovation - We can only hear marketing buzzwords like "groundbreaking," "game-changing," or "leverage" so many times before they start to lose their impact. Your word choice, writing style, and chosen topics all need to have a fresh feeling to them. People want to hear and learn something new, so plagiarized or regurgitated content won't do you any good.
Research - There's a reason folks say, "Don't believe everything you read on the internet." To show visitors that your content is reliable and well-researched, be sure to cite your sources. Only use reputable resources that have been recently published or updated in the past few years.
2. Become an On-Page SEO Keywords Master
Most SEO writers are familiar with the many on-page SEO tools and techniques out there for keyword research. Google even has its own keyword planner to help SEO professionals organize their research. However, many of these tools will only give you a list of short-tail keyword phrases around a chosen topic—and that's it.
"But what more do I need?" you ask. Oh, so much more.
You want a full keyword research platform, complete with:
Keyword insight reports with details like your current organic market share and suggestions on content you can improve.
Lists of short-tail and long-tail keyword questions and phrases.
Content brief outlines to guide you through writing an entire piece based on relevant keywords.
Content management features to plan a whole network of content.
Competitor analysis to see which keywords your competitors are focusing on.
For comprehensive keyword insights like these, consider adding DemandJump to your marketing toolbox. You can try it for free at any time—simply input your website URL and a keyword or phrase you want to rank for on search engines. Click here to check it out.
3. Build an Exceptional and Intuitive Website UI
Your website's look and feel will make visitors want to explore—or bounce. Nobody likes to see cluttered pages with too many ads or a confusing menu bar that looks like a maze. Make sure your layout is user-centric with an understandable visual hierarchy. This should include:
Website navigation menus with logical categorization of your web pages and resources.
Clear content hierarchy, with headings, subheadings, and bulleted lists to break up text and make it more readable.
Feedback on loading or request times via features like a loading icon or message notification.
Common web elements that people are familiar with, such as a search bar with a magnifying glass or a help icon shaped like a question mark.
A consistent look, feel, style, and tone across your website.
When your UI nails all these major elements, you convince people to stick around and stay awhile—and maybe even check out your products or services.
How Do You Do On-Page SEO Analysis?
To do a complete on-page SEO analysis, you'll need to evaluate your website content, keyword usage, and UI from top to bottom. Should be easy to accomplish in all your spare time, right?
Kidding. Conducting an analysis like this takes some serious time out of your work day. Why not kick-start your research with DemandJump? The DemandJump platform will give you a full run-down on where your content is now and where it could be in the future. Our advisory team also offers content audit services, including a comprehensive review of your current website and suggestions on improving your SEO.
With all this insight, DemandJump customers tend to see an increase in search engine rankings in weeks—not months. Get in on this powerful tool yourself. It's free to try!