10x Content Pillar Pages: What are they and how do you make one?
June 25, 2020 •DJ Team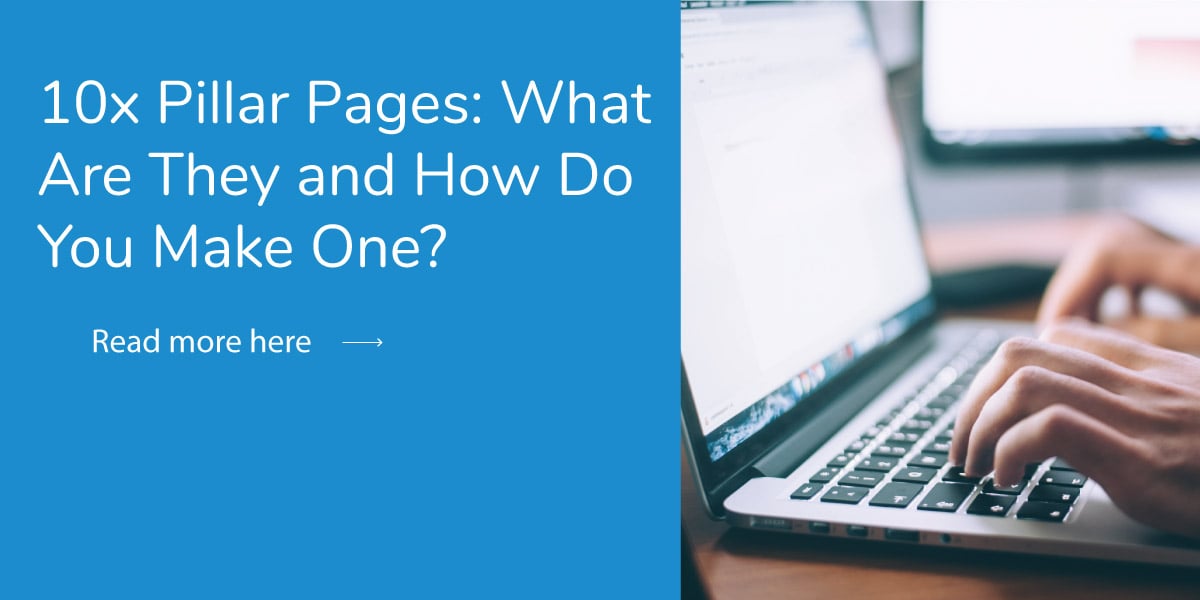 10X content is a phrase you may have seen as you scroll through online marketing materials, and it can be a little hard to put your finger on exactly what it's getting at. The short answer is it's a combination of good writing and a good structure for organizing your business's content that makes it 10x better than what's already out there. Another way to think of it is as a SEO pillar structure for very well written content. Let's dive into some of the specifics.
What Does 10x Content Mean?
This phrase was coined by MOZ in one of their Whiteboard Friday editions in 2015. They weren't specifically talking about pillar pages, but about content itself. When they said 10x content, they meant that the content was "10 times better than the highest-ranking content for that search term."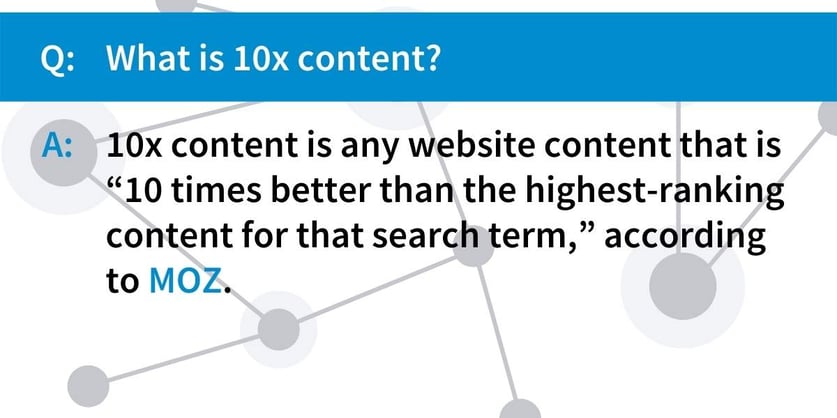 The term has evolved to have a broader meaning of very high quality, relevant content that is structured within a business' site to make it rank especially well in search engines. As search engines constantly evolve how they rank search results, the exact 10x content examples will change, but the idea that you continue to produce this very valuable and well structured content stays the same.
How Do You Make Content 10x Better Than the Competition?
One thing that's incredibly important to keep in mind is that writing content that is significantly better than everything that is currently performing well in searches is hard! If you are truly trying to do this (and not just using it as a quick catchphrase that means "good content"), it's going to take a lot of time and a lot of practice. There is so much content available now that reaching this bar keeps getting harder, but here are some of the boxes you want to check to get you started.
Really Know What You're Talking About
To create truly meaningful content that is substantially better than what's already out there, you have to know your stuff. This kind of content is almost certainly going to be written by an expert in the field the content is about, or by trained researchers or writers interviewing these experts.
Do Real Research
If you want to write phenomenal insights, you'll need to do phenomenal research. Summarizing existing knowledge is very useful and doing it well provides a lot of value to your customers. But it is not 10x content. Gathering data and analyzing it to come up with new insights or drive new trains of thought is how 10x content should truly be written.
Be Prepared to Fail, Because You Will
Really trying to create this kind of ground breaking content will take time, energy, knowledge, and persistence, and you will not be successful every time. 10x content isn't supposed to be everyday content. It can't be produced once a week on a schedule and cranked out forever. It will require going above and beyond standard content writing and should be planned and used accordingly. Making this visionary and exceptional content the crown jewel within a larger content structure is super important so you can keep regular and valuable content flowing and directing people to the very best you have to offer.
What is A 10x Content Pillar Page?
After we scared you with how challenging creating 10x content can be, let's take a step back and look at the other half of the 10x content pillar strategy—the structure. Exceptional writing plays a huge part, but structuring the content on your business's page so that search engines recognize it as high quality can be just as important. The most groundbreaking content in the world will not be seen if the search engines don't rank it well.
This is where the pillar strategy comes in. It starts by defining what you want to rank for and what keywords your target audience will most likely use to find exactly what you offer. In this way, pillar-based marketing offers a better approach than separate blog posts or content bursts on several different topics related to your field. It puts your topic clusters together in a way that allows the audience to find what they need easily on your site, improving functionality for them and organization for you.
With this pillar structure, you're aiming for improving how your content ranks based on the search terms. What you need to remember is that your content needs to make improvements to all of the things that you see lacking in those other high-ranking pieces. The user experience on the page should be better. The content should answer your audience's pain point or question more accurately. If there's a specific technique employed in a competitor's content that you're using, you have to look for ways to outmaneuver them. These improvements are what will produce 10x pillar page examples.
Topic Clusters and Pillar Pages
A pillar page topic cluster is a way of organizing content so that all of the topics that are related to the original page, or pillar page, are linked. This is not strictly about linking content but about organizing it. This gives you a good way to assess your current content, weed out pieces that are not performing well or don't support your pillar pages, and to schedule new pieces. This idea of using topic clusters to identify what to make your pillar pages helps answer the question "what is a 10x pillar page?" It is ultimately the great writing we talked about earlier, embedded in this great structure.
You can do some competitive analysis to determine topic clusters examples that are being used effectively by other websites in your space—this is what the DemandJump platform does. This can give you insight into the type of content that your audience is searching for and where there is a crossover of target audience members. It is also important to differentiate your content from that of others. Remember to always consider what your own marketing position is when you develop the content for your audience.
Ideally, your pillar post meaning will relate to the cluster of keyword phrases that you want your website to rank for in search engines. Before developing your pillar page strategy, you want to start with your overall marketing position and your content marketing strategy. The SEO keyword research here will reveal the topics that you should be aiming for in terms of search and that can help you narrow down the wider subject matter of your pillar page and the cluster topics for your supporting posts and content.
How to Create a Pillar Page
SEO pillars improve the way that your website ranks and can increase traffic. But there is no one size fits all pillar page template. Instead, let's work through the different steps you can go through along the way to develop the 10x content structure, so it's ready to put your pillar page into.
Develop a Content Pillar Strategy
You can develop this strategy in several different ways. You want to start out by thinking of the pain points your customers have that your product or service solves. Then think about what the groups of main ideas within this set of pain points will be. The structure of your pillar strategy comes from this group of main ideas.
Pillars: These main ideas are your pillars. For instance, if your company sells yarn to knitters, you are probably solving the problems of finding quality yarn at an affordable price that's readily available for these customers. Your pillars might be yarn quality, yarn price, and yarn availability.
Sub-Pillars: Large distinct areas within these main ideas are you sub-pillars. Using the same example, under the pillar of yarn quality you may have sub-pillars for yarn material, yarn uses, and yarn manufacturing type. The sub-pillar articles will link to their pillar page.
Blogs: Bite-sized articles on one particular aspect of the topic will be your blogs. In our yarn selling example, under the sub-pillar of yarn material you could have a blog on wool yarn, silk yarn, and cotton yarn. These blogs will link to the pillar and the sub-pillar they relate to.
By creating your strategy in this way, with the largest, best written, and most important topic at the top, and smaller, more detailed pieces strategically linked, you are showing your customers and search engines that your content is an authority in your area.
What Should Be on a Pillar Page?
Now that we know where our pillar fits into the structure of our content strategy, and we've made sure it's got great content that looks good and people want to share, what are the nitty-gritty details of what goes into it?
Length:

Around 3,000 words. Yes, it's long, but this is going to set the stage for all the content that follows, you want to make sure you let your customers know what all the important points are.

User-Friendly:

Make it readable with good writing, make it skim-able with descriptive headings and clear bullet points for quick information gathering.

Keywords:

You want to make sure you are using 15-20 of the keywords people are actually using to search for the information you've written. It's not about using them over and over again, but about making sure you are using the same language as the audience who will get value from your content.
Make Your Pillar Content Shareable
Content marketing pillars offer valuable content that's often very shareable. For a 10x content pillar page this is even more important. These might be free guides or larger pieces of content with a lot of statistics and useful information. They are often visually appealing and the page should be user friendly to promote interaction with your website and encourage your audience to take the next step in their buying journey.
You also need to develop a pillar page that is unique. The cluster content you're linking to might include videos or blog posts, ebooks, or infographics. There is no hard and fast rule here. The whole strategy works by gathering insights into your target audience and really delivering what they want and need.
In the end, the type of content pillar you create will reflect your brand and the type of information that your target audience wants, which should be unique and well written.
Ready to Up Your Content Game?
Maybe even aim for a 10x content pillar? Then you're ready for DemandJump! We can recommend specific content to create in order to take traffic share from competition and help make you 10x better. More importantly, we'll show you how to write it.
Where traditional content tools simply provide data, the DemandJump platform recommends specific content to write, providing rich content outlines for each recommendation, allowing marketers to create valuable content while automating hours of keyword and SEO research—all the marketer has to do is input a topic. Let us show you how it works by trying it free today!
Get Your Free Content Marketing Strategy Report