11 Best Content Creation Tools For Free
December 10, 2021 •DJ Team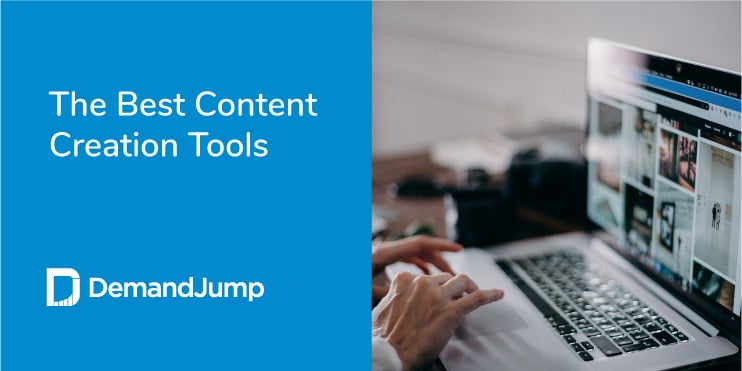 Whether you are launching a new brand, looking to grow your following, or working for a marketing firm, one of the most important ways to drive traffic is through content creation.
Creating content is a relatively easy and cost-effective way to engage with potential customers, generate sales leads, and establish your brand or company as an authority in the marketplace.
You may be asking yourself, "What is content creation?" If you are unclear on what exactly falls under the scope of content marketing, you are not alone. It may surprise you to know that companies have been creating content for decades.
Ads on milk cartons, flyers on phone poles, liners on the radio, and more are all content. Essentially, content creation is the contribution of information to any media for a specific audience or end-user.
Nowadays, content creation is generally associated with the realm of digital media - website content, videos, blogs, social media, and more. Content creation has become an essential piece to marketing any business.
As such, it's important to know the best tricks in the book for creating content. In this blog, we will discuss which app is best for content creators and help you identify some of the best content creation tools to make generating content painless.
What is a Content Creation Tool?
Content creation tools are applications, software, or websites that make the work of content creators easier. These superheroes are often creating written or visual content for all sorts of purposes. Their work may shine on websites, Instagram feeds, as marketing collateral, on TV, or more channels.
What is Online Content Creation Tools' Purpose?
Content creation tools:
Can help keep a creator organized
Make combining text and images straightforward
Improve the overall storytelling process for a creator.
Since there are many different types of content, there are several types of tools and apps. Let's take a look at the tools used most often to create content, and the best content creation apps and options for each category.
What Tools Are Used to Make Content?
What tools are used to develop content at each company depends on their marketing strategy, audience preferences, and business goals. A small business that wants to grow brand awareness among local customers might choose video content creation tools to showcase their personality. A SaaS company, on the other hand, could prefer downloadable case studies. Those are a way to tell the stories of their success and to capture lead information. Many companies will use all of the above and more in different degrees to try and move a few needles at the same time.
Just like content marketers are working to achieve a few different goals, they are using many different tools. The average is nine tools, and it could be as many as 12!
Not all of these are for content creation specifically. 30% of the tools used by marketers are for team communication. But the other 70% of tools are related to content, either on the research and analysis side or the creation side.
What are the tools used for digital content creation? Let's look at the lay of the land in 2022.
What is the Online Content Creation Tool Used Most?
Online content creation tools include those used to research content, design it, distribute it, and measure the audience's reaction. Here are some statistics about the most-used online content creation tools.

These stats let us know the types of content creation software available and some of the most popular platforms. Now, let's dig deeper into some free content tools in different categories.
What Software Is Best For Content Creation?
Here are some of the best softwares for content creation on social media, your landing pages, your blog, your video channel, and in the cloud.
Content Creation Tools for Social Media
Writing a social media post is only part of the equation. Marketers also need to get the post in front of the right audiences, and get users to engage with it once they see it on the feed. Here are some of the free tools that enable different aspects of the process.
Free Content Creation Tools for Websites
What are the content development tools marketers use to create and maintain websites? Many hosting services for your company website will come with a content management system (CMS) included, as well as a library of templates. Here are some tools to evaluate a website's content for certain projects or as part of an upgrade.
CrazyEgg lets you analyze your existing website to see which parts are getting lots of attention and where users might be getting stuck. This lets you make design decisions with confidence!
Unbounce is a landing page creation tool that lets you create optimized web pages in minutes. Integrated AI can even help with writing the page copy, while conversion intelligence shows what is working and what isn't.
Storyblok facilitates user-friendly web design as the first "headless" content management system, meaning you create and edit webpages exactly as they will be seen online. Then, the same design elements seamlessly translate into content across all your channels.
Content Creation Tools for Blogs
Naturally, blogs involve lots of written content. However, the multimedia content on a blog can help separate it from competitors. With that in mind, let's look at some writing and image editing tools for blogs:
Video Content Creation Tools
Video content is some of the most easily digestible content for consumers. For creators, it can be a little tricky to put it all together. Fortunately, there are several helpful tools for video creation:
Splasheo

- This tool takes your raw footage and helps create a full-on video production. Simply upload the clips, select the preferences you want, and wait for the delivery of your finished product.

Camtasia and SnagIt from TechSmith

- This recording tool provides video creators with an easy tool to capture what's happening on their screens, whether it's a walkthrough or a collection of webcam clips. It also has built-in editing tools like transitions, animations, title cards, music, and more.

Canva

- This tool is conventionally used for graphic design, but has the capacity to animate static designs into GIFs and videos.
Content Creation Tools for Free
Many of the tools mentioned above are free, with some pay-to-use features or premium upgrades. While entirely free tools may offer fewer features, there are several content creation tools available to use for free, such as:
Google Docs-

A less-than-glamorous option, this application enables written content, collaboration, and trackable feedback and changes, and it's totally free to use.

Unsplash

- This website gives users access to thousands of free photos and pictures to help populate their websites and blogs.

iMovie

- Free for Apple customers, this program is an easy-to-use video editor.
Which of the Following Tools Can Generate Content?
We've talked a lot to this point about content creation, but what about content generation? What is even the difference?
Basically, generation is a specific kind of creation. Any time you create something, you have generated it–but generation is not always an act of creation.
This might seem confusing so let's break it down.
Content creation means making content where nothing existed before. You can literally create whatever you want…at your own risk.
Content generation means making new content within a certain set of creative parameters or proven processes. You can generate really cool things too.

You would probably be far more likely to say you have "created a new website" versus "generated a new website." Why? Because you have made the website from the ground up.

In the same vein, would you say you "created an idea" or "generated an idea"? In this use case, the term "generated" is far more common, because the idea is generated within a specific context and with the benefit of previous understanding. In fact, without those elements, the idea is unlikely to exist!
This brings us to the idea of tools for content generation. As artificial intelligence gets more sophisticated and reliable, emerging content tools will be able to generate content for you. In fact, some are already leading the market in different areas!
Examples of Digital Content Creation Tools That Actually Generate Content
Heliograf: This powerful journalism bot is responsible for thousands of stories in The Washington Post since 2016, when it got its debut covering the Olympics. Heliograf was even responsible for sourcing, composing, and reading localized results updates for House, Senate and presidential races at the top of multiple Post podcasts during the 2020 US election. With this automated support generating basic content and reports, human reporters are free to pursue more challenging, complex, and creative stories.
Is Heliograf doing a great job? Sure, even if it's also a little creepy. Is it creating content all on its own? No. It is following the examples and patterns learned from humans. (Please don't come for me in my sleep when you read this one day, Heliograf.)
Conversational Chatbots: Tools for content generation aren't all limited to use by one company like Heliograf, which is owned by The Washington Post. Consider the humble chatbot. These tools mimic human conversations to answer questions, share tips, improve customer service and/or win leads for a business. 69% of consumers actually prefer to talk with a chatbot when they need a quick answer to a simple question. When the complexity or seriousness of the issue increases, however, many still prefer to speak with a human to get the full picture. This is because the chatbot is only going to serve up the responses it has been programmed with, and may not be able to generate the necessary reply.
Postello: Postello is a free tool which automatically generates social post copy to promote your brand on Facebook, Instagram, LinkedIn, and Twitter. According to their website, the average small business owner spends at least 10 hours a week creating social media copy. But with so much social copy out there to learn from and imitate, Postello can do most of the work for you. This leaves you to just make minor edits and add any images or links before approving the post!
Word Processors: Even our Word documents and Google docs are starting to get into the work of content generation. These and other content creation tools increasingly provide suggestions for how to complete sentences, which adjectives and verbs to use, and so on. While these features are not totally generating the content for you, they are supplementing your creation.
These are just some examples of how AI-enabled content generation is supporting content creation–and in some cases, even taking its place.
Content Creation Websites: Dos and Don'ts
We've covered a lot of tools you could use, but before you sign up, here are a few best practices to keep in mind as you choose the content marketing tool which is best for you.
Do: Ask Around – When you have a specific need or challenge, ask around to see how others are solving the problem. If you're doing research into an unknown content creation tool, read reviews.
Don't: Decide Alone – You may love using a specific tool, but will everyone else feel the same? Give everyone who will use the content creation website a chance to test it and give feedback before you decide.
Do: Go Beyond the Website – The content creation tool is the product, but your experience as a customer goes beyond the features. What can you learn about the company's customer service, values, and goals for the future of the product?
Don't: Struggle Through – Remember that the developers of content creation tools want you to enjoy using them and recommend their platform to others. If you can't figure out how to use it–let them know! This is supposed to make your life easier, not harder.
Do: A/B Test Your Different Options – If you can't decide between two similar tools, take advantage of any free trials to give both a test run. If the platforms are completely free, you can even use both for different things! Or, hey, pay for two tools if you want. That's what being a grownup is all about.
Don't: Stop Exploring New Solutions – There is always something new to discover in the ever-growing list of online creation tools examples. From design tools, to video editing platforms, to web content management, these products hit the market because they offer something different than whatever you are currently using. On one hand, change for its own sake often causes chaos. On the other hand, if you aren't learning about the latest cutting-edge content marketing tools on your own, you might learn about them when they are giving your competition the lead.
Which Software is Best for Content Creation? DemandJump Delivers Keywords to Help You Win Page One
At this point you may feel like you know which app is best for content creation. However, while we have discussed some very helpful tools, we haven't touched on the real secret sauce for creating effective content… SEO keywords. Using the right SEO keywords can get your content ranked and enable search engine optimization. This means more views, more engagement, and better overall market outreach.
DemandJump single-handedly provides you with a list of the best keywords to compete for within the context of your industry. We show you the keywords you are currently winning and the ones your competitors are winning, down to the exact order your results appear in Google. Integrated one-click content outlines help you plan an SEO-optimized blog, webpage, or piece of lead gen content, even recommending which high-priority keyword options to use in your headlines.

Looking for more overall strategic insights? Our pillar based marketing (PBM) strategy generator shows you how a general topic you want to rank for is connected to the specific searches your audiences are actually conducting. We help you take the guesswork out of judging which content your user personas want to read, and instead show you the exact questions they need answered. If you set up your Insight Report to automatically run each month, you'll get updated search rankings and the latest trends in your audience preferences delivered right to you.

Demand Jump's research insights are a free, easy way to ensure you are getting the biggest impact from all of your content. Sign up today for your free account and get equipped with exactly the right topics to create content around.
Get Your Free Pillar Strategy Report