5 Methods for Choosing Keywords for SEO Content
September 8, 2021 •DJ Team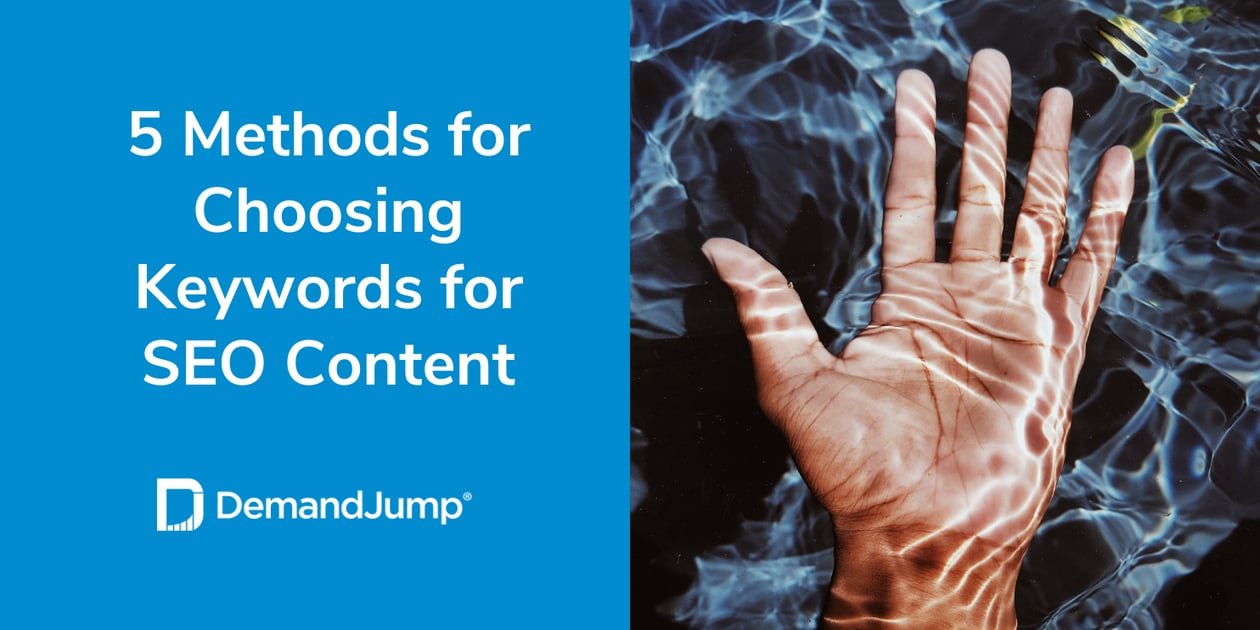 Choosing keywords for search engine optimization (SEO) or to inform organic search content creation starts with understanding what your audience is looking for when they use a search engine like Google.
But considering that 15% of the searches done in Google every day are brand-new, never-before-searched terms and phrases, SEO keyword research has to go beyond pinpointing the exactly-right phrasing.
The keywords you choose need to empower you to create readable content that demonstrates your authority to the algorithms powering the search engines.
Search engines today are smart enough to ignore content where keywords are being overused just for the sake of trying to rank and instead prioritize content that actually has proven value to readers.
So in this context…just how do you choose the right keywords? Let's talk about the practical how-to of choosing keywords, as well as the high-level keyword research tips that can turn this headache into a daydream.
How Do You Do Keyword Research?
Doing keyword research is a process of data analysis and cross-referencing, especially if you are trying to use only free keyword research tools. You can use many sources of information to do your keyword research, including:
Online Searches:
Looking up a term that is central to your operations gives you insight into what related terms and questions people are searching for. There is usually a list of associated searches at the bottom of the page for you to click if none of the results meet your needs.
Competitive Analysis:
You can take a look at your competitors to understand what phrases and keywords they are using to describe themselves. This can be evident everywhere from the headlines on their homepage to the titles and headlines of their blogs and other marketing content.
Content Gap Analysis:
Align sales with your marketing efforts by asking what questions and needs they are constantly addressing. This will reveal gaps in your content library where prospective customers are challenged to self-educate about your brand.
Keyword Research Tool:
You can also use free or paid keyword research tools to get an analytical perspective on which keywords are recommended by an algorithm. At DemandJump, we integrate search data and competitive analysis with our keyword planner so you get all the insights in one place.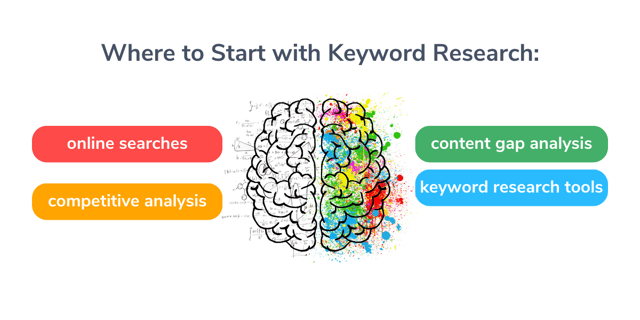 How Do You Choose Effective Keywords?
Simply generating a list of keywords feels like one giant leap for marketing-kind. But how do you take the next step and choose the keywords that will actually be effective?
There are a few types of keywords that are important to include on the list in terms of both length and why the buyer is searching for them at key points of their journey.
3 Types of Keywords By Length
Short-Tail Keywords are generic, one- or two-word search terms that are very competitive to rank for, like 'marketing agency'. You should definitely include them in your content, but the good news is these shorter phrases may also naturally be present in some of the longer keywords on your list.
Mid-Tail Keywords are slightly more specific three- or four-word search terms that may still be hard to rank for, but also give more direction, like 'best marketing agency'.
Long-Tail Keywords are questions and phrases longer than four words, which might not get much traffic but have very high conversion rates, like 'best marketing agency for small retailers'.
These different lengths of keywords allow you to create evergreen content that will always be relevant while simultaneously speaking to the needs and concerns of consumers today.
3 Types of Buyer Keywords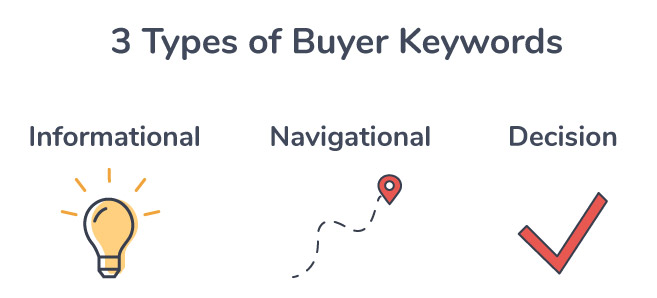 Informational Keywords are keywords buyers search for when they want to learn more about the solutions to their needs, like 'what to look for in a marketing agency'. At this stage, they are still growing their knowledge and deciding on their next steps. These are also sometimes called "know" keywords—what does the audience want to know?
Navigational Keywords are keywords buyers use in the consideration phase as they are comparing different brands and solutions, like 'full-service marketing agency near me'. At this point, the buyer knows what they want, and they need to go find it. Sometimes, these keywords may even include brand names. They are also sometimes called "go" keywords—what solution does the audience want to go find?
Transactional Keywords are keywords buyers search for at the moment they want to make a purchase, like 'buy small business marketing package'. These keywords usually include brand names, especially for online purchases of goods. They are also known as "do" keywords—the buyer is ready to do something, and your website needs to show up if you want the conversion.
Using keywords from all of these buyer stages will allow you to capture traffic from buyers throughout their journey to a purchase.
DemandJump: How to Choose Keywords for SEO
With all these different lengths and perspectives of keywords to consider at each stage of the buyer's journey, wouldn't it be great if there was a platform where you could get all the insights in one place? Where all the keywords and search terms that are most used at each stage of the buyer's journey are ranked by relevance?
Okay… you caught us. DemandJump already does those things.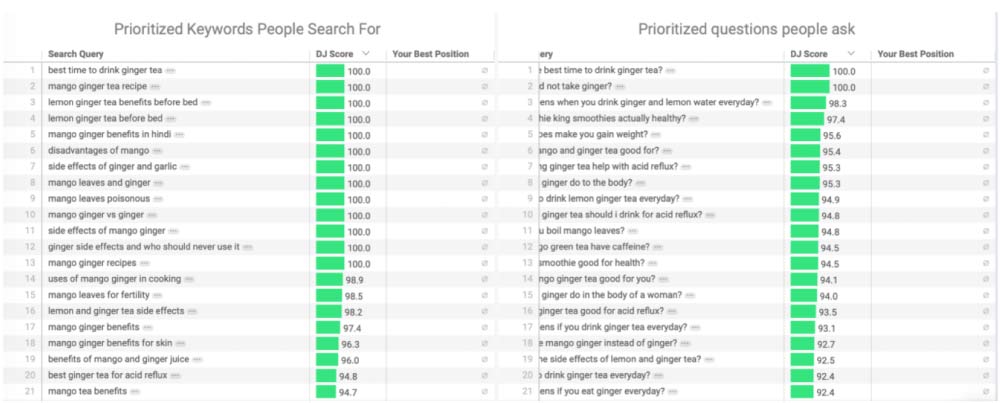 Entering one short-tail keyword phrase will generate a report where all the associated phrases are not only collected and sorted according to the stages of the buyer's journey but also ranked by our algorithm to help you understand which ones are trending today.
You'll also see if you are currently ranking for any keywords, as well as whether the competitors you identify are performing better or worse.
The result? A one-stop solution to source your keywords and start creating content that will move the needle and get you ranking higher in search.
Get started today and see just how easy it can be!
Get Your Free Pillar Strategy Report