6 Best Free Keyword Generators
September 23, 2021 •DJ Team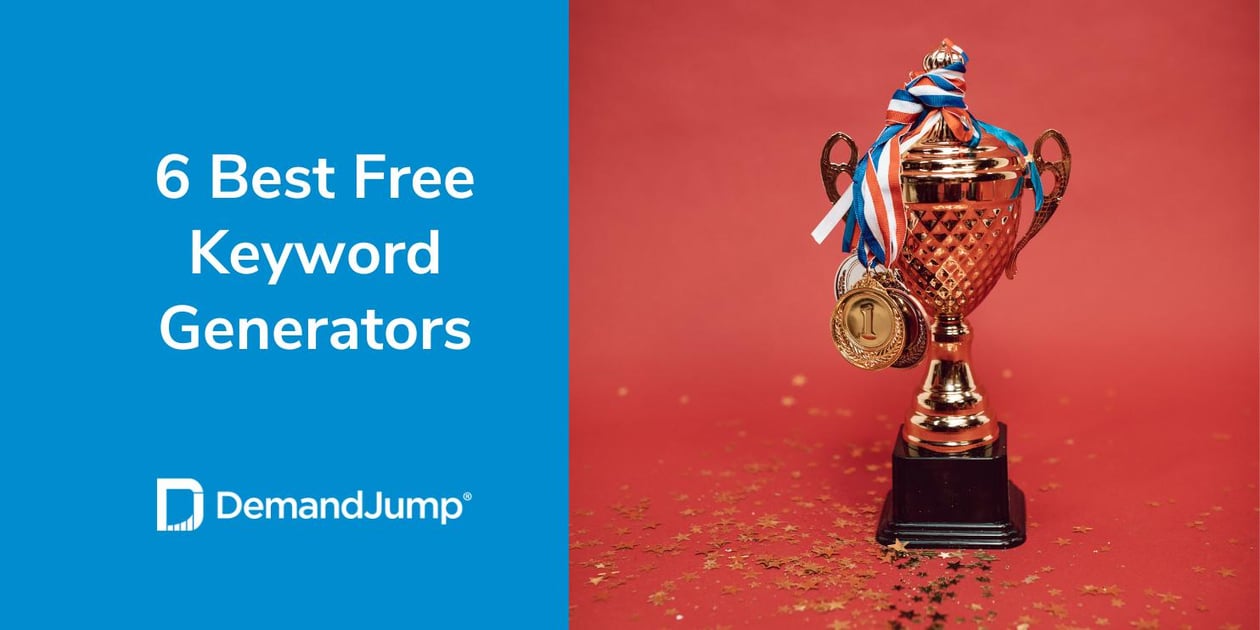 If you manage a blog, create buyer personas, or run paid search campaigns, you may sometimes hit a creative wall.
What topics do your audiences care about? What keywords are trending? What will entice them to click?
If you've run through the same themes and topics and need a fresh take, a keyword generator can help get you out of your rut.
What Is a Keyword Generator?
A keyword generator is an online tool that suggests new keywords from a root keyword or phrase.
These tools are great for brainstorming topics for blogs or social media content in order to drive web traffic and gain new readers and customers online.
How Do I Use a Keyword Generator?
Depending on your chosen SEO keyword research tool, the exact steps will vary, but the premise is the same. You start by entering one or more topics in a search bar, and the tool will generate keyword suggestions including words, phrases, and questions related to your keyword or topic.
More advanced keyword generators such as DemandJump will allow you to save or export lists and provide data for each keyword.
Free Keyword Generators
We've compiled a list of easy-to-use, free research generator tools to help get your creative juices flowing:
People Also Ask
Did you know that there are keyword suggestions hidden in a basic Google search? Type a search query into Google, and about halfway down the first page you'll find a section called "People Also Ask". The more of the questions that you click through, the more that will appear.
DemandJump Free Trial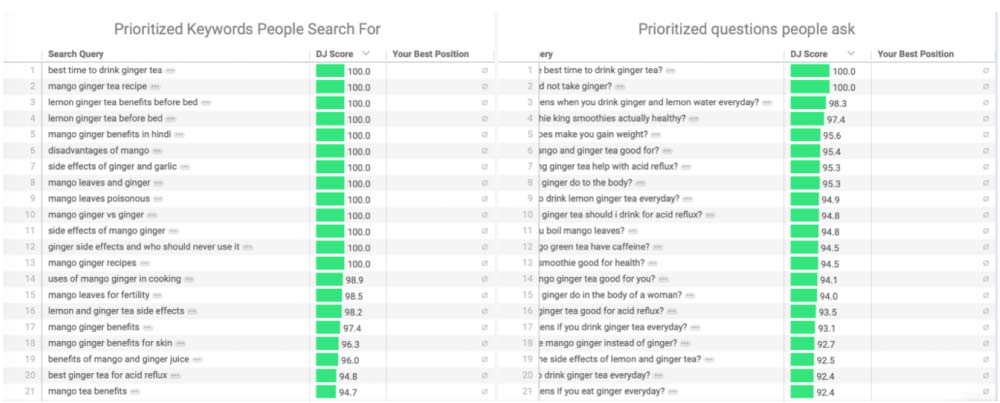 All you have to do is put in your topic of interest and DemandJump provides a prioritized list of content to create to rank on the first page for that topic. DemandJump takes it one step further and provides one-click SEO content briefs so you know the exact H1s, H2s and H3s to include, along with what keywords to include in each section.
Google Ads Keyword Planner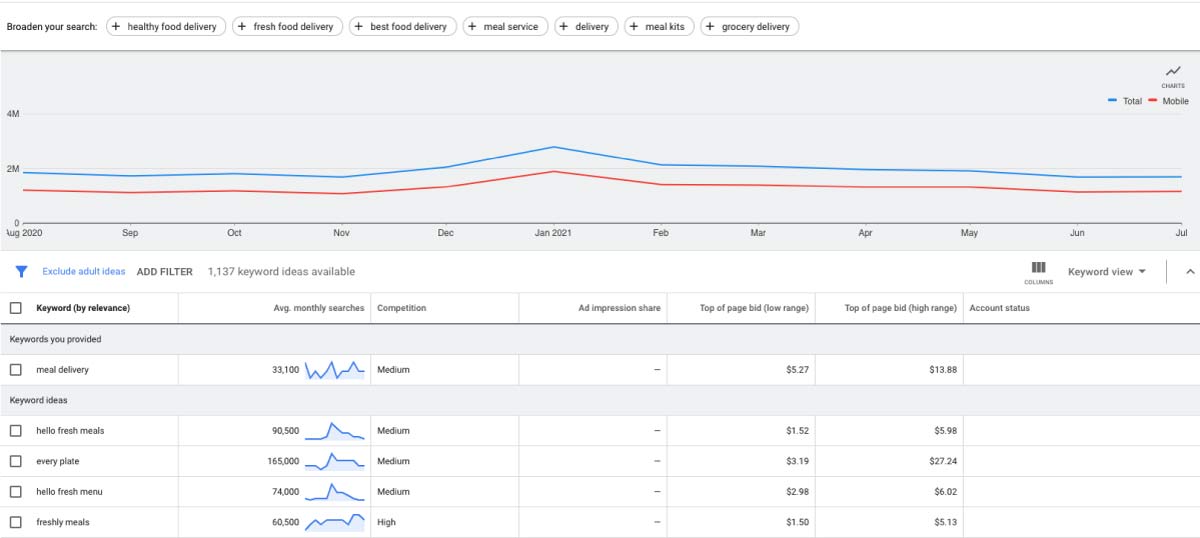 The Google keyword tool, previously known as Google AdWords and now known as Keyword Planner, is a feature within Google Ads. To use it, you will need to first set up a Google Ads account and then pause any campaigns in order to keep using the free version. Keyword Planner can then be found under "Tools and Settings". Though this is a great free option, some functions including precise search volumes are reserved for accounts with live campaigns.
Keyword Surfer
Keyword Surfer is a Google Chrome extension that provides search volume data embedded on a Google search page. On the right, it also populates a list of related search terms in a bar for exploration.
Ahrefs
Ahrefs Free Keyword Generator provides a basic keyword suggestion function with volume and keyword difficulty for each suggested keyword. Many advanced features, including list-building, are reserved for paid accounts.
Answer the Public
Answer the Public is a visual keyword-mapping tool that breaks down keyword suggestions by semantics. Each search query will start with a root keyword, with branches shooting off including "can", "why", "where", etc. This tool is a unique way of organizing and mapping queries outside of lists, which is what every other keyword tool uses.
How Do I Generate Keywords for SEO?
Generating keywords is just one step in creating an SEO (Search Engine Optimization) strategy that will help your website rank well and reach potential customers. Use one of the free SEO keyword research tools above to get started in understanding other questions your customers may have, and what their buying journey looks like.
To launch a complete SEO strategy, you will need the ability to save and organize keyword lists and to analyze metrics for each keyword in order to choose which to target and how to target them.
Not all of the tools above provide this functionality; for instance, Ahrefs doesn't allow you to build keyword lists for free and People Also Ask on Google doesn't provide any data for search terms.
To increase your search rankings, you'll want to target relevant high-volume, low-competition keywords with consistent organic or paid content. SEO campaigns are a marathon, not a sprint, and they take investment and iteration over time.
To execute critical SEO tactics like content marketing campaigns or PPC campaigns, you'll want a time-saving SEO tool, or else you could spend hours manually compiling keyword lists. With the right keyword generator tool and a long-term, user-oriented mindset, you can win the SEO game.
Take a listen to DemandJump's "Page One Or Bust" podcast to hear why choosing the correct topic to write about is so important. Check out a clip below:
DemandJump: All-In-One Keyword Generator and Analytics Platform
When doing SEO research, you need a tool that can take you from concept to campaign to results.
DemandJump automates keyword research, provides one-click SEO outlines for new content and attributes revenue from conversions back to your published content.
Work smarter with automation tools designed for creating content that ranks on the first page. Get started today!
Get Your Free Pillar Strategy Report