A Guide To Competitive Keyword Research
September 15, 2020 •DJ Team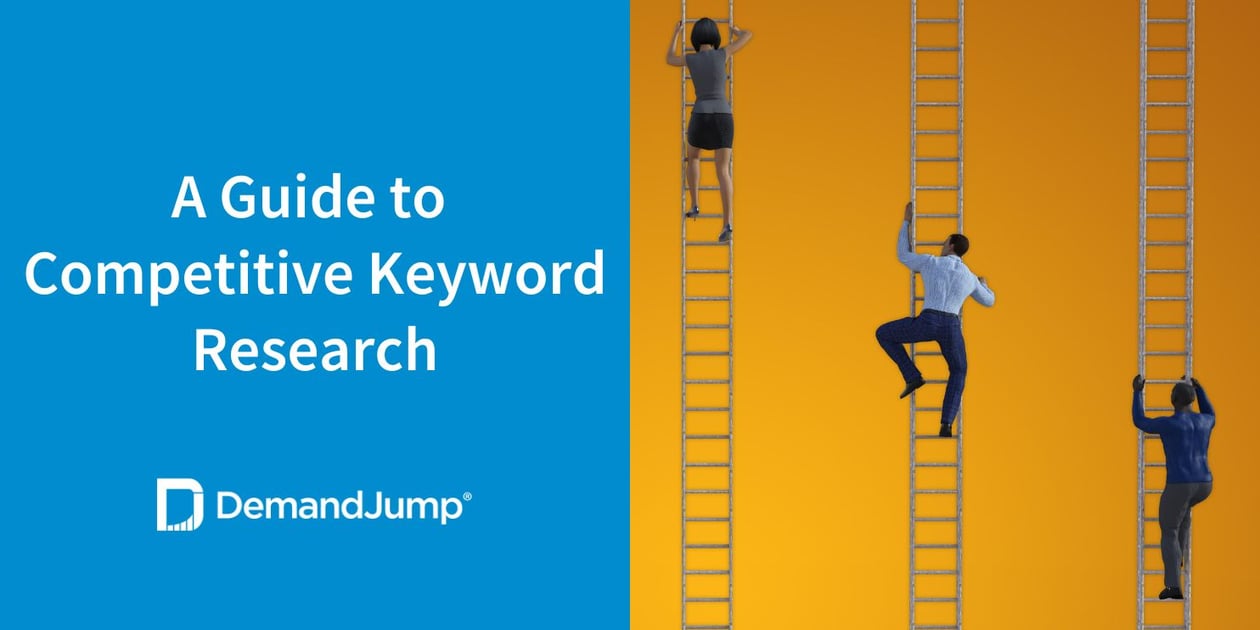 Keywords and keyword selection are the foundation of your SEO strategy. The keywords you focus on are not only the most important piece of your SEO strategy, but also your content strategy and paid marketing strategy.
When designing your keyword ranking strategy it's important not to do so in a vacuum. You need to understand how competitive a keyword is within your industry and among your competitors.
Competitive Keyword Research Defined
Keyword competition is a measure of how hard it is to improve your page rank based on a particular keyword. Keyword value can vary greatly, depending on the keyword's popularity and competition within your industry.
Competitive keyword research is a process that allows you to uncover new opportunities to draw customers to your site. It's also a way to learn from others' experience in SEO keyword ranking.
You also gain valuable insights into consumer behavior, gaining a clearer understanding of the questions and terms potential customers are asking when they search for information.
There's a complex challenge for companies looking to improve their SEO keyword ranking status. The most highly competitive keywords will be those that everyone is trying to improve their Google page rank on. These most popular, highly sought-after keywords will be those that are most expensive in pay-per-click (PPC) bidding. But that's because they work and are effective.
The trick to competitive keyword research is to find the balance between the most competitive keywords and less competitive keywords that still have a positive impact increasing traffic, visibility, and even quality score.
How to Rank for Competitive Keywords
Ranking for the most competitive keywords is possible. Here are some of the steps to take,
Find the Competitive Keywords. There are many resources available for conducting keyword research. DemandJump's platform includes a keyword research tool that gives you deep insights into your keyword performance, keyword gaps, and which keyword opportunities will yield the best results. Google also offers tools that help identify keywords and how they relate to Google page rank.

Whether you're wanting to create organic keyword content or invest in pay-per-click (PPC) advertising, knowing these keywords is the first step.
Find Related Keywords. One way to boost your keyword strategy is to identify closely related keywords to your target keywords and incorporate them into your content. Keyword research tools can help you find related keywords quickly. By using the related keywords, you demonstrate your relevance and improve your Google page rank.


Build Your Content. Website content should be a central focus for improving keyword ranking. Develop a content strategy that focuses on both the popular and less competitive keywords. Content that is relevant and valuable means meeting potential customers where they are at during each stage in the buying funnel. It's important that you're consistent in the use of keywords that match ideal customer personas. Focus on answering key questions, providing guides and insights or otherwise demonstrating your expertise.


Launch and Optimize. Make sure your target keywords are in your page title and meta information and consider landing pages devoted to high-value keywords. Publish and promote your content across channels, using social media, influencers, cross-posts and shared links to maximize the reach.
Every section of your content should relate to the keyword and provide readers and users with an incentive to further engage. Not only will you draw more paying customers, you'll also see an improved page rank and increase in organic coverage.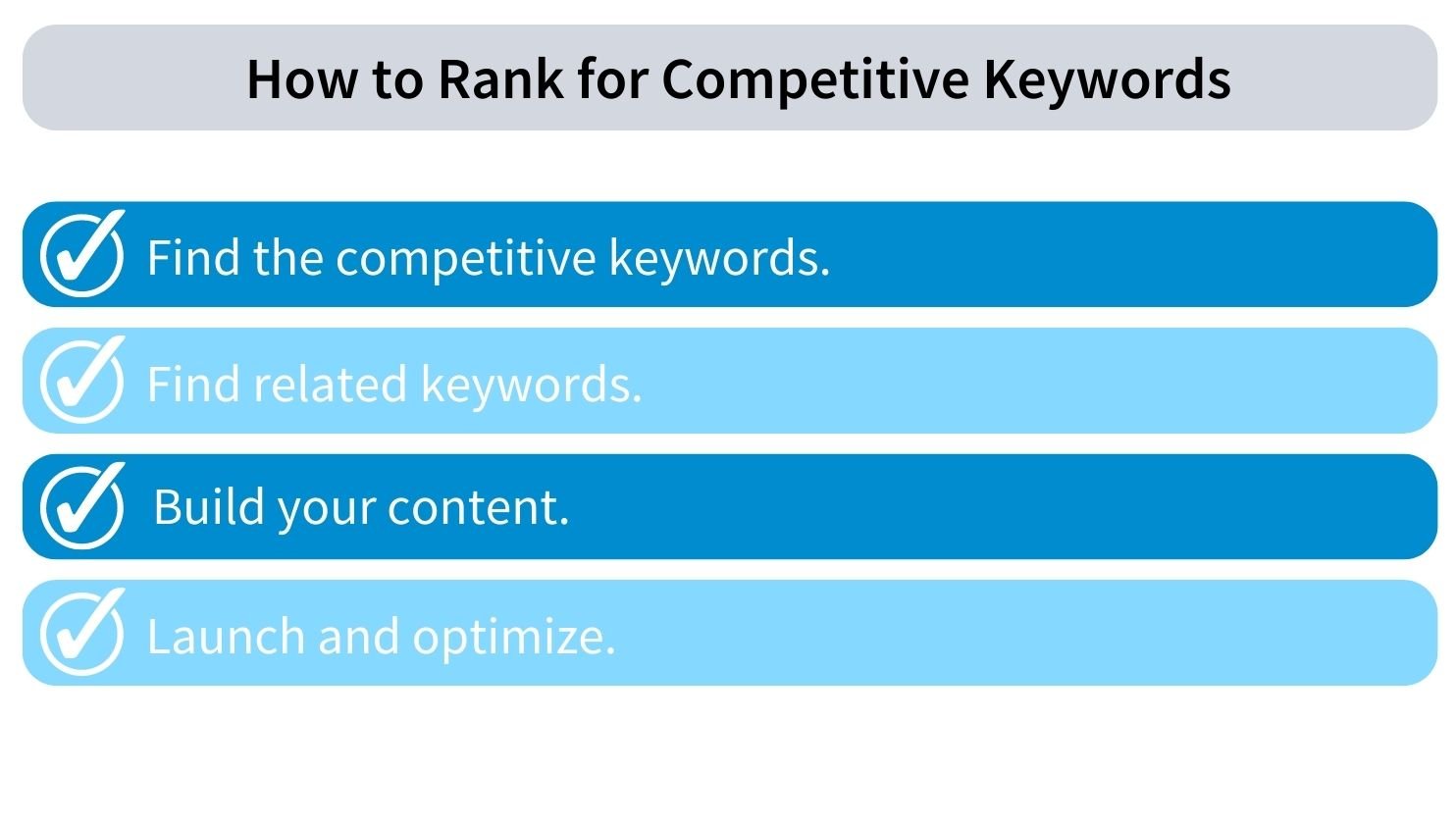 How to Find Less Competitive Keywords
Keywords add value no matter if it's organic or PPC. One advantage of looking for less competitive terms is the reduced cost of paid search keywords. But how can you find less competitive keywords that are worth building content around?
Some SEO strategists suggest starting with less competitive keywords before moving up to the more competitive keywords.
For true success, you want to find less competitive keywords that are relevant and have low competition.
The first – relevance – means knowing your audience and the needs they are trying to fulfill when searching for your products or services. No matter what keyword research tool you use, you want to use those results as a catalyst.
Consider similar searches or those that could use similar words. Also think about incorporating long-tail keywords into your strategy. Long-tail keywords are more specific and more detailed. This strategy is ideal when you have products or services that fulfill a particular use or industry. Your customers might be using the more specific phrases to find exactly what they need.

A word about keyword research tools. Often, you come across tools that spit out lots of useless and irrelevant search terms. Be sure to use a tool like that on the DemandJump platform that achieves more. With DemandJump, you'll get keyword insights that:
Include competitive search insights and trends
Let you compare paid and organic search performance side by side
Pinpoint keyword opportunities with the greatest potential by showing quantifiable traffic lifts
Automated content outlines
Log campaign changes and track results
Identify gaps in your keyword strategy
Generate automated recommendations based on competitive trends
Automate keyword search reporting
Learn more about how DemandJump can improve business results using competitive keyword analysis. Try it for free, start today and discover keyword insights to boost your business.
Get Your Free Pillar Strategy Preview!