Are Content Writers in Demand?
January 17, 2023 •DJ Team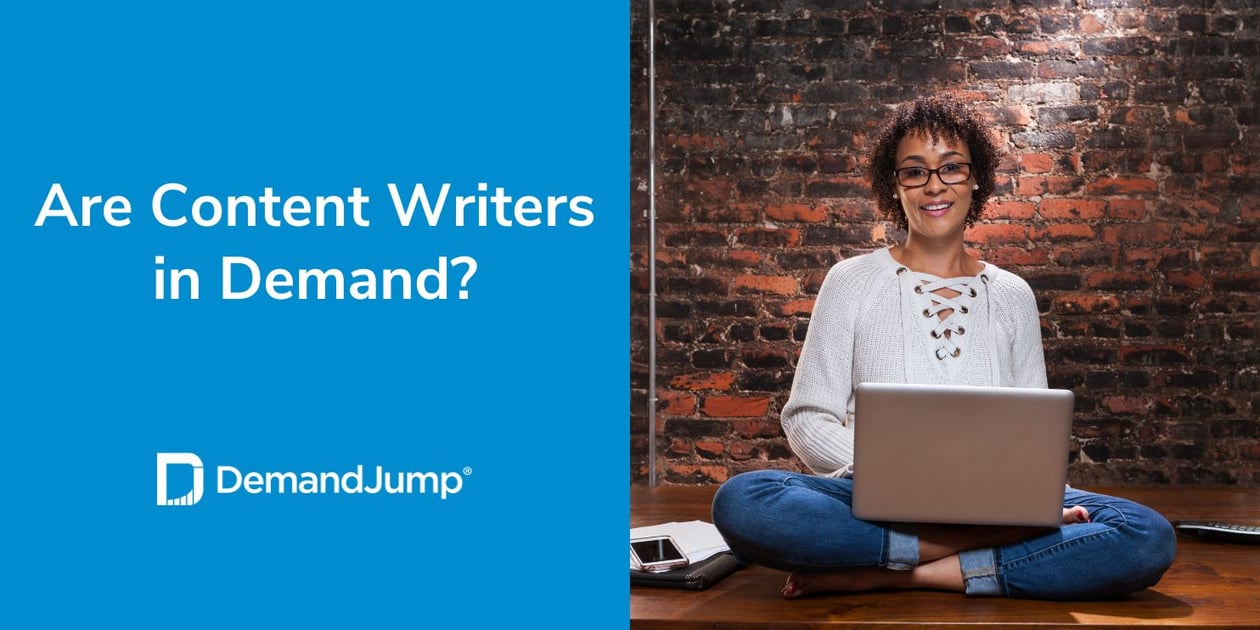 If you have a creative brain and want to use it in your career, then you may have considered taking up a writing job. Perhaps you want to write Software-as-a-Service (SaaS) content. Or maybe you want to write content about the latest products at a local store. No matter whether you're a recent college graduate or a seasoned professional, jumping into the content writing industry can be both enticing and intimidating for creative minds.
One concern that many aspiring writers have in particular is whether a job in the field is promising. Don't worry. The demand for content writers is high nowadays. SaaS content writing jobs, for example, are much needed as the SaaS industry grows. Before we get too far into some of the specific types of content writing, though, you'll need to know what content writers do.
What Does a Content Writer Do?
At the most basic level, a content writer creates content, such as blogs, video scripts, and eBooks, to engage a business's target audience and encourage them to take some sort of action. Such actions could be:
Reading other blogs published by the business
Scheduling a demo
Browsing through catalogs
Calling the business
Signing up for emails
Listening to a podcast
Essentially, a content writer attracts potential customers to a business, explains the value of what the business offers, and, if the writing is compelling enough, convinces the reader to make a purchase.
So how does a content writer do what they do? First, they figure out what their target audience cares about. Related questions or topics found during a quick Google search can give them a good sense of what their audience wants answered. Using a platform like DemandJump that compiles briefs full of keywords and questions around a certain topic can do the same thing in significantly less time.
From there, the writers research, learning what they need to know about various topics from reliable, trustworthy sources. They collect information and statistics to support the arguments they make in their content so that the reader believes and trusts them, too. Plus, providing readers with all this information in your business's content will keep them from having to do further research on competitors' websites.
After that, the writer does what they do best: write. They should keep brand voice and tone in mind to accurately reflect what a business stands for. They should also use the keywords and questions they found earlier to make it easier for readers to spot their content on search engine results. Using their research, they create educational, engaging content with a call to action at the end to encourage readers to take a next step. Before they publish their content, they also have to edit and revise to ensure everything is the best it can be. Other writers can help with the editing process.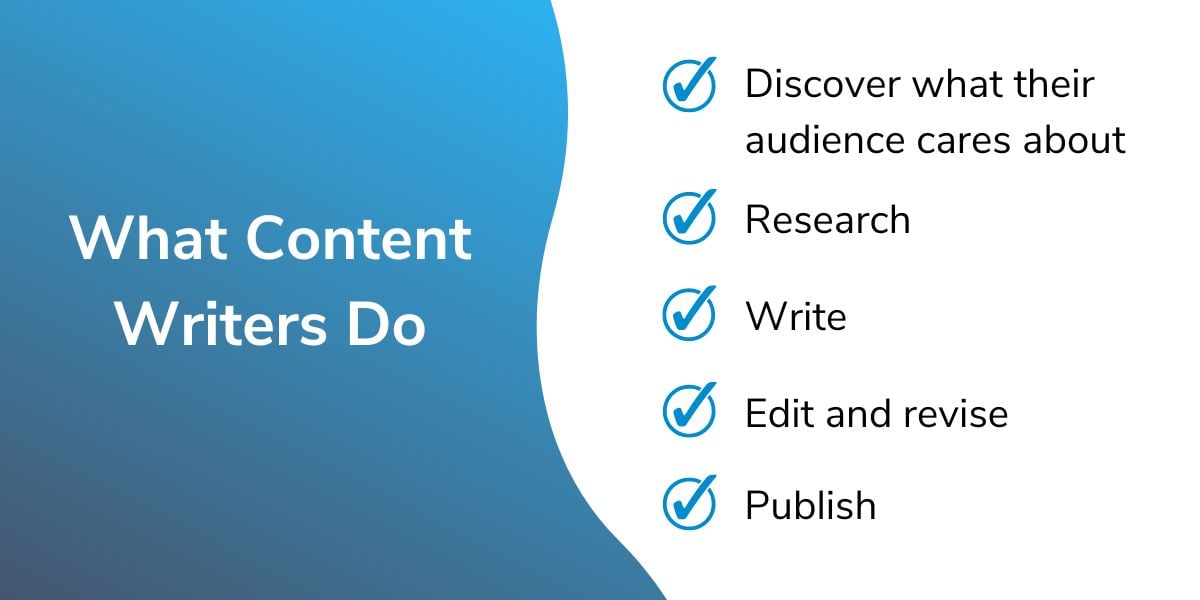 Does Content Writing Have a Future?
The future of content writing is promising. In fact, the US Bureau of Labor and Statistics predicts that the content writing industry will achieve 4% growth from 2021 to 2031. This rate aligns with the average for all other occupations.
What's more, Google's helpful content update "reward[s] content where visitors feel they've had a satisfying experience, while content that doesn't meet a visitor's expectations won't perform as well." Specifically, they want to boost content written by humans to answer human questions. With artificial intelligence writing tools still in their early stages, businesses still need real writers to create content for them.
What Type of Content Writers Are in Demand?
Some of the most in-demand content writer jobs out there right now are:
Blog Writers: Professionals in this position take their research and turn it into easily digestible pieces of content for readers. While these pieces of content tend to be less complex than technical writing, they should still educate the reader and answer some of their common questions. The main difference between blog writing and technical writing is that blog writing puts information in layperson's terms. A blog's tone will vary from business to business but is typically more fun or personable than technical writing is.
Technical Writers: If you've read a manual, how-to guide, or FAQ section of a company's website, then you've probably read the work of a technical writer. These creatives turn highly technical information into easy-to-understand content. If writing about a particular product or process, they get into the nitty-gritty details, including specifications, components, etc. You can find these writers most often in technical, computer, and scientific industries.
Social Media Writers: According to Statista, over 4.26 billion people around the world used social media in 2021, and that number is expected to grow to almost 6 billion by 2027. It only makes sense, then, that social media writers are in high demand. These creative professionals take on their business's voice on social media to create posts and comments that encourage followers to engage with a business. Staying on top of current events and industry trends launches writers in this role to success.
No matter what industry you decide to work in or what type of content writer you want to become, you can rest assured that the future of writing careers is promising. Now you just have to find that content writing job of your dreams and begin your writing process.

Write Stellar Content Using DemandJump
Once you land that dream job, you'll want to make sure your content reaches your target audience. After all, that's what you were hired for. When you use DemandJump, you improve your website's first page rankings by creating content that will answer your audience's questions. DemandJump creates content strategies for you, showing you what titles to use for content surrounding a topic of your choosing.
Based on each title, our platform will also generate briefs with related keywords and questions to include in your content. Doing so will ensure that you speak to what readers want to hear and make it easier for search engines to find your content and get it in front of readers.
To learn more about how our platform works for writers, start a free trial by clicking the button below or check out DemandJump University's course on Pillar-Based Marketing Writing.