B2C Content Marketing Statistics from 2020
December 29, 2020 •DJ Team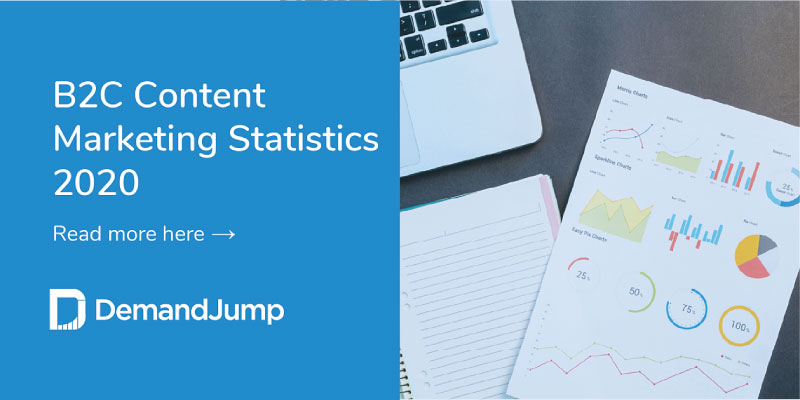 What a year for marketing it's been. 2020 threw everyone for a loop, from the moment we stepped out of our offices thinking we'd be in quarantine for a scant two weeks, until now as we're bidding it good riddance. That said, it's changed a lot about every work environment we all have been in, and has taught us a lot of lessons over the course of the year.
While digital marketing has proven to be a key component of any marketer's repertoire, 2020 has shown that an increase on all things digital are increasingly important when we're not able to supplement with as much face-to-face time. Emotion is still important to play, if not even more so, as consumers want to buy from consumers online who are cognizant of the things they're going through.
At the same time, as small businesses have suffered from less foot traffic, we've seen many who have pivoted to online sales platforms and, along with that, have begun to implement other forms of content marketing in order to boost sales. Let's look at a few content marketing statistics and see what we can take with us into 2021.
What is B2C Content Marketing?
Let's face it: marketing has a lot of acronyms that get thrown around, especially in the digital space.

When you think of most traditional marketing, it's B2C marketing. Print ads, radio and TV commercials, and many digital ads and other content are usually aimed at individual people. These people make purchasing decisions for any number of reasons, and content tries to cover all of the bases. From those who are extremely methodical and thoughtful in their purchasing and do their research, to impulse buyers who are far more emotionally driven in their buying, content marketing is able to reach all of them.
B2C Content Marketing in 2020
Let's look at a few statistics from 2020 that give us greater insight into the future of content marketing.
40% of content marketers only look at competitors once a year—or not at all. (Conductor)
Successful marketers are dedicating 40% or more of their annual budgets to content. (Content Marketing Institute)
55% of marketers outsource at least some of their content creation. (Content Marketing Institute)
Adults in the US spend, on average, 3 hours and 10 minutes on their phones daily. (Emarketer)
Mobile traffic has a 125% growth rate. (Issuu)
91% of consumers want to reward brands for their authenticity. (Social Media Week)
38% of content marketers rate their strategy as only "Average." (SEM Rush)
51% of content consumption comes from organic search results. (Kuno Creative)
56% of businesses said they want to increase their budgets for content. (Content Marketing Institute)
For every $1 spent on email marketing, businesses receive on average a $42 ROI. (Litmus)
40% of consumers wish emails would be more informative and less salesy. (Adobe Campaign)
43% of consumers decide if they want to watch an entire video in the first 15 seconds. (Hubspot)
75% of consumers between 18-34 watch at least one video a day. (Hubspot)
97% of both consumers and online marketers say video helped customers understand their product. (Wyzowl)
20 billion Wordpress pages are viewed by over 490 million people each month. (Wordpress)
38% of bloggers who spend 6+ hours on an article report getting "strong results." (Orbit Media)
43% of readers admitted to only "skimming" blog posts. (Hubspot)

B2C Content Trends in 2020
Based on these statistics, there's a lot we can tell about what we should expect from content marketing in the next year. The trends that began in 2020 are all but certain to gain strength in 2021.
Video, for one, is going to continue to grow. Not just as a primary source of content (though it should, given the number of consumers who view it daily), but as a wider source of content as well. As so many conferences and other businesses have turned to digital conferencing and "going live" as an alternative to in-person events in 2020, we've noticed a benefit from this. Namely, it allows those from far away—or even those who can't afford to attend in person—an opportunity to join in the fun. While in-person events should come back as soon as they're safe, a virtual or "live online" version should stick around.
We'll also see the content experience improve in 2021. People experienced screen fatigue at new levels in 2020, and websites that were throwing dozens of popups and other disrupting ads meant consumers weren't able to seamlessly take in the content. If marketers are investing as heavily in content as forecasts show they will, they will want to be assured that nothing about the site experience is going to prevent a consumer from interacting with it.
Users are turning increasingly to their phones when they want an answer—and they expect it immediately. Because most searchers don't look past the first few search results, we can also expect more marketers to focus on SEO-related content.
Automate Your Content Strategy
DemandJump's Insights show you where you are winning and where you are losing to your competitors around any topic. The platform will point out gaps and opportunities to take traffic share, and with one-click SEO-optimized content outlines, you'll save time in the process.
Save over 50% of your time while creating better content - that ranks!
Get Your Free Content Marketing Strategy Report