Can I Do SEO On My Own? A How-to Guide for SEO
November 22, 2021 •DJ Team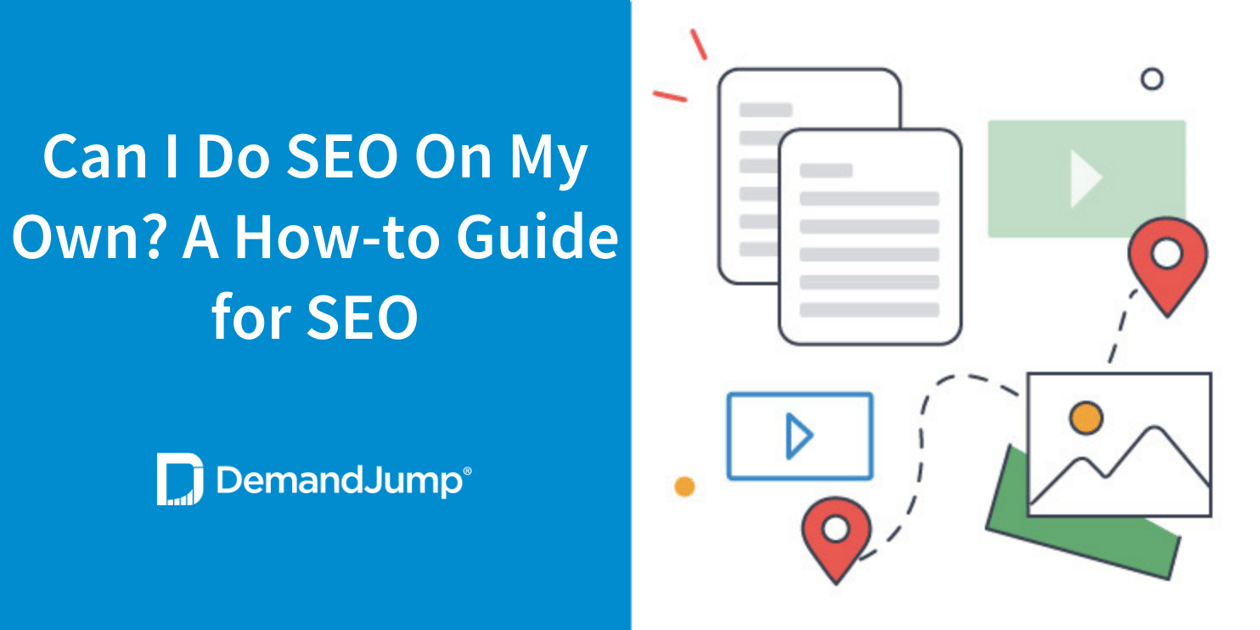 Search engine optimization (SEO) can be intimidating for a lot of marketers. With all the endless Google algorithm changes and all the technical knowledge that's needed to rank well on Google, many small businesses prefer to focus on other marketing channels, leaving a lot of money on the table.
A Search Engine Journal study shows that around 50% of all traffic to small businesses comes from organic search. Businesses need to focus on optimizing their content for search engines and getting more backlinks from other sites in order to improve their rankings.
The common misconception is that SEO is hard, technical, and requires a large budget for tools and software.
In this article, we'll give you all the tips and tools that you need to do SEO on your own.
Free SEO Tutorials
There are a lot of excellent resources that can help you learn SEO from scratch. If you read one guide at a time and really work on implementing the tips and strategies described, then you'll quickly be able to improve your search rankings.
SEO isn't any harder than other aspects of digital marketing. It's just as easy to pick up as social media best practices or content marketing strategies. Here's a list of some of the best SEO tutorials:
One thing to remember is that SEO takes time, usually three to six months, to see results on your SEO project. Just because you read a guide and implement some of the strategies, don't expect immediate results.

How to Set Up Your First SEO Project
We cannot overstate the importance of SEO in digital marketing. Improving your search rankings brings you more traffic and increases your sales.
Here's an easy procedure to follow to set up your first search engine optimization project.
Conduct a site audit - See your top ranking keywords and most visited pages.
Optimize your on-page content - Add more keywords, more content, and any images you think will help the user engage with the blog post or product page.
Get some backlinks - Email industry experts and other blog owners and ask them to link back to you, or collaborate on future content.
Analyze your results - Use a Google SEO tool like

Google Analytics

or Google Search Console to see your results and compare traffic from before you started your SEO project.
The key to a successful SEO project is consistency. Break down everything into easy tasks and insert them into your company processes. Over time, as you measure your progress, you'll see your keyword rankings improve, the number of keywords you rank for grow, and your traffic increase.
If you have questions about any of these aspects of SEO, you could read any of our SEO practical tutorials.
Two Parts to Search Engine Optimization
Search engine optimization techniques break down into two main parts: on-page SEO and off-page SEO. Let's discuss each one to help you get a better understanding of the whole process.
On-Page SEO
On-page SEO deals with everything that's on your page. This means the keywords, meta title, meta description, headers, and links in your articles and on your page. SEO projects here include keyword research, on-page optimization, and content writing.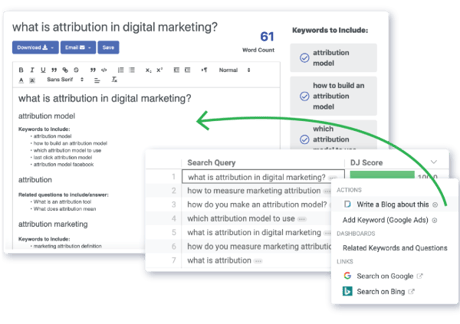 (DemandJump's one-click SEO content briefs show the exact keywords to use, including recommended H1s, H2s, and questions to answer.)

Off-Page SEO
Off-page SEO refers to all the factors that influence your rankings that are off your page. This includes backlinks that you get from reputable sites both to the specific page and to your site as a whole.
You can acquire through review sites and platforms, online directories, industry blogs, and online publications. SEO projects here include backlink outreach and content collaboration with other websites.
You can work on both aspects of SEO using free SEO tools and fairly easy search engine optimization techniques.
Free SEO Tools
First, SEO tools don't have to be expensive. There are plenty of free SEO tools that can help business owners with many aspects of SEO. Use Google Search Console or Screaming Frog for a site audit and to see which keywords you rank for and which backlinks you have. Use Yoast's SEO plugin if you have a WordPress site to optimize your content.
You can learn SEO from scratch by starting with these free tools. We would also recommend learning SEO online.
Do SEO on Your Own With DemandJump
SEO doesn't have to be complicated or overwhelming. Evaluate your site for the top pages and then break down each page into small tasks.
The importance of SEO in digital marketing can't be overstated, it will bring you thousands of visitors if you do it right. Make sure you do it right, with DemandJump.
Get started writing SEO content that ranks, today!
Get Your Free Pillar Strategy Report