5-Step Content Audit Checklist: Your Content Audit Playbook
August 12, 2021 •DJ Team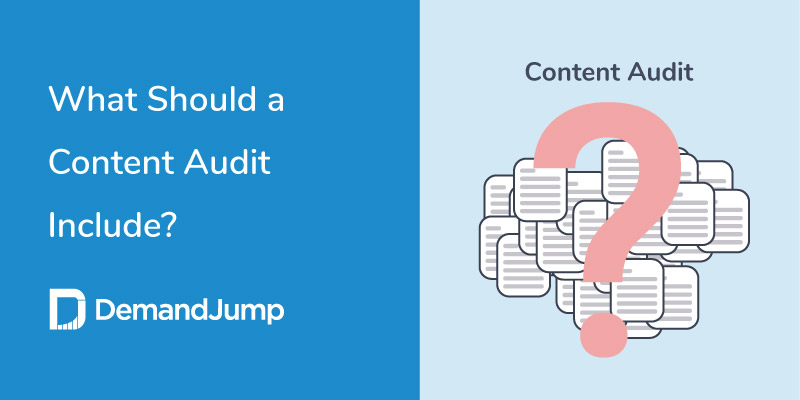 A content audit is a way for marketers to keep track of all of their web content—from landing pages to blog to infographics and more.
But why is a content audit useful? It's one of the best ways to ensure your content is working for you. Content audits help us keep a close eye on how well content is performing, if it's hitting our target audience, and if it's leading to meaningful conversions. Yet, according to the Content Marketing Institute, only about 30% of B2B content marketers thought their content strategy was extremely or very successful. If you're looking to develop or measure content for a website, a content audit is a great place to start.
Here we will explore the ins and outs of content audits, including a step-by-step content audit checklist to help you get started.
What is a Content Audit?
A concise content audit definition is a strategic review of all of the content on a given medium. Marketers may perform website content audits, social media audits, visual audits, print resource audits, and more.
For the purposes of this article, we'll be focusing on website content audits. So what exactly is included in a website content audit? All of the content of a website, including landing pages, blogs, and other educational or lead-generating content that you can measure.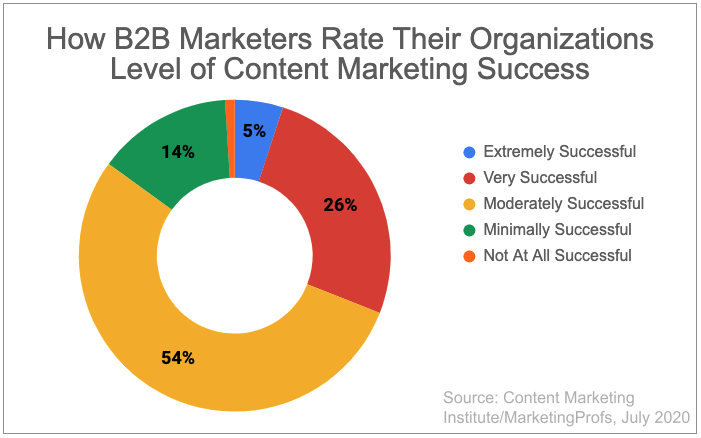 What is the Purpose of a Content Audit?
A content audit can help determine good website content—that is, website content that is performing well based on chosen key performance indicators (KPIs) so you can produce more of this kind of content.
Additionally, content audits can help determine underperforming website content that needs to be fixed, updated, or avoided in the future. Essentially, your findings can help identify numerous issues, such as:
Outdated information that needs to be removed or updated
Bad links, either internally or externally
Errors, typos, and other content issues
Missing keywords or metatags that can impact SEO rankings
Content gaps to guide future content creation
What Should I Look for in a Content Audit?
When getting ready to perform a content audit, follow this handy five-step content audit checklist to guide you from start to finish.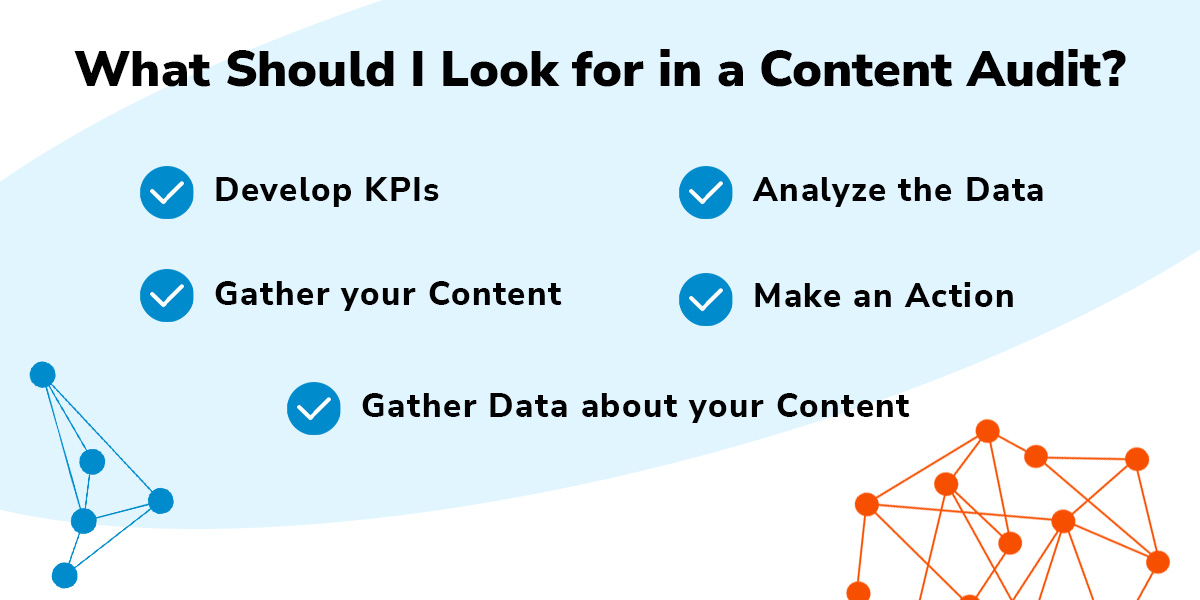 1. Develop KPIs
Before getting started, teams should create a list of performance indicators they will use to measure the effectiveness of their content. While your team's unique goals should guide the creation of KPIs, here are some general categories to get you started.
SEO metrics like organic traffic or keyword rankings
User metrics like page views or bounce rates
Engagement metrics like comments or click-through rates
Sales metrics like number of leads or conversion rates
2. Gather your Content
Now is the time to get organized and make a list of all of your content. Often, it's easiest to make a list of URLs to each of your landing pages, blogs, news, product descriptions, testimonials, and more.
If you have a small website, gathering all of your content by making a list of all of your URLs may be a fairly simple task. However, for broader websites, you may want to use a website crawler or an XML sitemap generator to aid in the process. As an added bonus, creating a sitemap and submitting it to Google Search Console can help search engines understand how your site is structured.
3. Gather Data about your Content
Once you have a list of all of your URLs, it's time to start gathering data about your content. There are many handy content audit tools out there to aid you in this process. Or, you may find it useful to create a basic Excel document to keep track of all your data. Common pieces of data to gather include:
Type of content, like educational, lead generating, etc.
Title of content (H1 headers)
Subtitles (H2 or H3 headers)
Internal and external links
SEO factors, including metadata and keywords
How timely the content is, including if any of it is outdated
Analytic data, including page views, average time on page, bounce rate, and search queries
Other factors, like page load speeds (should be less than two seconds) and how mobile-friendly it is
4. Analyze the Data
After all the data is gathered, it's time to consider what it means. Consider these key questions as you review:
What content is performing particularly well? This might mean it has a high pageview rate or a high conversion rate. What can you glean from this content to try to duplicate these results in the future?
What content is performing poorly? For example, high bounce rates, long load speeds, or poor SEO rankings.
What content is outdated? And, does it need to be deleted, updated, or entirely reworked?
5. Make an Action Plan
Create a list of what needs to be done and divide up the tasks. This might include creating a list of new topics to write about, updating existing content, or removing content that's performing poorly or is outdated.
While this might seem like a lot of work, a content audit is one of the best ways to ensure your content marketing strategy remains effective. We recommend performing a content audit at least once a year to keep a pulse on how well your site is performing.
Create Good Website Content with DemandJump
Whether you've already performed your content audit and have a list of items on your to-do list or you're just getting started, DemandJump can help. Our unique platform helps companies understand their SEO rankings, their competitors' SEO rankings, and the exact content you need to create to take market share and increase organic coverage.
PLUS: Our one-click automated SEO content briefs tell you the keywords to include and the H1s and H2s to use to ensure your content ranks on the first page. Get started improving your content today!
Get Your Free Pillar Strategy Report