Content Creation for Beginners: A How To Guide
March 16, 2021 •DJ Team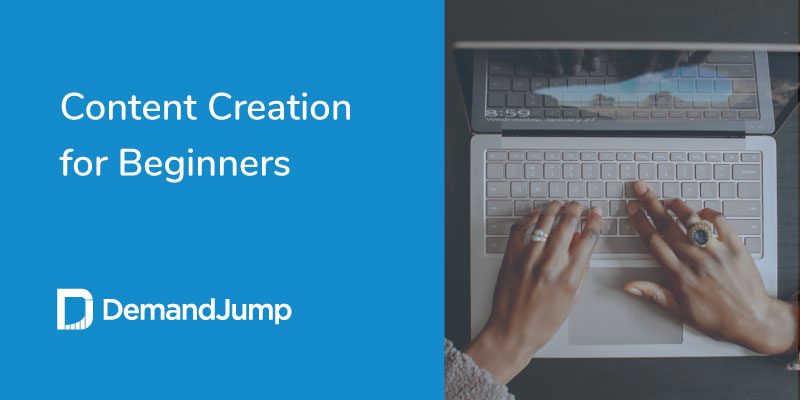 Is content creation part of marketing? In today's digitally dominated society, you may be asking yourself if any or all of that digital content is a part of marketing. The answer is yes. All content serves one purpose: to connect with your audience.
In content marketing and pillar-based marketing (or PBM), this means with each piece of content, you enter an agreement with the reader. This will somehow benefit from taking the time to read or view a piece of content (information, entertainment, etc.). You can benefit by pitching an idea, gaining future readership, or arriving at a CTA–or call-to-action–encouraging your audience to act in a way that will drive sales or leads.
Creating informed, helpful, and interesting content allows you to build trust and loyalty with your audience. And building that trust is the key to content creation that actually makes content marketing work.
So, if your goal is to create content that appeals to your audience and complete your side of the agreement, stick around. While it's not quite a content creation guide pdf, in this blog we are answering questions like:
How do I get started in content marketing?
What makes good content creation?
What is an example of content creation?
What is the most effective way of content creation?
You might even consider this a "Content Strategy for Dummies" kind of blog. So, without further ado, here is everything you need to know about how to get started in content marketing, with a heavy focus on written content.
What is Content Creation?
Put simply, content creation boils down to producing marketing material for your audience to consume. Examples of content creation include things like blog posts (like the one you are reading now), newsletters, podcasts, videos, posters, and more. Content creating in marketing often combines brand specific messaging with general industry educational material. That way, you are informing your audience on a specific topic without it coming across as gimmicky marketing.
What is Content Creation in Marketing Trying to Achieve?
Content is meant to inspire action. Is there such a thing as content for the sake of content? Sure, if your end-game is to simply generate traffic. But if your customer is your audience, you know the end-goal of content marketing is to sell an idea or product, directly or indirectly. At the end of the day, all content is created to drive profitable customer action.
But that action could take many forms:
Generate additional traffic.Does your CTA ask readers to share this content?
Drive SEO relevance?The longer a reader stays on your page, the better.
Discover data for future marketing.You learn more about your audience with each piece of content.
Direct buy-in.Authenticity is king for content marketing, and there is certainly a time and place for direct monetary CTAs, like subscription purchase.
What is a Content Creation Example?
A popular form of content creation is writing blogs. Keeping in mind the right balance of education and brand awareness mentioned above, one of the main goals of content is to become an authority on your subject matter.
For example, if you sell tractors, your ultimate goal is to earn enough trust and authority so people come to you for all their questions about new tractors, used tractors, and anything else that is related to your industry. Blogs are a good way to both build your credibility and answer your audience's questions.
If someone wants to know what the best used tractor to buy is, they are probably going to google it. That means you would want to write a blog about that topic to show up on page one of google so it reaches them. In fact you will probably want to write a blog about everything that person wanted to know. That is kind of the core concept of content marketing we specialize in at DemandJump. We are talking about our pillar-based marketing (PBM) strategy. Essentially it is a set of interconnected blogs on a specific topic to establish authority on a subject. We will go more in depth on that in a little bit though (or you can scroll on down if you're eager to learn more).
For now, let's take a little deeper dive into some things you need to consider before making any kind of content.
How to Get Started with Content Marketing
Most beginners tend to think content creation starts with your own ideas, what you want to say. But the brainstorming process actually starts with understanding your audience–imagining what they value, what they find interesting, what previous content has appealed to them and why. Good content creation is about what your audience wants to hear, not what you want to say. That means understanding what they are searching for in Google. That's where DemandJump can help. We provide insight into the keywords and questions your audience is searching for.
Thinking back to the tractor example from above, these topics might be things like:
Used tractors
New tractors
Combine harvesters
Compact tractors
John Deere tractors
Identifying what your audience cares about will help you generate better, more impactful, content ideas later in the process. Let's look at some questions to ask yourself along the way.
Who is My Audience?
Basic questions or statistics (age, interests, education, location, buying habits) go a long way, and you can branch out from there. For example, if you know your audience is recent high school graduates, your content creation planning will already look different with this knowledge.
What Does My Audience Already Know? What Don't They Know?
This helps you avoid redundancy, gives you the lay-of-the-land, and shows you what you can and can't assume your audience already knows. Again, basics help: does my audience know my company or product, and how much? What assumptions or stereotypes do they carry? Maybe you are talking to an audience who are already partially experts, like doctors or engineers. Be sure to tailor your content specifically to the needs, education, and reading level of your audience.
What Does My Audience Care About? What Don't They Care About?
List and identify what your audience cares about. How does this align with what your business provides? These points of alignment are building blocks for content creation that is not only informative but inspires trust and loyalty in your audience. For example, if your products are all made in the USA, it might be a big selling point for some audience members.

What Should I Research for Content Creation?
The short answer is any and everything you plan to write about. In order to discuss the tip of the iceberg, you need to understand everything that is happening underneath the surface. Good content reduces megatons of information into what's most relevant and helpful to the reader. Research gives you authority to speak about what's important, but it also improves your writing skills, giving you confidence and continuity.
Pillar-Based Marketing: The Most Effective Content Creation Plan
PBM is the newest and most effective form of content marketing, full stop. We know because we invented it and use it. Seriously, how do you think you wound up on this page in the first place…PBM.
Essentially, pillar-based marketing looks at a network of interrelated topics and breaks down which ones your audience cares most about (in the form of search engine queries). Then, it uses those insights to generate a content plan or roadmap that consists of three types of content, a pillar, sub-pillars, and supporting blogs.
A pillar is a roughly 2500-3000 word piece about your topic. It will give lots of general information and cover most of the content in the network. A sub-pillar should be about 1500-2000 words and cover one of the most important sub-topics of your network. A supporting blog will answer the smaller more nuanced questions inside the network in around 750-900 words. Each pillar needs at least 3 sub-pillars, and each sub-pillar needs at least three blogs.
How Do You Write a Content Creation Plan in PBM?
The easiest way is to use DemandJump's pillar planning tool or have someone on our team create the plan for you. If you'd rather do the heavy lifting yourself, you need to understand the following things to create a pillar plan:
Your topic cluster
How you will break it into a pillar, sub-pillars, and supporting blogs
How your content will all link together in the end
How and when you will publish your content
How to actually write your content (which we talk about a little later)
What is an Example of Content Creation in a Pillar Plan?
Let's go back to our tractor example from earlier. Within our topic network, we identify "Used Tractors For Sale" as a major topic. In fact, it's going to be our pillar. We write 3000 words about it, including different types, different price points, why to buy used over new, etc. We are sure to include other keywords, questions, and phrases within the topic cluster.
Next, we have identified our three sub-pillars as:
Why should you buy a used tractor? (SP 1)
Best used tractors for me (SP 2)
Least expensive used tractors (SP 3)
We write around 1500-2000 words about each of these topics, including a direct mention and back link on our pillar phrase "used tractors for sale." Now, for both the pillar page, and each individual sub-pillar, we need to come up with our supporting blogs. We select the following:
Pillar Blogs

Used tractors for sale near me
Used tractors for sale on craigslist
Used tractors for sale 2022

SP 1 Blogs

Are used tractors cheaper?
Are used tractors good?
Is it hard to find a used tractor?

SP 2 Blogs

Best compact used tractors
Best used tractors for farming
Best heavy duty used tractors

SP 3 Blogs

Cheapest compact used tractors
Cheapest John Deere used tractors
Cheapest used tractors 2022
We then write each blog using around 750 words to address each topic. It's worth noting that how you write each piece matters. There should be a balance of art and science to it. Let's look at that next.
Pillar-Based Content Writing Tutorial
Generating content ideas and topics should come from the initial discovery process of learning about your audience and what interests them. But once those ideas are on the table, how you actually turn them into content is important. It's important to heed these writing instructions to actually create the content.
How Should I Format My Writing?
Among the most important qualities in writing content, you should focus on:
Voice and style to align your content with your brand and create unity across every single piece.
Search Engine Optimization keywords, questions, and phrases to ensure higher SEO rankings and make sure that you content is actually being seen and is actually talking about things your audience cares about.
Headings to make your content skimmable as well as boost the SEO value of any keywords or questions including in your headings (H1, H2, H3, and H4s).
Introduction to let your reader know what is coming and if this blog is actually going to answer their questions.
Call to Action to ultimately convert the person reading content into an outcome, such as making a sale, subscribing to an email list, or contacting you.
Links to increase the SEO value of certain pieces of content and help your reader navigate to relevant sources and pages mentioned in your writing.
For written content, these components are the bones and muscles of your content, and they help you organize, develop, and communicate your ideas effectively.
What Do I Do Once I've Written My Content?
Once you have completed the first draft of writing, glean feedback from a person or team to get an outside perspective on your content to see if:
a.) You still have your core audience in mind.
b.) You are still on-message with the content marketing goals your business created at the start of the project.
c.) You need to clean up any grammatical errors, typos, or formatting issues.
Once you've done all that, it's time to publish your content. Be sure to include the links for pillars and sub-pillars in your blogs. After it's all published, you can also use comments, web traffic (or lack thereof), and other forms of audience interactions as a means of feedback as well.
What Else is Included in Content Creation?
Once you've established your creation process and can generate content on a regular basis that your audience finds valuable, now begins the process of publishing content regularly on blogs, maintaining website content that is relevant, and tracking how effectively your content is reaching its intended audience.
How Should I Get Started with Content Marketing?
The easiest, and frankly most effective way, to get started with content marketing is with DemandJump. We make it simple to evaluate how well you're meeting your end of the bargain (or content creation agreement), and how to improve.
DemandJump empowers content creators by uncovering which questions their audiences are asking online and using powerful analytics to see how audiences react to content strategies. We quite literally take the guesswork out of content marketing. With our tools, you can know exactly:
What to write about
What phrases to include
How important each phrase is to your audience
How your audience is interacting with your content
How you rank against your competitors
Our pillar planning page lets you come up with a content roadmap that will get you to page one in minutes.
Learn what your audience responds to, base future content on what works, and get to the first page of Google with DemandJump.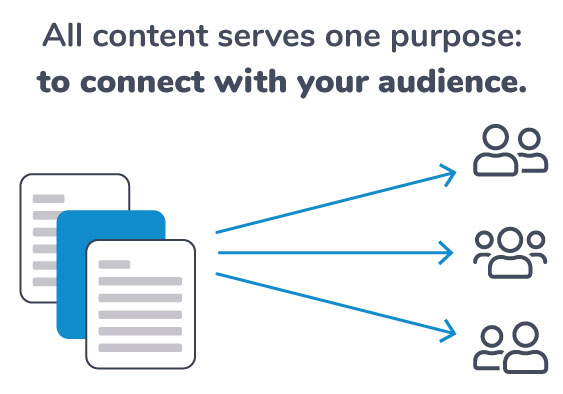 Get Your Free Pillar Strategy Report