Content Marketing Ideas for Small Business
December 9, 2020 •DJ Team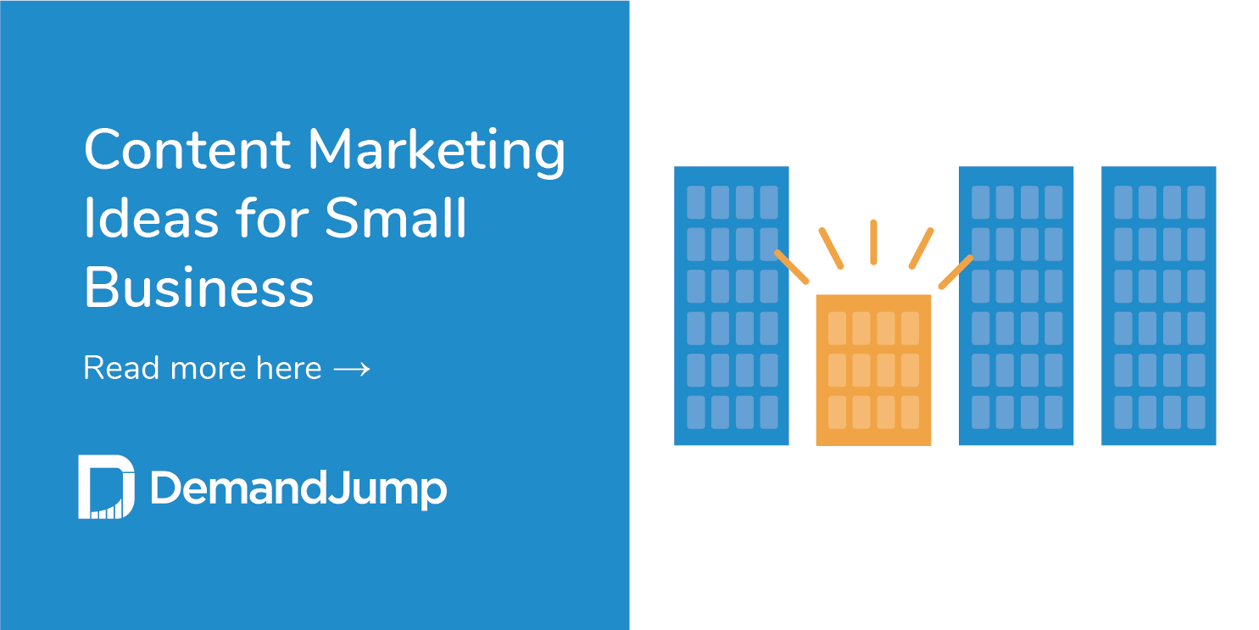 Marketing online can often leave marketers feeling like they're being left in the dust of the Wild West by big business. It's true, without a good understanding of how content marketing works, and what a small business owner can do to compete, it's an intimidating landscape.
With limited bandwidth and budget, many small business owners simply throw in the towel before they truly get going. Consider that almost all businesses use content marketing, but most small businesses have zero established budget for it. That's right—it's doable for any business ready to make it a priority.
As a small business owner looking at the horizon of effective, sales-increasing digital content marketing, we're here to tell you not to be afraid. Be empowered! The first hurdle to jump? Where to start.
Content Marketing Strategy
There's no sense in starting anything without a good plan. Every content marketing campaign should have a strategy that not only outlines what will be created, but also touches on how it will be created and to what goal the content is aiming to achieve.

What is your goal, and how will you measure it?
This one can be obvious on the offset — you want more sales. Sure, this is a great goal to accomplish but before you jetset into your content creation process, lay out exactly how you plan to measure success towards your goal. Maybe it's to increase qualified lead capturing by X amount. Or, maybe it's to garner new awareness of your brand by attracting users to your web content.
What should you create?
Your audiences should ultimately dictate what kinds of content you create. The best way to get in front of consumers online is to meet them where they are. What are common questions your customers ask you? If they are asking you, there are others online asking search engines the same thing. This is an open opportunity to create useful, usable content. Write blogs that aim to provide answers to common industry problems. Share lists for recommended products, strategies, considerations that can educate consumers. Compile and share user-generated content, like social media shares, comments, and even positive testimonials.
As long as your content meets these basic but important guidelines, you will already by on the right path:
Provides value to users.
Considers unique business perspectives.
Drives your content marketing goals.
How will you create content?
The answer often lies within the resources you have available. Take inventory of the strengths within your staff, and where staff members might have interest in picking up some new skills. Content marketing ideas often fall under certain content format types, like written materials, videos, infographics, and even user-generated content. Start with what you can pull together without a budget, like blogs and whitepapers. These can be added to your website, where search engines will index the content and consider recommending it to searchers looking for relevant content. Blogs are also a great content marketing idea as they can be shared through social channels like Facebook, Twitter, LinkedIn, and even email subscribers.
If you're able to set aside a budget, then you may find some great local agencies to help craft written content, create videos, or even design some infographics.

Ready to create your own content but not sure where to start? DemandJump's Insights for Content product will tell you specific questions to answer on any topic you choose, automating the strategy and research in content creation. Try it for free today!

Content Marketing Examples
Here's where the fun really begins. Time to get creative! As you consider what useful topics to build your content marketing ideas list with, think about how you can add a good spin or personal twist. Many small businesses have found success in fueling their content with unique brand voice and messaging. Others have found effective strategies in boosting testimonials on social sharing platforms to build trust with potential customers.
Let's take a look at some powerful content marketing ideas that are low-budget and perfect for small businesses.
Blogs
This is the go-to content type for every new marketer on a budget. Writing is free, housed on your business' website, and gathers reputation with search engines who will work to show your content on search results for free, if you're taking the time to write great, useful content that seeks to answer questions. The more you create and share, the more search engines will like you.
Videos
You don't need fancy cameras and lighting equipment. You don't need expensive editing software. All you need is a good backdrop—like your office space, or a park—and valuable information to share. Online consumers prefer videos to written content, and often retain more from videos. Consider sharing any lists, or industry tips through videos. With smartphones already capturing 4K quality videos, you don't need to do much to produce quality videos that will stand out.
Social Media
Facebook, Twitter, LinkedIn, Instagram—these are all social channels that your target audience is likely already hanging out. Best part? You don't have to spend a dime to publish great content on them. Even better? Any amount of advertising dollars you put towards social post promotion will receive actual views. Facebook can even allow you to target your exact audience, and will even provide a rough estimate of how many you'll be able to get content in front of for your budget. Goodbye, costly billboards.
Think Big with Instant Consumer Insights
DemandJump's suite of products enable users to identify sweeping content trends among an industry, pinpoint big opportunities among a growing number of content marketing ideas. With Instant Consumer Insights, you can skip the biggest, and first hurdle. Sign up for our free trial and see for yourself!

Get Your Free Pillar Strategy Report