Content Marketing Ideas: Lessons From 2020
December 11, 2020 •DJ Team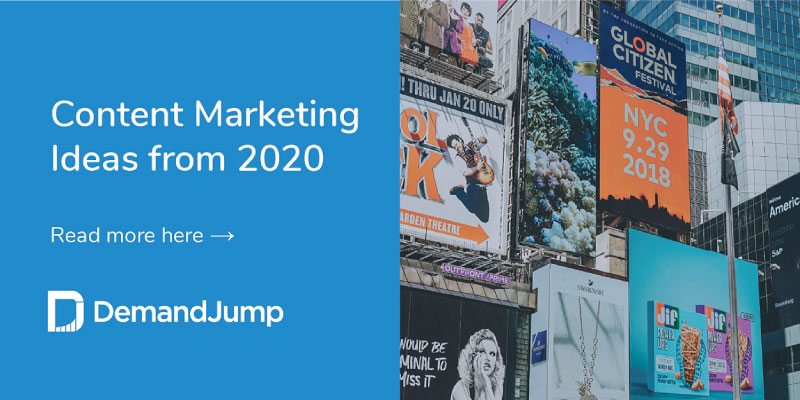 As COVID-19 forced many brands to re-strategize how they'll market to their audiences, 2020 quickly proved to be a big year for digital marketers across the world. Many traditional B2B marketing avenues, like trade shows, suddenly became irrelevant. In turn, content marketing became a major focus as consumers started staying indoors and avoiding public spaces. B2C marketers now had to look for alternative content marketing ideas to fulfill their intent with on-site marketing.
As we look to the future of content marketing, 2020 has a lot to offer eager minds ready to learn and improve. What have we noticed about how the marketing industry shifted focus, and what ideas can we glean from a year of nuanced marketing initiatives? Let's take a look.
What Are the Benefits of Content Marketing?
The show must go on. That's exactly what good content marketers learned in 2020. As the world changes, content marketing tactics and strategies shift alongside. For those who made the bittersweet transition to digital marketing, you're finally making it into the most efficient marketing arena on the planet. Welcome! Things are a little different here — you can target your audiences directly, connect with a growing consumer base, and even utilize key data to make educated decisions when adding to your list of content marketing ideas.
The biggest bonus to content marketing is that both sides benefit— the marketer and the consumers. This is because successful content marketing requires that businesses create valuable, useful content for their audiences. Sure, there might be a call to action tacked on to most content marketing ideas, but the heart of the content itself is to provide consumers with something they can take value away from. The goal is to enable your audience to learn and make better decisions when facing their problems. This also builds reputation and, perhaps most importantly, trust. That trust can ultimately lead to new business opportunities, loyal customers, and increased brand awareness.
One thing is certain—no matter what tomorrow looks like, there will still be benefits to content marketing.

Marketing Ideas from 2020
If the competitive nature of content marketing is heavy, how do marketers look to create unique, data-driven content that consumers will not only enjoy, but engage in? Well that answer is actually very simple: listen to your consumers, watch your competitors, stay up-to-date on current topics, and look at what other brands are doing that are making waves online.
Finding inspiration isn't always so hard, either. As you browse the internet for work and play, think about what catches your attention. Sometimes, the best way to find creative solutions for your business is by studying what others have done. Here are three fantastic content marketing ideas that proved successful during the challenging times of 2020.
Dove | Courage is Beautiful
Dove has given many years to its Real Beauty campaign, inspiring men and women alike to find their own natural beauty. In 2020, Dove shared the Courage is Beautiful video, a stunning example of content marketing that is timely, sensitive, and empowering. The video features frontline healthcare workers without their masks, showcasing the red marks left on their faces from a tiresome shift. Then, it closed with a short message telling viewers that the company was donating to the non-profit organization Direct Relief, and a quick invitation to visit a landing page on Dove's website to learn more about how Dove is contributing to the well-being of frontline workers during the COVID-19 pandemic.
Purdue University | Protect Purdue
The education sector had a rough time during the pandemic, especially when many were required to reopen their doors. Purdue University in Indiana, U.S., filled their social media platforms with Protect Purdue, a campaign focused on bringing transparency and information about how the school was prepared to execute a safe school year. They even had a Protect Purdue YouTube playlist with 30 videos that inspired students and staff to rally together to maintain safe protocols. What was so great about these videos was how the university drew on the emotional milestones that they've seen throughout their history, giving students the promise that great things are still to come.
HBO | #StayHomeBoxOffice
HBO turned quarantine lemons into lemonade. While the majority of the world was spending most of their time at home, HBO saw the opportunity to bring their brand to the masses in a clever way with #StayHomeBoxOffice. This campaign started with the media powerhouse offering popular hit TV series for homes around the world—for free. No subscription required. By simply turning off the paywall and sending out social posts with the namesake hashtag, they were able to take advantage of literally sitting prospective customers and give them a preview of what they have to offer.

Great Content Marketing Ideas Are Data-Driven
While the competition to reach audiences grows online, the data that supports each and every decision becomes more important to the success of all content marketing ideas. Flipping through the inventories of data, weaving in and out of multiple tools — these are the truest growing pains for content marketers worldwide.
This is why DemandJump exists: to help customers skip the research and know the exact content to create to increase first page rankings and drive outcomes.
Try it for free - save time and create better content.
Get Your Free Pillar Strategy Report