Content Marketing ROI: Identifying What Matters
March 28, 2023 •Shannon Elward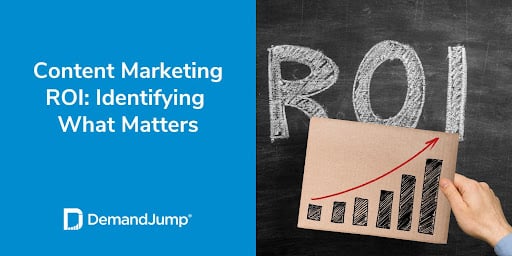 You've written a ton of educational and engaging blogs, white papers, case studies, and more. You've developed graphics, infographics, and maybe even some videos to go along with your written content. You've posted it all to your website, you've shared it out on your social media channels, and maybe you've even put some money behind your most important articles. But how do you know if your content marketing efforts are actually successful? How can you tell if they're worth the costs? You've got to determine your content marketing return on investment (ROI).
What Are Some Content Marketing ROI Statistics?
How do marketers feel about content marketing, really? Generally, most agree that content marketing is an important part of an organization's overall marketing strategy. Whether you're new to this field or you've been around the block a few times, here are some numbers that might surprise you.

Check out our website to discover more about these as well as an additional 39 content marketing ROI statistics you'll want to share.
Which Metric Is the Most Important Metric With Regard to Content Marketing?
As much as we wish there was one magic number that would show exactly how to measure content marketing ROI, it's a little more nuanced than that. Here are some content marketing metrics that matter.
Traffic: Traffic is one of the most common content marketing KPIs, or key performance indicators, marketers track. When we talk about traffic, we're talking about:

Channels: Where your traffic comes from
Users: The total number of unique visitors
Page Views: The total number of times a page has been viewed
Unique Page Views: The total number of times a page has been viewed by a unique visitor

Time on Page:

How do you know if a piece of content is doing well? Take a look at the average time on page. The higher the average time, the longer someone is sticking around to read it, the more engaging it likely is. While some may report that the average time on page benchmark falls around

54 seconds

, we've seen averages as high as several minutes. It's all about writing content that's educational and fun to read.
Conversions: The lifeblood of a company, conversions looks at whether or not your visitors are performing the conversion you'd like them to. This might be clicking through to a white paper, signing up for a demo, or even making a purchase.
Likes, Shares, and Comments: Another way to think about how to measure content success is to look at your social media channels. Are your posts (whether they're organic or paid) garnering likes, shares, or comments? Which kinds of posts see the most engagement? Are there certain days of the week or certain times of day that prompt this engagement?

Page One Keywords:

Looking to perform a content performance analysis? Search engine results pages (SERPS) are a great place to start, and page one is the place to be. In fact, only about 0.63% of searchers clicked on a result on the second page, according to

Backlinko

.

Position One Keywords:

If page one is the place to be, position one is the VIP room.

Search Engine Journal

reports that over 25% of searchers click on the first organic result on Google. That's a huge potential influx in traffic. At

DemandJump

, our platform not only helps you measure how many keywords you're ranking for—and how many your competitors are ranking for—but it also shares what content to write to help improve your rankings.

Revenue:

At the end of the day, your content marketing efforts should make your business money. To measure your content ROI, you've got to calculate how much revenue your efforts generated against how much you actually spent (which includes not only any paid efforts, but also the labor behind writing, editing, and posting your materials). What is a good ROI for content marketing? While this varies from industry to industry,

a good rule of thumb is 5:1

. Or, for every one dollar you spend, you should be generating $5 in revenue. And, at the absolute minimum, the revenue you earn has to be higher than the amount you spend, or you're turning a loss.

Understanding the value that SEO efforts bring to your overall marketing strategy is one of the most important steps in creating a fully optimized content strategy. DemandJump's podcast, Page One or Bust!, features an episode dedicated to the discussion of why measuring ROI from content marketing is crucial for revenue growth. If you want to learn more, check out this clip below or listen to the full episode at this link.
DemandJump: Create and Measure Content That Ranks
If you're looking to supercharge your content marketing efforts—especially as they relate to SEO—DemandJump can help. Our platform is the number one marketing strategy platform that helps you identify:
How your content is performing on SERPS
How you stack up against your competitors
The highest-value keywords in your content network
What content you need to write to increase your page one and position one rankings
Ready to see how DemandJump can help you increase your rankings and your ROI? Sign up today to see the platform in action.