Content Marketing Tips from 2020
December 29, 2020 •DJ Team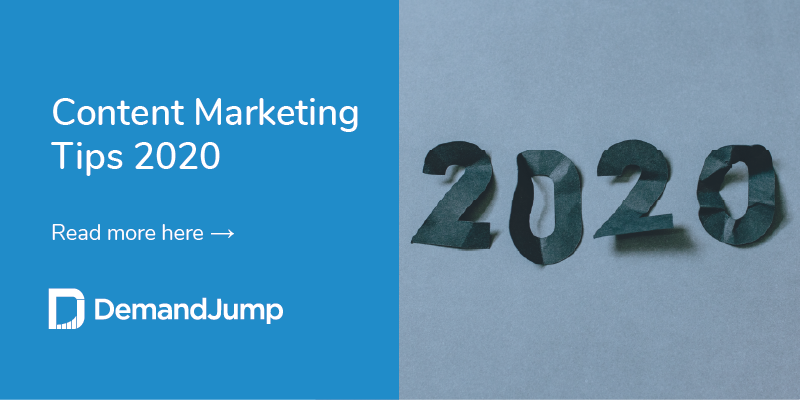 Look to 2020 as a testament of how rapidly content marketing strategy (and everything else, for that matter) can be turned on its head. We saw content take new relevancy as a vast percentage of our workforce became more reliant on web-based communication and interaction. Our language evolved, even. For content marketers, there's a lot to take away from this year.
We want to examine some content marketing tips from 2020 to learn how to better adapt our marketing strategies to bring our audience relevant content, whatever the circumstances.
Content Marketing Guide 2020
Some changes to content marketing in 2020 were similar to those in years past: our field changes with technology, and we will always need to adapt. The other changes were a result of a COVID-present world, and that led to increased innovation. Let's take a look at examples of both.
SEO Audience Fulfilment
Some incorrectly shy away from or dismiss SEO due to old misconceptions about keywords, wordcount, and hyperlinks; SEO remains relevant, it's just more intelligent in attempting to meet audience satisfaction.
The good news about 2020 is that the upgrades to search engine algorithms further prioritized content relevancy to an audience over simplified text analytics. In Google's May 2020 Core Update, for example, Google's algorithm valued content that was most likely to answer an audience's question, or be consistent with what the audience was searching out, rather than focusing on other factors like length or keyword volume. They understand your audience is more adept and SEO savvy. Takeaways?
Learn what your audience values.

Relevant content outperforms bulk content.

Audiences are more likely to return to reliable sources.
Nuance Wins the Year
The U.S. spent more time on the internet in 2020—whether on video conference calls for work or replacing time generally spent at the movie theatre—and they consumed more content: businesses learned to adapt in a vastly different marketplace, people engaged online educational tools to start new careers or become more valuable to their companies.

The content individuals sought out was nuanced; they weren't looking for the same regurgitated points. Here are some content marketing tips we learned in 2020 with a general increased presence online.
Content needs to be personal, particular, and contextual.

Content needs to be immediate, new, relevant.

Content needs to be resourceful; it needs to lead to other relevant content.
While evergreen content has its place, your audience is now accustomed to adapting to the unpredictable, and one of the ways they do this is by finding content that responds quickly to a changing world.
Content Marketing Institute
If we're introspective about 2020—and can analyze how content marketing responds to unpredictability—we want to have tools in our belt moving forward to quickly identify and assess trends, strategies, and new means of communicating with our audiences. The Content Marketing Institute is one of these tools.
With reports, articles, research, and events—CMI is a great resource to keep tabs on the industry, offering content marketing tips that you and your team can access for free. For example, 2020 witnessed an increase in webinars and virtual conferences; CMI tracked trends and best practices to help content marketers plan, create, market, and host online meeting events. Explore the options and articles CMI offers to see the extent of the resources available.

The presence of CMI and other online resources begs another question: how equipped are you as a content marketer to adapt to changes in effective strategies? To be able to create authentic audience engagement that might lead to profitable outcomes for your business, you have the responsibility to stay agile and informed as you create content marketing strategies. Your education can't go dormant.
Benefits of Content Marketing 2020
Many companies solidified relationships with consumers in 2020 because they adopted content strategies that met the audiences in a new, divergent, online community. Many companies lost their audience when they didn't… If your content strategy responds to market trends—and you keep a finger to the pulse of your audience's interest—your content will be organic and effective.
Remain engaged, organized, and relevant. Demandjump offers a one-stop platform for you to house your content marketing strategy planning and execution—and the resources it provides will help you analyze your effectiveness, how to improve, and what other strategic moves are available you might not have discovered yet. If we've learned anything about content from 2020, it's that we need to utilize every tool available, and Demandjump is a great place to get started.
Get Your Free Content Marketing Strategy Report