Content Strategy Template and PDF: One-Click Content Templates
December 11, 2020 •DJ Team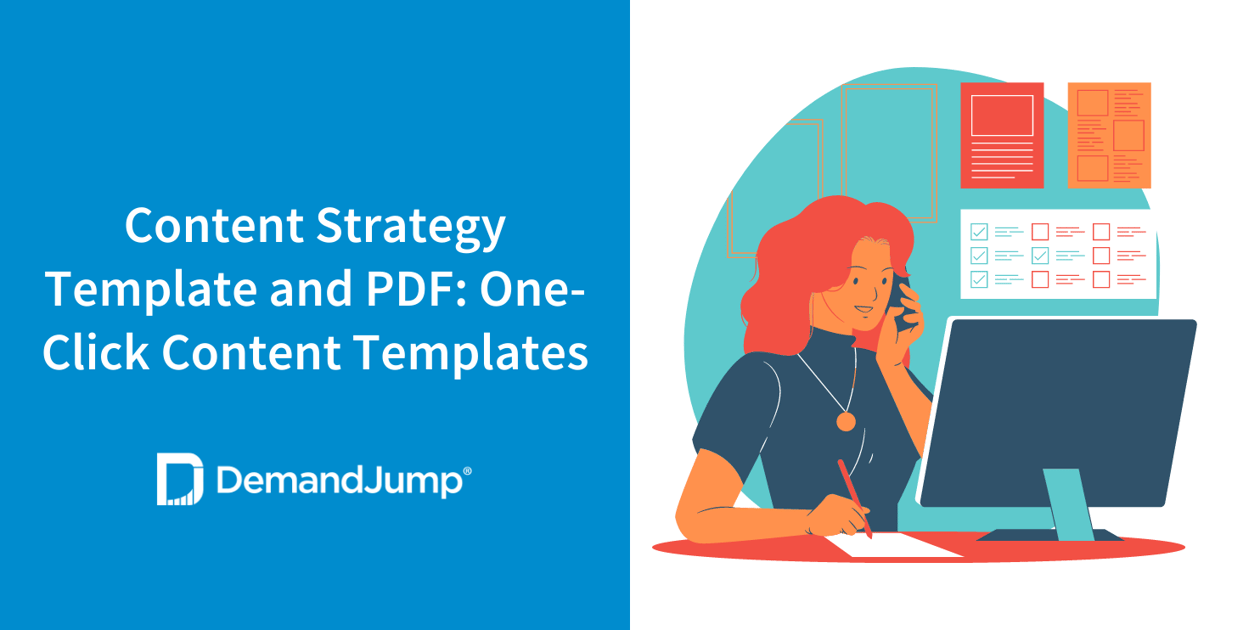 Curating and distributing valuable content is the backbone of many brands' core digital marketing strategy, implementing campaigns that seek to promote brand awareness, capture a new audience, and ultimately net new, qualified customer leads.

Content does this by engaging with customers right where they exist: on search engines, LinkedIn, YouTube, and more. As content marketers look towards their next plan of attack, the best opportunity lies within an air-tight content strategy.
What is a content marketing strategy?
A well crafted content strategy guides a marketing team's efforts with purposeful content that has data to back it up. They exist to plot out the plan of action marketers take to develop, commission, and deliver content among a variety of digital channels. Every decision is accounted for and can be traced back to tangible data across several platforms. Sure, this can get hairy if not properly organized.
Many professionals tasked with developing and executing marketing strategies pull everything together in a content strategy to gain favor and approval from leadership, along with a healthy budget to put towards content creation, and paid distribution. This is a crucial component to driving the kinds of support marketing often needs to be successful.
The real heart of any content strategy, though, is the data and planning that goes into it. Having real data to support every decision you make, like choosing which channels to put money into, what types of content your audience prefers, and even what to talk about can and will make an incredible difference to your results.

Content strategy template
Like most new processes, there's a lot to unpack at the start. There can be uncomfortable learning curves and a few kinks to iron out as you expand your knowledge and grow as a great content marketer. Thankfully, things get better with time. You'll find a groove in what works, what doesn't work, and perhaps more importantly, what works for you. Then, take those things and craft your own templates.
Content strategies are often dictated by what is important for the success of the work overall. For some, clear ties to ROI might be a necessary component as you work to persuade higher-ups to devote more resources to the cause. Others might find that detailed lists of content, with pre-developed outlines makes the creation process smoother when it's time to execute.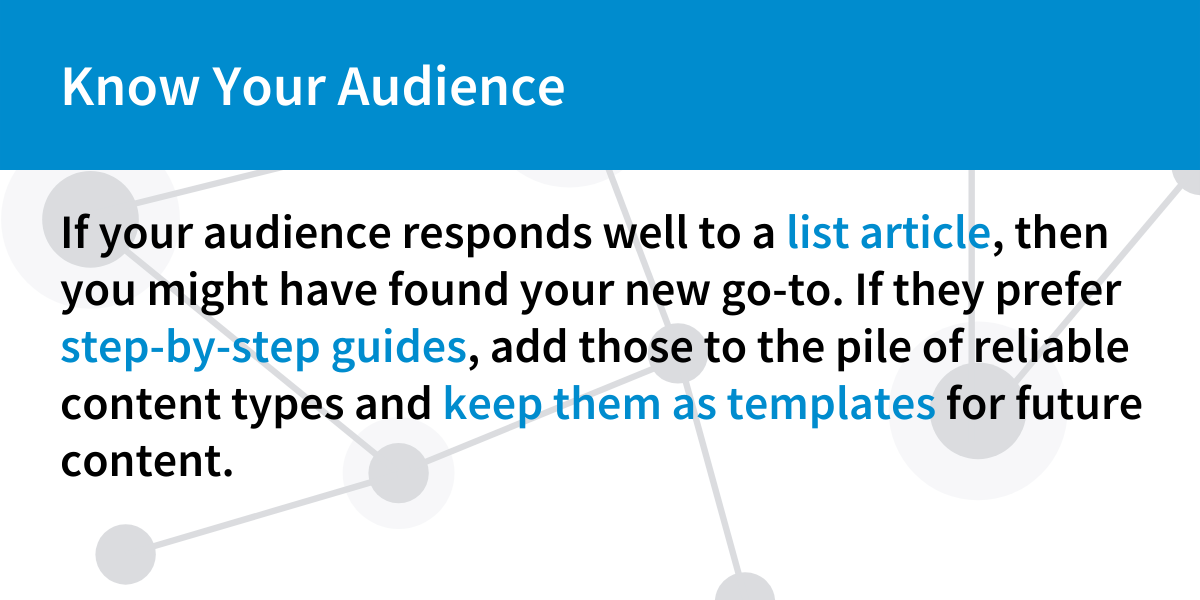 Speaking of templates, you might find success in specific content you distribute online — take note. If your audience responds well to a list article, then you might have found your new go-to. If they prefer step-by-step guides, add those to the pile of reliable content types and keep them as templates for future content.
What is included in a content strategy?
If your campaign goals were your destination, then a content strategy is the GPS that plots your course. Getting there requires a good plan of action, accounting for all of the turns along the way, as well as the adjustments when things aren't going as smoothly as you anticipate. Let's take a look at what is typically found within a content strategy:
Target Audience
Descriptions of the demographics of your audience, including where they exist online, what content formats they prefer, and what questions they're asking.
Overarching Message
Every campaign should be fueled by a clear-cut topic theme, with each content piece working to move users through a content sales funnel. This can be as simple choosing a topic that many customers struggle with and crafting a multi-tiered strategy to provide solutions and value to them.
Distribution Strategy
Details of where and when content will be delivered to audiences.

Social media platforms
Advertising placements
Email marketing campaigns
Landing pages/blog reels
Content
A list of all content to be created, and topics/talking points for each

Written content
Videos
Audio
Graphics
Adjustment Plan
A defined process for implementing changes to content as the campaign progresses and data starts to pile up. Making adjustments can help to turn a failing marketing campaign into a successful one.
Let DemandJump help you get started
Our goal is simple: to enable our partners to be more successful in their content marketing efforts. Our suite of products and services provide marketers with instant consumer insights on their audiences, keyword opportunities, and can even develop working content templates for every new piece of written work. Get started with one-click downloadable content outlines and content strategy documentation:
Get Your Free Content Marketing Strategy Report