Copywriting Examples: What Makes Good Copy?
January 3, 2022 •DJ Team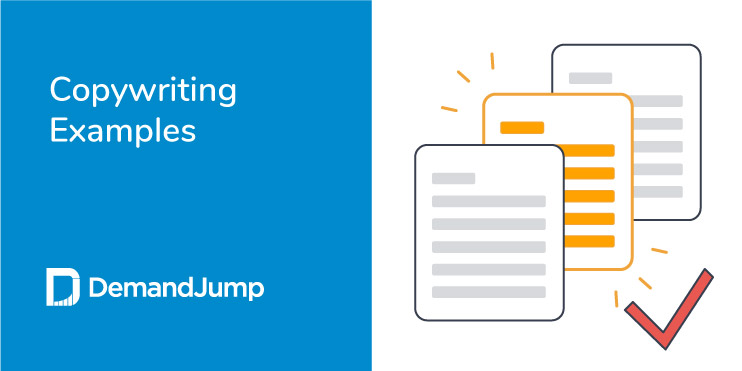 Copywriting drives connections with customers across multiple platforms, and it's the simplest way we interact and build trust with your target audience. It's also difficult to get right. Identify any successful content marketing strategy, and you can trace much of its success back to the basics of good copywriting: a clear message, an appeal to what the audience cares about, and simple execution.
Easier said than done, right? But copywriting for website content and other mediums shouldn't be a daunting, unmanageable task. Examples of copywriting basics are worth visiting and revisiting no matter what stage your business is at.
What Is Copywriting?
Copywriting is the most fundamental means of communicating with your audience online. And we often don't recognize it as copywriting. As an experiment, study a website you commonly visit—be it YouTube or a branded website—and pay attention to any writing on the site.
A video description, a tag line, an ad or promo, a sidebar… all of this is copywriting. And we often don't realize it has an effect on our experience and drives our eye and attention, especially if it's written well.
Below we've identified some copywriting tips that can improve your content strategy, specific to how and what you write.
Consistency Matters
It's typically better to be more consistent with the amount and quality of your content than to have sporadic bursts of content. Although there are specific strategies that call for tactics like this, it's important to regularly add to new content to keep your readers coming back for more.
Keywords Drive Content
The importance of keywords goes beyond their SEO weight. There's a reason keywords are valuable: It's the content your audience is searching for, so it's an easy one-to-five word phrase into the mind of your audience.
Outlines Improve Processes
Not only do outlines provide the scaffolding for writers on a team to get started, but they also help determine the goals of copywriting before any time is spent writing. This gives any project stakeholders some idea of what to expect.
Adhere to Copywriting Conventions
What's nice about creating content in the professional space is you don't have to reinvent the wheel each time. Blogs have genre conventions like typical length, voice, and structure. So does social media copywriting. Your audience will appreciate it when you adhere to the norm. Let your message carry the innovation.
Be Clear and Concise
First, make sure that your message is clear, even before you begin writing. Know, in one sentence or less, what you want to say. Next, say it as quickly and without unnecessary complications. Early drafts can wander, but published copywriting should be straightforward and not waste the reader's time—especially online.
What Are Some Examples of Copywriting?
Copywriting doesn't exist in a vacuum. Or, no individual piece of standalone content can carry the weight of an entire marketing strategy.
Different types of copywriting work together to reach different audiences and multiple pieces of copywriting often can be attributed to a single conversion. It's all about hitting your audience with the right content at the right time.

Don't be fooled into believing these are only copywriting examples for beginners, though. The format and genre of a blog don't change much, regardless of its reach and spend. For example, a low-budget amateur blog about a local nature preserve uses the same basic structure as a highly funded, professional blog about market research. It's about using the conventions of a blog to create results. The same goes for each of these copywriting examples.
Social Media
Social media copywriting is less formal and can approach the audience in a friendly way. Social often links to longer, more developed articles or videos.
Email
Provide value in any piece of copywriting, and you can reach an audience. Email remains an effective tool when businesses are quick to show the value of the message, especially as the audience tries to keep their inbox clear.
Blogs and Whitepapers
Long-form copywriting like blogs and whitepapers reach your audience in a more comprehensive way. It establishes your business as a source of information and authority.
Website Content
As mentioned earlier, website content is more prevalent than you might consider, and a quick audit of your business's websites will show the amount of content you have to work with. What is it saying about your business and what it's like to work with you?
How do you know what good copywriting looks like? Follow the breadcrumbs, and see how any individual piece of writing connects to the overall brand strategy.

Write Better with DemandJump
DemandJump knows that successful content marketing happens when all components of your strategy work in tandem to reach and connect with your target audience. Copywriting is especially important to get right.
By combining technology and content tools to track, target, and execute marketing strategies for businesses of all shapes and sizes, we help companies grow their online presence in a measurable, trackable way.
Get started creating better content today - content that ranks, fast!
Get Your Free Content Marketing Strategy Report