Creating a Content Topic List to Kickstart Your Content Strategy
December 10, 2021 •DJ Team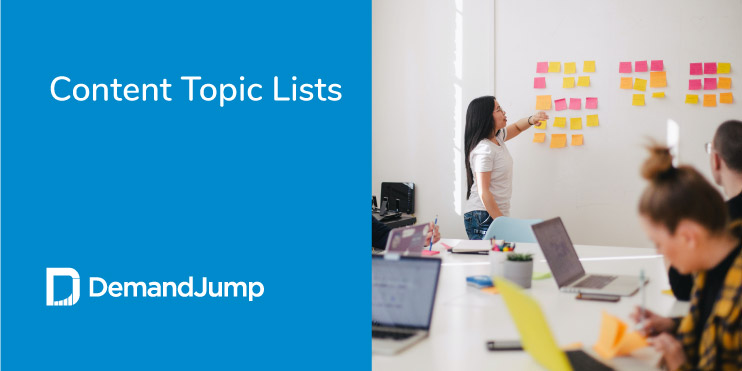 The internet has an abundance of content, often leaving users frozen with choice on many occasions. Therefore, designing your website content to be engaging and relevant will alleviate the pressure of a user trying to decide on the right content for them.
Creating a content topics list can lay out the blueprint for what kind of content you need to create for your audience.
How Do You Find Trending Topics?
The same way you found this blog is actually a wonderful resource for finding trending topics to base content around, by googling it or coming across a social media post.
Social media is a great way to gather topics for content because there is a "trending" feature on Twitter for example, that allows you to see what people all over the world are currently talking about.
Google is also going to be your best resource when it comes to deciphering the topics you find all over the internet.
Google Trends is a software where you can enter any term you want into the search bar, and then Google takes this data and groups searches based on both the general topic and the specific keywords used to search. This is a great way to measure interest in a topic you may be thinking about creating content around, and it is done without bias.
This does not mean that Google Trends are the end-all-be-all for keyword/topic research. The software uses a random sample to present the data. If you want to take this type of research a step further and get specific data geared towards what you are working on, we recommend our very own Consumer Insights tool. DemandJump shows what your audience cares about around any topic of your choice.

Website Content Ideas for Beginners
Without a doubt, the best content you can create, whether you are a beginner or not, is going to be centered around something you are either passionate about or very knowledgeable about. If you have one or both of those going into your content creation journey, then you cannot help but create something of quality.
Once you have identified the topic you are going to be making content on, you need to decide what the best medium will be for putting your work out there. If you know that the best way to present your content is through broken down lists, then creating a specialized blog might be the way to go.
If you are writing a blog or creating other kinds of content, though, utilizing keywords and SEO will allow your content to get in front of the right audience and help you stand out from the competition. Finally, if the content you are looking to create leans more to the visual side, then two of the biggest platforms to explore will be Instagram and YouTube.
Content Ideas for Instagram
1 billion people use Instagram every single month, so if you are wondering if Instagram is going to be a place that reaches your target audience, it is. Instagram is constantly coming out with new features that allow content creators to connect with their audience in new and exciting ways.
If for example, your business type has a unique way it operates, you could take advantage of some of Instagram's features like Reels. You could create a short video of some of the behind-the-scenes work that goes on in your business that people may not be privy to.
You could also create a contest for your audience to participate in and the prize would be a giveaway of some of your most popular products.
Content Ideas for YouTube
YouTube has been around since 2005 and has never looked back since. Every year they continue with massive growth in terms of audience, content creators, partnership opportunities, and expansion into other media types. YouTube videos are a fantastic way to connect with your audience because here you can actually talk to them, and they can see you.
Whether you address your audience in weekly videos or choose to live stream where you can get real-time interaction with your audience, it is a great way to build that core base. One example would be to create how-to videos for your audience to showcase the best way to use your product.
Regardless of how you choose to communicate your ideas, brand, product, or content, you need to do it consistently. If you make the best hiking equipment on the planet but are never producing any content to expand your brand awareness and audience, it is likely that they will think the brand they see every day is the better, more professional brand.
You need to be at the forefront of the attention of your audience, as there are thousands of competing brands and pieces of content vying for their attention every single day.

Attract the Right Audience with DemandJump
It does not matter what type of content you create, how good your website is, or where you publish it if it is not being seen by anyone. DemandJump not only offers automated SEO keyword research, but we can also help you with content marketing so you can understand exactly what kind of content you need to make for your audience.
Get started creating content that ranks today!
Get Your Free Pillar Strategy Report