Different Types of Marketing Content: When to Use Each Type
September 29, 2020 •DJ Team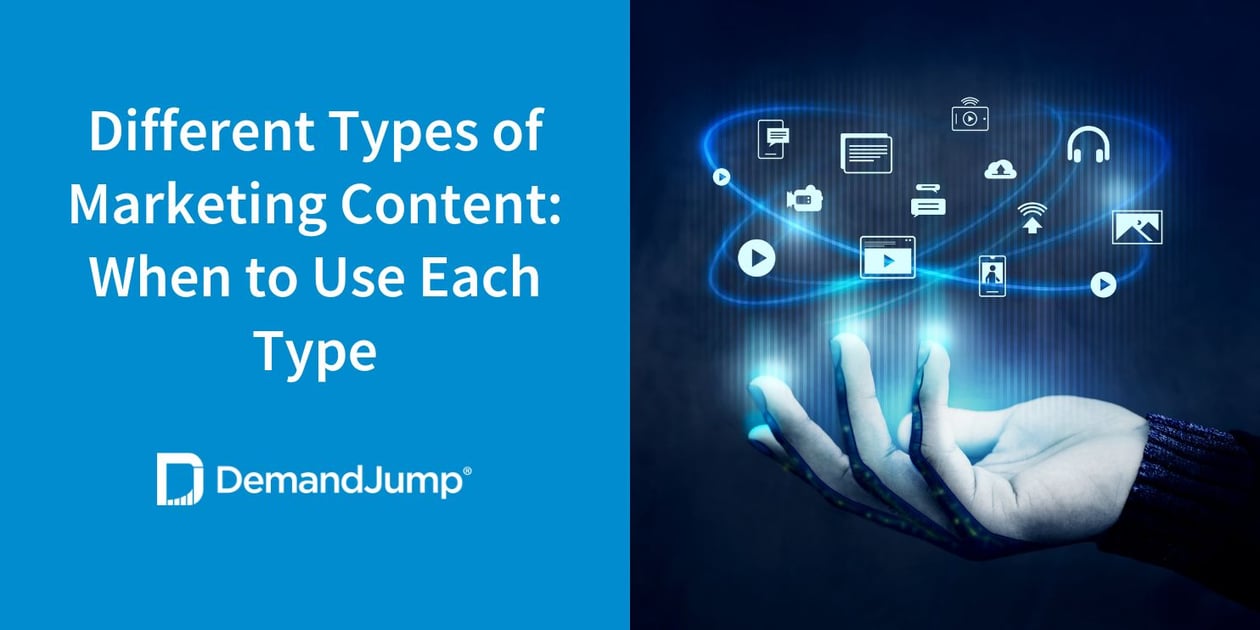 Did it ever occur to anyone that pamphlets, print media, and direct mail are also types of content marketing? While content marketing has become a buzzword in conjunction with digital marketing, all marketing has always relied on content.
Some of the best marketing strategies of all time, like Nike, DeBeers Diamonds, and Got Milk? succeeded based on their content—long before the Internet was dominating consumer habits and attention.
This history is why exploring the different types of marketing content must start with a consideration of different marketing strategies. While marketers today absolutely must rely on types of digital content, going back to basics of marketing helps you judge which content will close the loop, generate leads, and improve your business. Let's explore the different types of content, how each may align with different marketing tactics, and how to use consumer insights to inform content creation.
What Are the 5 Marketing Strategies?
Businesses use all kinds of strategies and ideas to promote their products and services. Overall, there are 5 basic categories any marketing strategy falls into:
Paid Advertising: From print ads and flyers to billboards and commercials, paid advertising is one of the oldest forms of advertising and marketing.
Relationship Marketing: Enhancing relationships with existing customers builds their loyalty and encourages word-of-mouth marketing.
Cause Marketing: Aligning your brand with a cause or social issue caters to a diverse audience and is a subtle way to market your business indirectly.
Transactional Marketing: Coupons, loyalty programs, and sales encourage consumers to buy from your business in a more basic, yet often effective way.
Digital Marketing: This approach translates many of the other marketing strategies onto the cloud and makes online customers aware of your brand.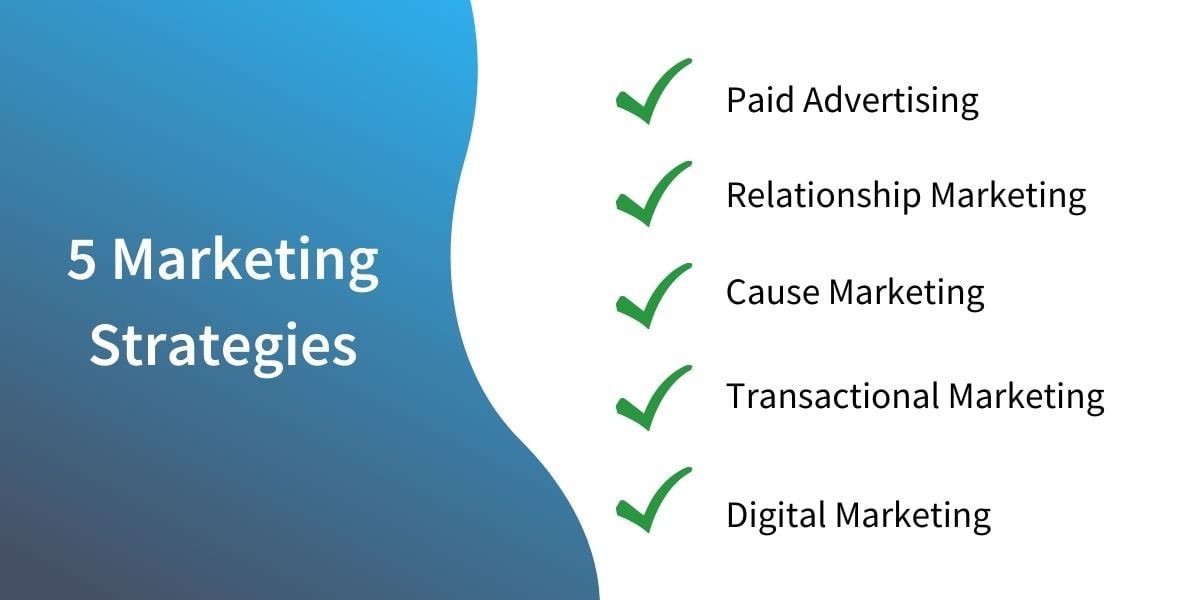 Reading this list, you might have already thought of some content marketing examples that fit into each category, including content you see online. That's because digital marketing doesn't require new strategies. But it does require different types of content and might mean a higher volume of content than traditional offline marketing.
What Are the Types of Content?
Content can be as simple as a slogan or as lengthy as a brochure, or even a book. The same is true of digital content. There are some types of digital content we're all familiar with, while other content types may not have become common in your industry yet.
Under the umbrella of digital marketing, here is how the other four marketing strategies are expressed in different types of online content.
Influencer content, sponsorships, pay per click advertising (PPC), digital ads, and promoted social content are examples of online paid advertising.
Testimonials and reviews, user-generated content, how-to guides, and email newsletters can be examples of online relationship marketing.
Blogs, videos, social media posts, cross-promotional content, and infographics can be leveraged for cause marketing.
Email promotions, social media contests, giveaways, or online loyalty programs can bring transactional marketing into the cloud.
Of course, these categories aren't absolute. Depending on the content of a blog, whitepaper, or video, it may align with any of these marketing strategies.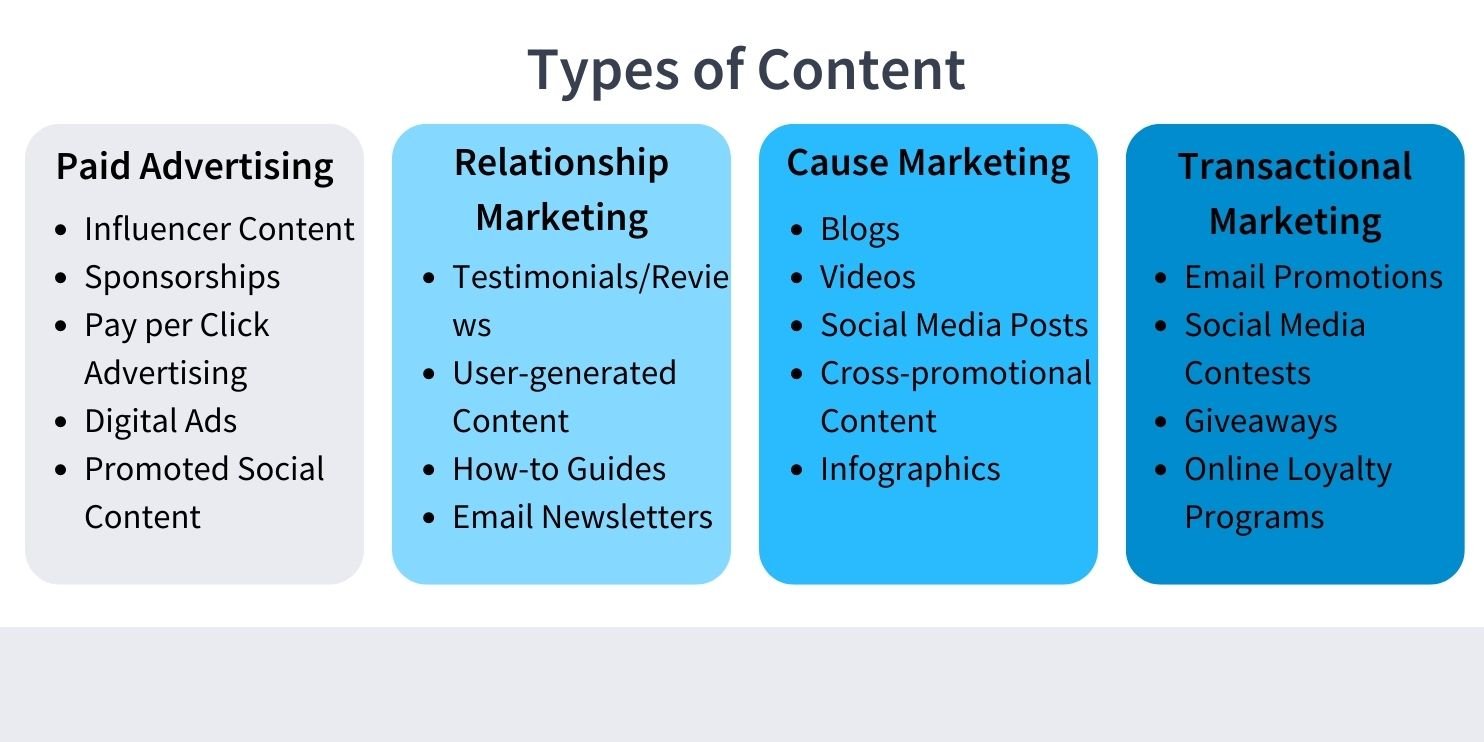 Content creation examples are exciting because they reveal the full scope and depth of the human imagination. This is especially true of digital content. Like many other industries, the power of technology and the web has unleashed a lot of creative potential in marketing.
What Are the Best Ways to Do Content Marketing?
The best way to start content marketing is to make sure the content supports your goals as a business. After all, how can you achieve a goal if you don't set one?
One question that concerns many marketers isn't the best way to do content marketing, but the best place. Whether it's deciding where to place digital ads or what content will perform best on social media channels, the answer to that question depends on the characteristics of your audience. If you're targeting professionals for a B2B marketing campaign, ads on an industry magazine site or promoting content on LinkedIn may be ideal. For B2C marketers, channels like Instagram and Facebook may be a better investment, with strategies like PPC and retargeting taking the place of paid digital ads.
Marketing has never been a set it and forget it industry, and digital marketing is no different. We've created a catalog of content to help people of any experience level learn more and take on content marketing with confidence. See our blog for more content marketing tips and tricks.
Get Content Marketing Ideas With One Click
With all the different types of content, deciding what to create can add another level of complexity. That's why we created the DemandJump platform. DemandJump provides in-depth analysis of the most valuable keywords at every stage of customer interest. This lets you decide on content topics and create content you know appeals to customers, whether they are just finding out about your company or ready to become a lifelong consumer. Get your free trial and see for yourself how the platform makes creating all types of content easier and more effective.
Get Your Free Pillar Strategy Preview!