Pillar-Based Marketing platforms are a great choice when it comes to reaching marketing goals. Audiences are tired of reading boring, irrelevant content that doesn't keep them engaged. And companies are losing out on business, simply because their content isn't ranking on the first page of Google. With a PBM platform, you'll have access to the latest content and pillar strategies with intensive keyword research to help you rank higher.
Your company can take your business-to-business (B2B) or business-to-consumer (B2C) content marketing to the next level with DemandJump. As one of the top PBM platforms, the results speak for themselves.
In this blog, we're going to talk about what to expect from a Pillar-Based Marketing platform and why they're beneficial for your business.
What Does PBM Mean in Marketing?
Pillar-Based Marketing is the process and technique used to structure and create content marketing into a pillar strategy. Content pillars are built from three pieces:
Pillar: An "ultimate guide" 3,000-word piece of content with ~20 high-value keywords
Sub-Pillar: A 2,000-word piece of content with ~15 high-value keywords focused on a specific section of a Pillar.
Supporting Blog: A 750-word piece of content with 7-8 high-value keywords focused on a specific question.
Using this structure and the full power of a PBM platform, you'll be able to increase your ROI and drive customer engagement. So what exactly is the PBM platform meaning and what should you expect from the tools?
What Are PBM Tools for Marketing?
A Pillar-Based Marketing tool is software that helps you build your content pillar strategy including keyword research, marketing attributions, and content creation. With a PBM tool, you will be able to develop a content strategy that boosts your rankings on search engines like Google. This is done through intricate research and developing marketing strategies.

Essential features of a PBM platform include content marketing, keyword research, Pillar Page strategy, content strategy, and marketing attribution.
1. Content Marketing
When it comes to content marketing, it's tough to know what keywords and questions are important to your audience. PBM platforms should be able to compile information from all over the internet to find the highest-ranking keywords you can use to create content. With that information, you'll be able to plan what content to produce and any keywords to include. But content marketing is more than just inserting keywords. PBM platforms should provide helpful tools that give you:
Prioritized lists to create purposeful and relevant content
Valuable data to see what audiences are searching for
Dashboards to see your successes and challenges
You can write more valuable content by understanding customers' needs and what they're searching for online. This gives you the unique opportunity to answer the questions they have in a meaningful and beneficial way.
2. Keyword Research
Keywords are essential to ranking in SEO for your PBM strategy. While we've moved beyond the days of keyword stuffing, manual research can still take countless hours to complete. The best Pillar-Based Marketing software provides you with comprehensive SEO keyword research in minutes. You should look for platforms that supply you with:
One-click SEO content briefs with recommended H1s, H2s, and questions to answer
Competitive keyword analysis and rank tracking
A strong PBM strategy comes with high-value content. A strong research tool will guide you through the process to better understand how to create quality content and implement the keywords.
3. Pillar Page Strategy
Building a "pillar" of content out of Pillars, Sub-Pillars, and Supporting Blogs relies on connecting them together. Pillars are the largest piece of content at the top of the strategy. Sub-Pillars are directly connected to the Pillar through linking, as an extension (or more specific focus) of the Pillar. The Supporting Blogs are connected to both the Sub-Pillar and Pillar, answering the most specific questions. A good PBM platform will create the Pillar Page strategy for you, so you don't have to do complete intensive research just to figure out what content to write.

4. Content Strategy
In an insight-driven content strategy, you can identify competitive gaps and opportunities and use those to your advantage when creating content. A PBM tool should tell you where you stand against your competitors and give you an idea of where to focus your time. A content strategy should help drive outcomes and having the data available is an important step to making the best, higher-ranking content.
5. Marketing Attribution
To eliminate waste and spend funds where needed while driving ROI with certainty, using a marketing attribution tool will help. A PBM platform that allows you to visualize and measure your performance. With marketing attribution solutions, you should be able to answer:
Which campaigns are driving revenue?
Which pieces of content drive conversions?
What organic search terms drive deal revenue?
Which paid keywords will lead to closed sales?
That's a lot of stuff to expect from a program, but DemandJump provides each of these features with our service. You can gain insights, develop a content pillar strategy, consult your marketing attribution, and get in-depth keyword research. DemandJump is the best solution for PBM.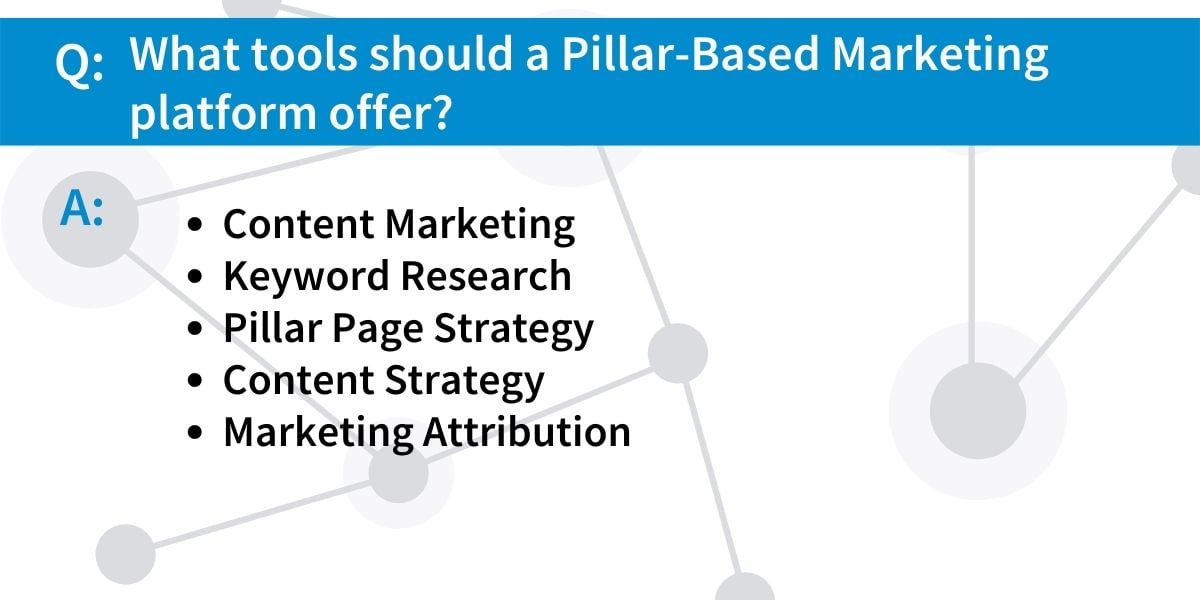 What is the Benefit of a PBM Platform?
Pillar-Based Marketing is beneficial for all businesses, because it makes content marketing goals more attainable and cost-effective. Our customers see excellent results when their content goes live. More leads, higher conversions, and higher click-through rates are all a part of the benefits you get when you use a PBM platform.
How Do I Choose a PBM Platform?
At DemandJump, we understand the power of keyword research and content creation. You can drive results and boost ROI with our insights and marketing attribution dashboards. Choosing the right Pillar-Based Marketing platform is simple: DemandJump. We are the pioneers of PBM! And we're the only provider of software designed specifically for PBM campaigns. At DemandJump, we promise three things:
More Page One Rankings.
More Customers.
More Revenue.
We have a freemium plan where you can see how powerful our platform is. We also have courses on DemandJump University about PBM writing, strategies, and reseller training. Get started on your PBM journey today!