Educational content isn't just for academia. No matter what industry you're in, educating your audience on the topics they care about has numerous benefits.
What is educational content writing, exactly? Consider this—what did you do the last time you wanted to know more about a product or service? You likely pulled out a smartphone or device, pulled up a search engine, and entered a few search queries to do your research. Maybe you found some website content that was particularly helpful. Then perhaps you read the business's call to action to contact them for more information. And next thing you know, you've purchased their product or service.
At the heart of that buyer's journey and many others is educational content marketing. When you can demonstrate you're an authority on any topic through your content, you earn the trust of your readers. By building that relationship with your audience, you'll stay top-of-mind next time they need anything related to that topic.
So, how do you write educational content? We've got some tips and tricks for you in this blog, along with a few examples of educational content writing to inspire your next project.
How to Write Educational Content: 6 Best Practices
Every writer will have their own unique preferences and techniques when it comes to writing educational content, but some of the best content is created by following these six best practices:
1. Know Your Audience
You can't write any kind of content without knowing who it's for. Your audience should influence every part of the educational content writing process. Spend some time doing market research on the demographic(s) you hope to target, and use that information to inspire the content you create.
2. Provide Variety
You have plenty of mediums to choose from when it comes to creating educational content. What are the types of content writing that can educate your audience? Social media posts, e-books, blogs, white papers, newsletters, product descriptions, how-to guides, video scripts, academic papers, website copy—the list goes on. Use as many of these avenues as you can to your advantage. Maybe one person enjoys reading through blog posts, while another may feel inspired by video content. The more types of educational content you can offer, the larger your reach will be.
3. Watch Your Tone
Think about the attitude you want to portray in your content. Maybe a heavier topic requires a more formal tone to show respect to the subject matter. Or perhaps a friendlier, optimistic tone would work better to establish a sense of trust with your reader. Jot down a few adjectives to describe the tone you're going for, and keep those in mind with every sentence you write.
4. Consider Readability
If you're educating your audience on a dense topic, be careful that you keep your content readable. You can employ a variety of tactics to accomplish this, like using list formats, minimizing jargon and passive voice, sticking with shorter paragraphs, etc. There are also apps that can check your readability and give suggestions for improvement, like the Hemingway Editor or Grammarly.
5. Research and Fact Check
We've all encountered misinformation on the internet—it's a disconcerting feeling to realize the content you're consuming isn't factual. Be careful you aren't adding to the chaos of misinformation with your own content. When you're researching your chosen topic, make sure you use reputable sources and fact-check everything. For example, if you find a study that says "90% of people wish they had a cat," but you read further and see there were only 20 respondents, you might want to find a different study with a larger representation of opinions.
What Is an Example of Content Writing That Is Educational?
If you're looking for some inspiration to get started, check out these three content writing examples that inform, entertain, and drive results.
1. Marketing Educational Content Example - DemandJump
We implemented a variety of educational content into our own homepage here at DemandJump. Visitors are greeted by to-the-point copy that informs them exactly what DemandJump is all about—more page one rankings, more customers, and more revenue. As a bonus, we included an educational video on the right to explain how 90% of web pages get zero traffic. The video goes on to demonstrate how businesses can utilize the DemandJump platform for keyword research, competitor analysis, content insight, and more to move up search engine rankings and not fall in that 90%.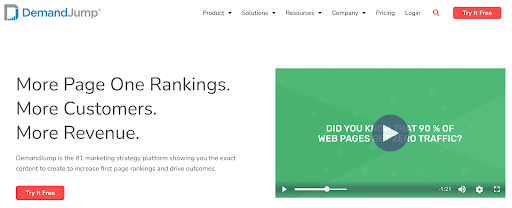 2. Nonprofit Educational Content Example - charity:water
If you're looking for inspiring educational content for social media, check out charity:water's social media accounts. They use a combination of storytelling and poignant imagery to educate their audience on the importance of clean drinking water, which they provide to people in developing nations. The below post from their Instagram tells the story of Netra, a teacher in Nepal, his lack of access to safe drinking water growing up, the numerous challenges this presented, and how the gift of clean water has transformed his life for the better.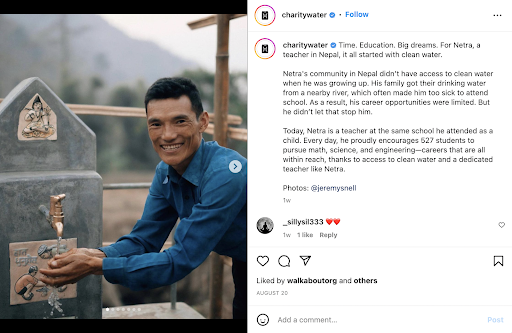 Source: @charitywater
3. Product Educational Content Example - Uncommon Goods
Even a short product description provides multiple opportunities to educate your audience. Check out the product descriptions of Uncommon Goods for some quality examples, like this beautiful Bee Drinking Garden Ball. Between colorful phrases like "bright buffet" and "busy little pollinators," this product description educates the reader on bee hydration, bee drowning risks, and how the Bee Drinking Garden Ball solves both problems. It also educates with product information, like care instructions, measurements, product materials, and how it's a handmade product.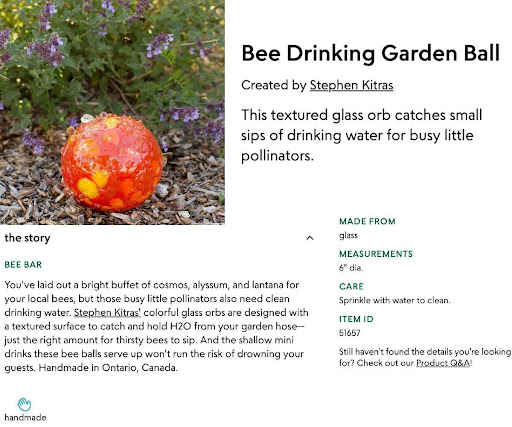 Source: UncommonGoods.com
Become a More Effective Educational Content Writer With DemandJump
One of the hardest parts of all content writing is the first step—developing a plan. Your educational content strategy needs to come from that overlap of what your business is all about and what your audience needs. An easy way to identify those topics is by using the DemandJump platform.
With DemandJump, you can automatically generate Insight Reports that are full of frequently searched keywords and questions around any given subject. Equipped with this knowledge, you can focus your educational content writing to address the exact keywords and questions your audience is searching for. We also show you how your current content is ranking, where your competitors stand, and other quantifiable consumer insights to drive your content marketing results.
Curious to learn more? Click the button below to try DemandJump for free today!