Essential Content Marketing Tips for Promoting Your Brand on Facebook
December 29, 2020 •DJ Team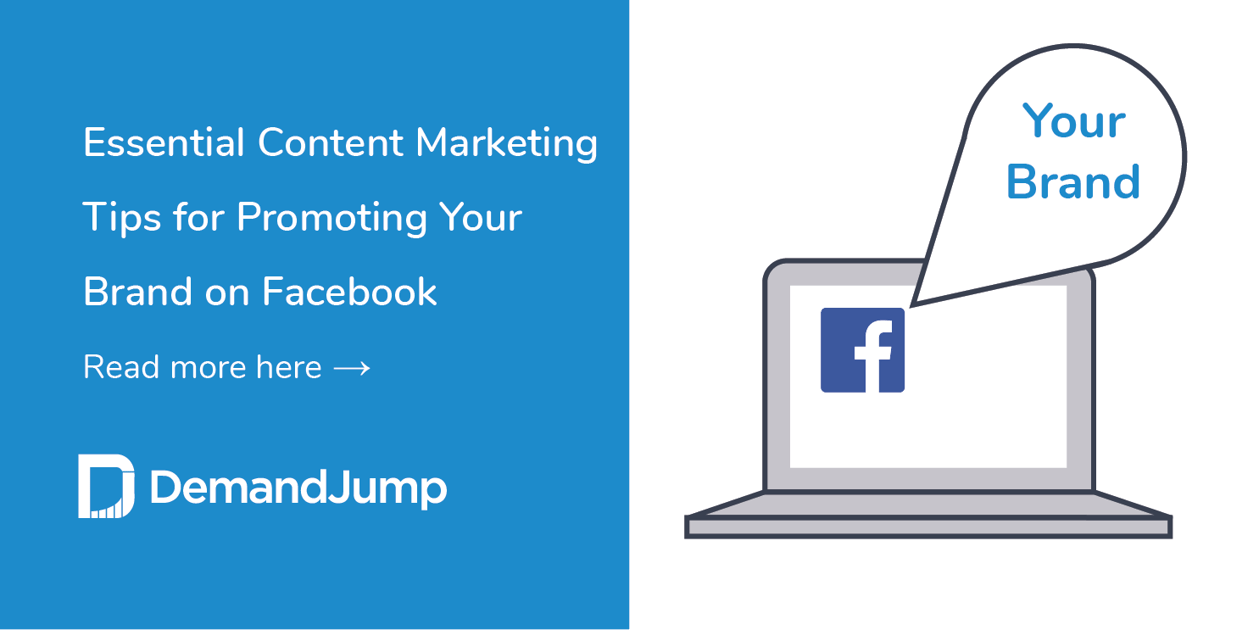 Facebook is an essential resource for growing your brand awareness: limitless audiences, global access, instantaneous brand updates, and the potential for your brand's content to be shared with untapped audiences.
As a free service, it's reasonable to expect the world's most popular social media platform to not only have a deep vested interest in creating a social hangout space for users, but to also establish itself as a vibrant hub connecting users with businesses.
Businesses trying to utilize Facebook's platform as a marketing tool to grow and connect with their audience should pay attention to these content marketing tips specific to Facebook and its users.
Facebook marketing for beginners
You're likely already familiar with the ins-and-outs of using Facebook on a personal level—tools like messaging, organizing your news feed, connecting with friends or people you may know—and you've likely witnessed businesses in your feed using Facebook as a marketing tool. So flip the script. As a business just getting started on Facebook, the basics include:
Create a business page (not the same as creating an individual account).

Personalize your page to match current brand standards (logos, contact information, photos—even your language can match current branding).

Take stock. Do you already have an audience that will begin supporting or following your page? How can you share that page with them—is it with an email announcement? A mailer? A sign on your front door?

Leverage current business relationships. Friends in your industry are likely to share your page, invite their followers to connect with you, or even offer Facebook marketing content tips that have worked for them.
As a business, Facebook offers you an opportunity to interact with individuals that you usually would miss with traditional content strategies like blogs, webpages, or email campaigns; use this to make your brand personable to new audiences.

Facebook Business Manager
The good news is you're not starting from scratch when you create a business page for your company on Facebook. Facebook Business Manager streamlines the process so you can have control and flexibility over your content and reach.
Learn Facebook's policies and terms of use.

Manage employees' access and security clearances so your entire team can be involved.

Plan, schedule, and publish posts automatically.

Connect with partners and advertisers, vendors and marketing agencies.

Develop and manage multiple pages for different campaigns or ventures.
Ensure your team utilizes the Facebook Business Manager tools in creative ways. Sure, there's some degree of fill-in-the-blank, plug-and-play ease to social tools like this, but your brand's nuanced personality will resonate if your content is consistent, relevant, and engaging.
How to promote Facebook page for free
One of Facebook's most compelling attributes, perhaps, is that users can access this platform without a price tag. The same applies for promoting your brand on Facebook—free promotion does exist, and it's fairly straightforward.
Publication. No user will ever see the post you drafted but never published—or the content calendar you planned but never created content for. Consistent publication and interaction on Facebook will help your brand stay relevant on feeds that change 24 hours a day.
Syndication. Utilize the content and branding you've already developed in forms like blogs, infographics, and case studies by publishing links like these on your business's Facebook page. You divert the audience away from your Facebook page, but you build a brand presence overall.
Interaction. Your business page should look for ways to interact with audiences in any format. For example, join Facebook groups whose audiences might have shared interests with your current audience. Be active with shares, likes—and show interest in communities where your brand might find footing.
How to promote Facebook page with money
Use your business's Facebook page to directly promote your brand depending on your intended reach, your budget, the targeted audience, and which of your ads you want to appear in a specific content or place. With Facebook, even a modest budget can help promote your brand with measurable results.

A content marketing tip specific to Facebook: consider ads a relevant form of content. Marketing Managers in the past might have never allowed these two in the same sentence; Facebook's platform is somewhat different. Facebook is much more likely to share your content with the customers you want to reach if you pay for the privilege; in reality, only about 5% of your page's followers will see a new post of yours otherwise.
To take full ownership of your brand's performance on Facebook, control your advertising like the content you post to your feed. Facebook Ads Manager facilitates the creation and distribution of your own ads so you're thinking about the specific audience who might benefit from these, rather than a blanket approach hoping to see random results.
Define parameters based on geography, age, similar interests, audience preference, etc.

Control how and when ads appear on different devices, in different environments.

Track ad reach, performance, and control/schedule publication.

Budget ad campaigns, and see where your investments go.

Get real-time analytics on ad data and performance.
Whether paying for promotion or hoping for a grassroots brand revival, your ad campaign and your presence on Facebook needs to be strategic. But if you're investing finances, you need to be able to sell your pitch, and then show a compelling ROI. DemandJump can help you track your content marketing efforts on Facebook and beyond—all within a single platform. Use our intuitive cross-channel analytics platform to unlock your brand's full potential online.
Get Your Free Pillar Strategy Report