Find the Best Keywords With Google's Free Tools
September 8, 2021 •DJ Team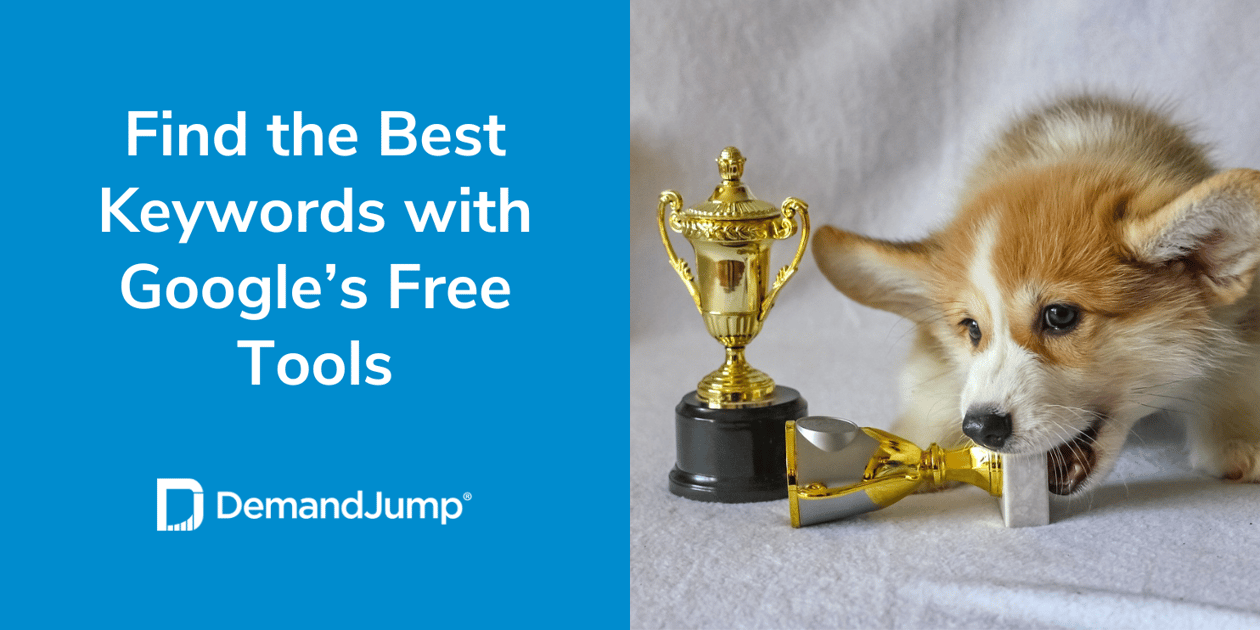 Google's interface uses over 200 factors to determine search ranking results. That's enough to make even the most skilled marketer's head spin.
Yet, studies have indicated that over a quarter of all searchers click on the very first organic link on a Google results page. So those marketers who figure out a winning search engine optimization (SEO) strategy are set to yield a major boost in untapped, organic traffic.
Now you're probably wondering if there are that many factors, how do you begin earning the number one ranking? While each factor is certainly important when trying to win the SEO and organic traffic game, one of the most important is keywords.
Keywords are the topics, ideas, words, questions, and phrases that define what your page is about. Keywords clue in Google and your audience that your content has the right answers.
Fortunately, there are many powerful SEO keyword search tools on the market to help you find the right keywords to start ranking better and faster. This article will explore how to find keywords using platforms like Google Keyword Planner and other SEO tools like DemandJump.
How Do I Search for Keywords on Google?
There are a number of ways to search for keywords on Google—including features built right into Google and specific tools they make available for marketers.
Before jumping into a couple of tools you should know about, let's quickly discuss some features that can help with your keyword search process.
Google Autocomplete: If you've ever started typing a phrase into Google's search bar only to have it try to autocomplete what you're trying, you've used Google Autocomplete. Google's Autocomplete tool analyzes the most commonly searched for questions and terms and suggests them to users as they start to type. That means the suggestions you see are trending or popular search terms—so keep an eye out if they're related to your business.
Google Related Searches: At the bottom of Google's results page, you'll see a list of related searches. These are keywords or phrases Google thinks might be related, and they're a way to get quick synonyms or alternative keywords. Simply search for a word or phrase related to your business and take a look at the suggestions Google gives you to pick additional keywords.
Google People Ask: Similar to Google Related Searches, this appears higher on the first page (typically near the top) and is a list of questions that Google has determined are related to your query. They're featured in dropdown boxes with answers that are directly pulled from a webpage.
Google Trends: A tool that displays real-time information about popular search topics right now. While perhaps not useful for a long-term SEO strategy, it can still provide insights into popular topics for short-term content planning.
These are all helpful, quick ways to find search teams of interest, especially if you're just getting started and need to generate a lot of ideas to build from.
What Can Google Keyword Planner be Used for?
Google Keyword Planner is another tool to help marketers discover keywords to use. While Keyword Planner is designed to be used for paid ad campaigns—and therefore offers information such as bid estimates—it can still be a source of information for SEO and organic purposes.
There are two primary tools within Google Keyword Planner: Discover New Keywords and Get Search Volume and Forecasts. Let's explore both.
Discover New Keywords is exactly what it sounds like. If you're just getting started, it'll help you generate a huge list of potential keywords. To do so, you'll need to start with some sample keywords about your business, like "coffee" or "event space." The Keyword Results Page will share a list of other keywords to consider.
Get Search Volume and Forecasts provides in-depth information about the potential power of existing keywords. Simply copy and paste a list of keywords into the tool and you'll get predictions about clicks, impressions, and more. Keep in mind that these predictions are based on paid ads, so your mileage may vary if you're doing organic marketing only.
Once you have the results from either tool, you have the option to filter by things like average monthly searches (the higher the average, the more potential for traffic) or competition (the higher the competition, the more difficult it may be to rank...but it's probably competitive for a reason) to refine your results and come up with a solid list of keywords to work from.
Are There Limitations to Google's Keyword Research Tools?
All the above features and tools sound great. But are there drawbacks to Google's tools? Yes. Like any free tool, there are limitations. Here are some cons to sticking with Google's tools.
Google Keyword Planner is designed to be used for paid ads, so you need a Google Ads account to get started. While Ad accounts are free, the data it provides is specific to paid searches. While this can still inform organic content marketing, it requires a lot more interpretation on the part of the writer to search through bid data and other irrelevant pieces of information.
Google Keyword Planner's results page does provide information on average monthly searches...but the buckets they use aren't very descriptive. It's difficult to know precisely how popular a keyword is when the buckets are as broad as 0-100, 100-1k, 1k-10k, 10k-100k, and 100k-1M.
All the data from each tool is disparate. That means wading through several different websites to find all the data you need to develop a strong SEO strategy.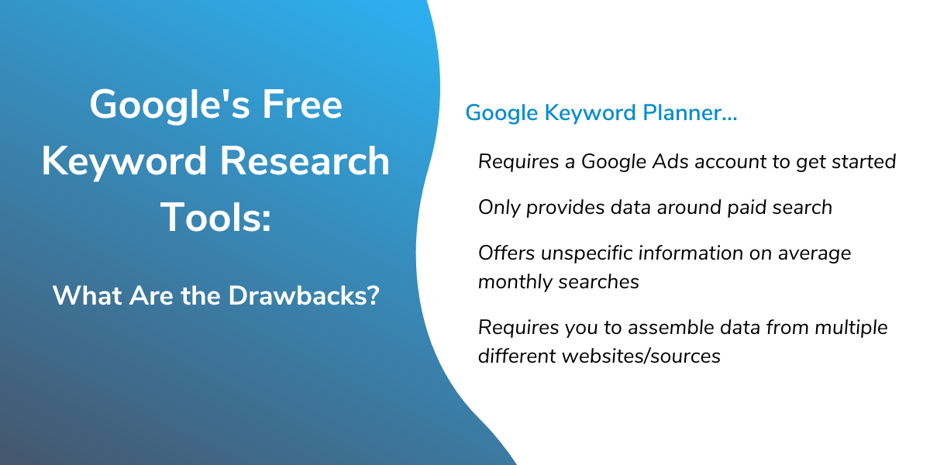 So, while Google Keyword Planner and Google's other SEO keyword research tools are a good first step, there are better tools out there that provide everything you need to create an organic SEO strategy without having to scour several different websites.
DemandJump: One of the Best Keyword Research Tools
DemandJump was created by marketers, for marketers, with the goal of making data more immediately actionable. Rather than searching through several different tools to find the right keywords for your strategy, our platform can help your company quickly uncover the most important topics, questions, and keywords to focus on—all in one easy-to-use tool.
DemandJump helps you identify competitive gaps where you can gain organic traffic quickly with an automated, prioritized list of keywords to start with.
In fact...

With DemandJump, you can know exactly what your target audience is searching for, generate a prioritized list of keywords, and gain access to one-click content briefs...all in one place.
If you're ready for an SEO tool that makes your job easier, get started today!
Get Your Free Pillar Strategy Report