Free Custom Keyword Research Template For Any Topic
September 23, 2021 •DJ Team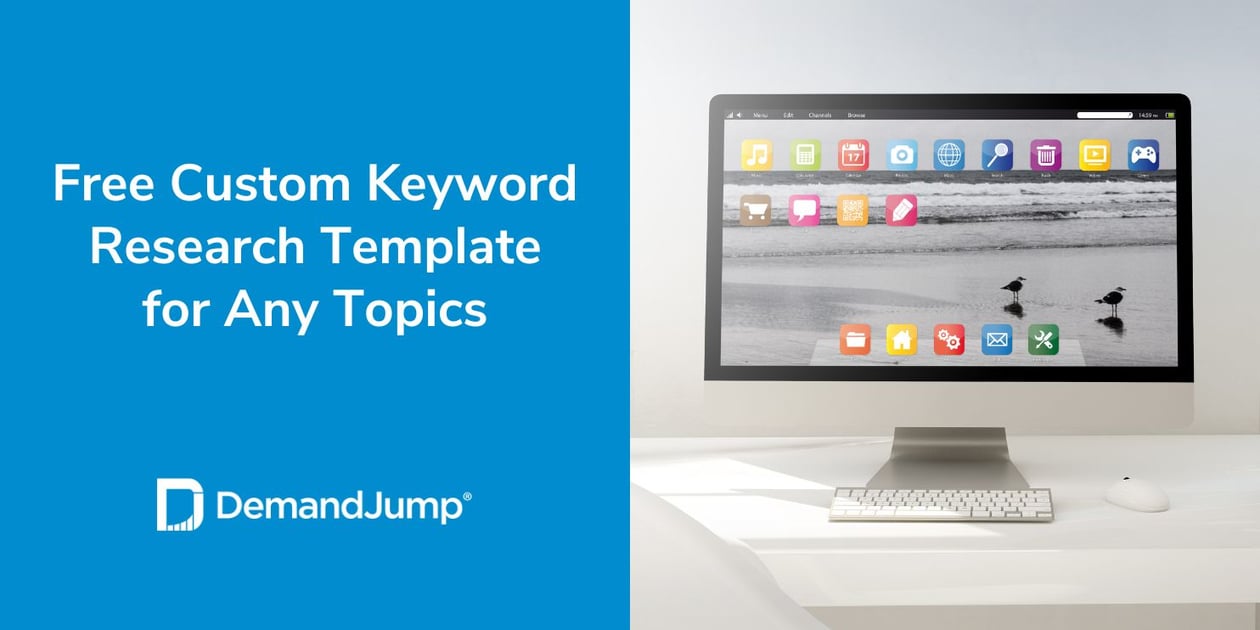 SEO keyword strategy can feel overwhelming.
With the large amount of data collected, the lists created from keyword generators, and the different ways to track keyword relevance, it's hard to know how to make changes to your strategy to grow traffic to your website and improve its overall ranking.
Keyword templates are a useful tool to reduce that confusion and help you make intelligent, effective content decisions.
An SEO keyword research template helps you organize the data you have for a given list of keywords to determine which keywords will have the most relevance and SEO pull on a given website or page.
Not only is a template a source for determining which are the best keywords and phrases to use in a particular piece of content, but it also helps guide additional keyword development, letting you know if there are potential keywords you haven't included yet.
How Do You Do a Keyword Research Template?
Templates help prioritize the types of keywords you want to use in different parts of your website and supporting content pieces.
When you create a keyword list, several factors determine how and where you should use certain keywords or phrases. Some of those factors include:
Search Volume: Specifically, you want to know how often your audience is searching a keyword on a monthly basis. Identify high-volume keywords and find alternatives to use on your websites and in your content.
Clicks: Clicks are a direct reflection of audience engagement. For your keyword template, a column measuring clicks-per-month gives you data-as-feedback so you know how well certain keywords resonate with an audience.
Ranking: When someone enters a search query, the order in which the results appear is known as SEO ranking. Using keyword tracking tools, you can see where your page ranks with a given query. This is helpful information to include in a keyword template so you can identify search trends and competition.
Impressions: Impressions occur when your keyword appears on someone's scroll, regardless if they click on your content or not. Impressions give you that extra bit of perspective on how the audience perceives your content and responds to your choice of keywords.
Back To Basics: What Is an Example of a Keyword?
You can develop a keyword list using a keyword generation tool, like Google Keyword Planner and DemandJump.
Simply plug in topics, products, services, or identifying nouns for your business or industry, and these tools will automatically generate keywords and keyword phrases.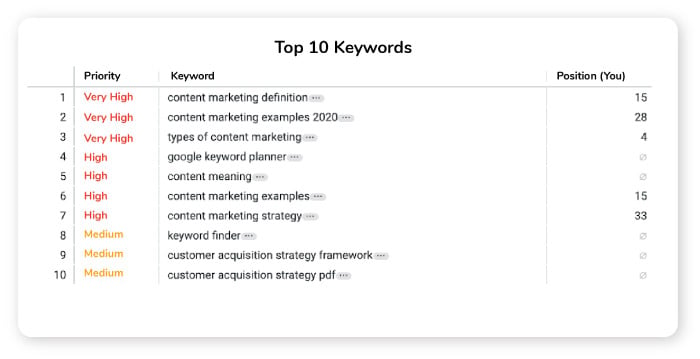 For example, a lawn care business might enter "lawn care" into a keyword generator. It's likely they would see keywords like "lawn care near me."
This is a long-tail keyword that's geo-targeted. Another keyword that might populate would be landscaping, a synonym.
As more relevant keywords populate, the lawn care business should add them to their keyword research template to identify search volume, how they track, the impressions they receive, and other important information that helps them evaluate how to use a specific keyword in their strategy.
How Do You Create a Keyword Strategy?
Once you identify keywords and keyword phrases that show potential, you can create an effective strategy to boost your page rankings.
Use your list of keywords and identify at least four to five options to use in blog posts, landing pages, and other pieces of content.
Make sure not to "stuff" the page with overworked repetition of these keywords. Instead, use a handful of keywords that track well and provide these to your content writers to include within each piece.
Keyword research templates are great resources because they allow companies to give content writers a list of keywords to choose from, allowing them the freedom to use the words organically in their content… rather than forcing certain words or sentence structures that don't fit in the writing.
What Are the Key Components of a Keyword Strategy?
An effective keyword strategy uses keywords in more ways than one.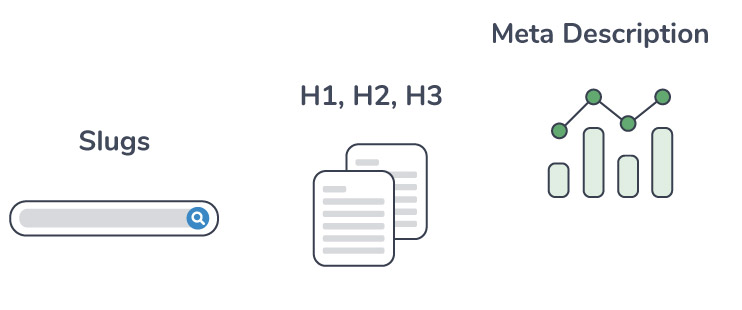 Not only can you use keywords and keyword phrases directly in your content to improve your page ranking, but there are other places where those keywords might register on Google's algorithms.
Slugs: A slug is the part of the URL that identifies the general topic of the page. You can modify the slug of a page to include your keyphrase or keyword, and this can help improve your ranking. A slug that's relative to the content on the page also improves accessibility to web users.
Meta Descriptions: These are the short descriptions that appear beneath the title of a page in the results of a search query. It's a practical way to inform readers what the page will be about. This is an important place to include your keyphrase or relevant keywords. Google's algorithms will track that content to identify search terms.
Subheading and Headings: If you and your writers are already using keywords and key phrases throughout your content, you might not have used them in your headings and subheadings. Consider using key phrases and long-tail keywords in headings and subheadings of your content to improve relevance in this way, too.
Keyword strategy can be a boon to your web traffic and can improve your Google rankings. And tools exist to help you develop templates and strategies to improve both.
Automated Keyword Template With DemandJump
Luckily for you, DemandJump has automated this process.
With one-click SEO content briefs for new content, recommendations for updating current content, and linking content to revenue generated with marketing attribution you are sure to see results.
Work smarter with automation tools designed to make content marketers look like rockstars.
Write content that ranks fast, and save time doing it - get started today!
Get Your Free Content Marketing Strategy Report