Google Keyword Planner: How Useful Is It For SEO?
August 31, 2021 •DJ Team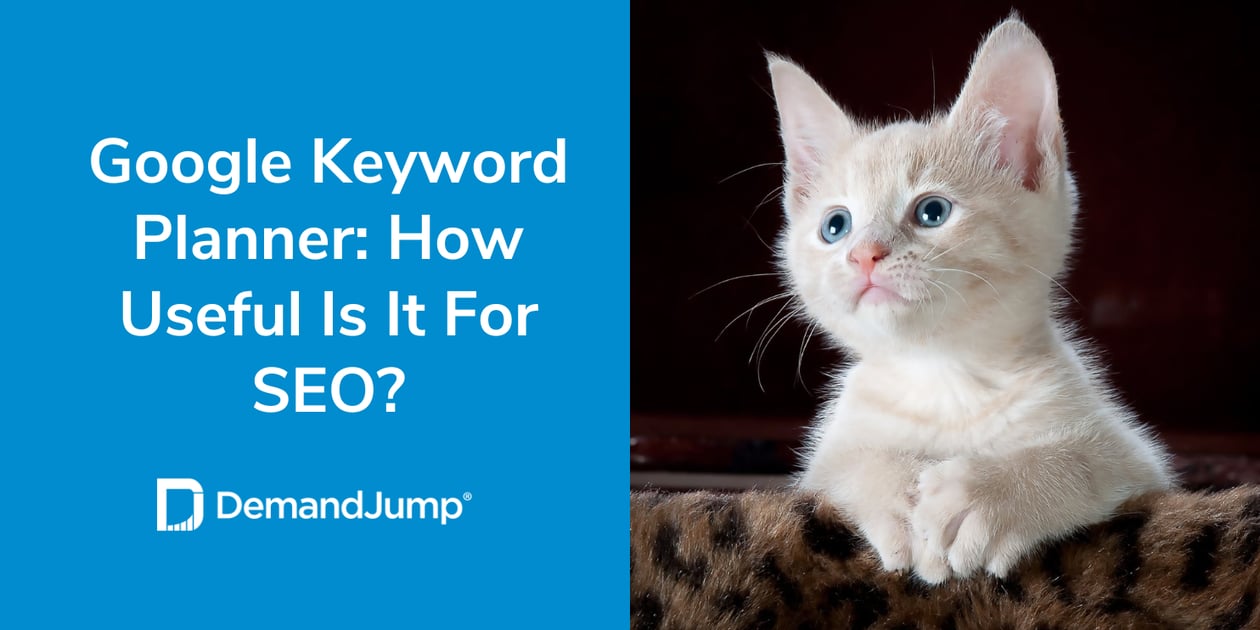 First thing first, let's set the stage.
SEO, or Search Engine Optimization, is the process of making your website more visible in search engines by creating relevant content that your audiences want and by following search engine best practices for readability.
Now, let's explore Google Keyword Planner to determine just how useful it can be for those SEO practices.
How Do I Research Google Keywords?

First, you need to uncover what keywords and phrases you should include to reach your target audiences.
There are many tools on the market for Google keyword research ranging from free to freemium to paid. You'll need to consider your budget in addition to other features that you may want such as competitor analysis, content outline creation, or marketing attribution and insights.
If you have an established website, you can also use your Google Analytics account to learn which keywords and phrases are already being used to find your site.
The keywords provided will be limited to just a small sampling of your organic search traffic, but they can be useful for finding out which keywords are currently driving the most engagement and conversions so that you can increase content in that area.
But this doesn't account for the traffic that your site is not capturing. How do you research which keywords you should be including?
This is where keyword planners and other keyword research tools come into play.
Does Google Have a Keyword Tool?
Yes. Google has its own keyword research tool called Google Ads Keyword Planner, previously known as Google AdWords.
You can use the Google Ads Keyword Planner for free, but you must first set up a Google Ads account. (This is the major pitfall of Keyword Planner. Later on, we will cover other ways to conduct keyword research - without a Google Ads account.)
But first, let's cover Google Keyword Planner. We've shared some Google Keyword Planner research and strategy tips below.
How To Use the Google Keyword Planner
First, you will need to create a Google Ads account and make sure to select Expert Mode. Once you have your account set up and are logged in, find the Keyword Planner under "Tools and Settings".
Here you can enter your basic core business terms and your URL as a starting point. Google will share analytics for each search term and suggest additional ones.
Compile the keywords you want into a list and create multiple lists for different product and service lines. Once you have a list created, you can export the list or create an ad campaign within Google Ads.
Is the Google Keyword Planner Good for SEO?
Google Keyword Planner is a good free option if you are just starting out with a low marketing budget, and it integrates seamlessly with Google Ads if you are planning to run pay-per-click (PPC) campaigns.
However, if your focus is also on organic content, then you still have a lot of planning ahead to write and publish SEO-friendly content. Before you invest your budget on a PPC campaign or the human resources to develop new content in-house, you want to make sure you are using a robust SEO keyword research tool to map the rest of your content.
Identifying relevant keywords is just one part of SEO. There are several other best practices you should follow for effective SEO: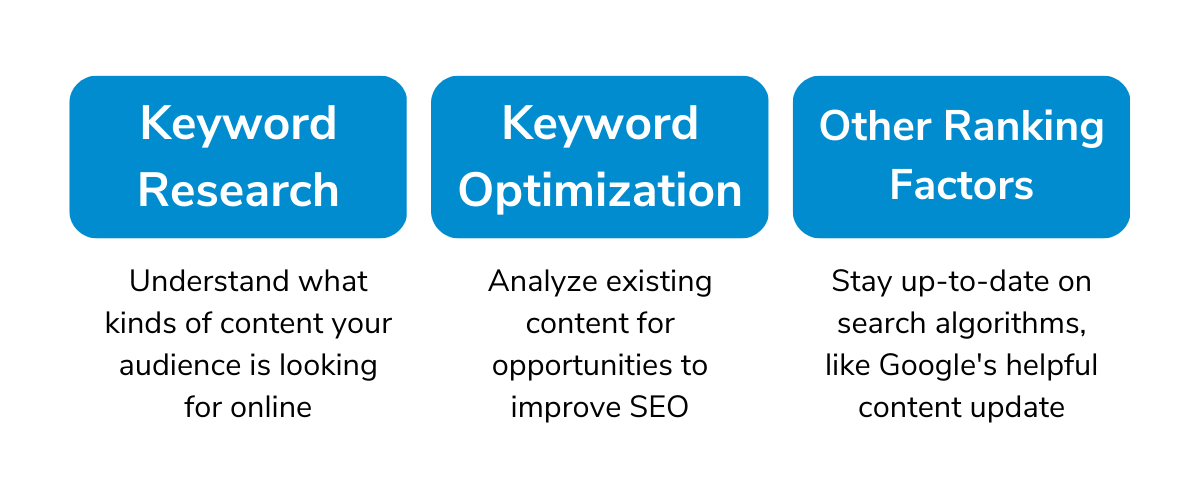 Keyword Research
In order to create relevant and engaging content, you need to understand what kinds of content your audience is looking for online.
Start by making a list of starter topics with your industry, products, services, and common challenges your prospects face, thinking through what questions your audience might search for online.
Next, use a keyword research tool to analyze those keywords and phrases and discover ones you may have missed.
Keyword Optimization
Once you have a list of target keywords, there are several ways to go about keyword optimization. First, analyze your current website content to ensure that your target words are included on the pages that make sense.
You'll want to include them on the front end that the customer sees, but also on the back end, which Google reads to rank your page. Your metatag is a critical space to tell Google what your content is about, and all too many companies underutilize it or even leave it blank.
Other Ranking Factors
Google makes continual adjustments to its search algorithms to account for more than just keywords.
For instance, Google rewards fast load times and accessible content with higher rankings and may punish websites with features like pop-ups that negatively affect user experience.
Make sure to look at your overall website performance and design in addition to keywords to ensure that your website is relevant and user-friendly.
DemandJump: A Keyword Tool Designed For SEO
When doing SEO research, you need a tool that can take you from research to results. DemandJump automates the keyword research process.
With one-click SEO content briefs for new content, recommendations for updating current content, and linking content to revenue generated with marketing attribution you are sure to see results.
Work smarter with automation tools designed to make content marketers look like rockstars.
Write content that ranks fast, and save time doing it - get started today!
Get Your Free Content Marketing Strategy Report