How Can Digital Marketing Help A SaaS Business?
December 21, 2022 •Erica Kempf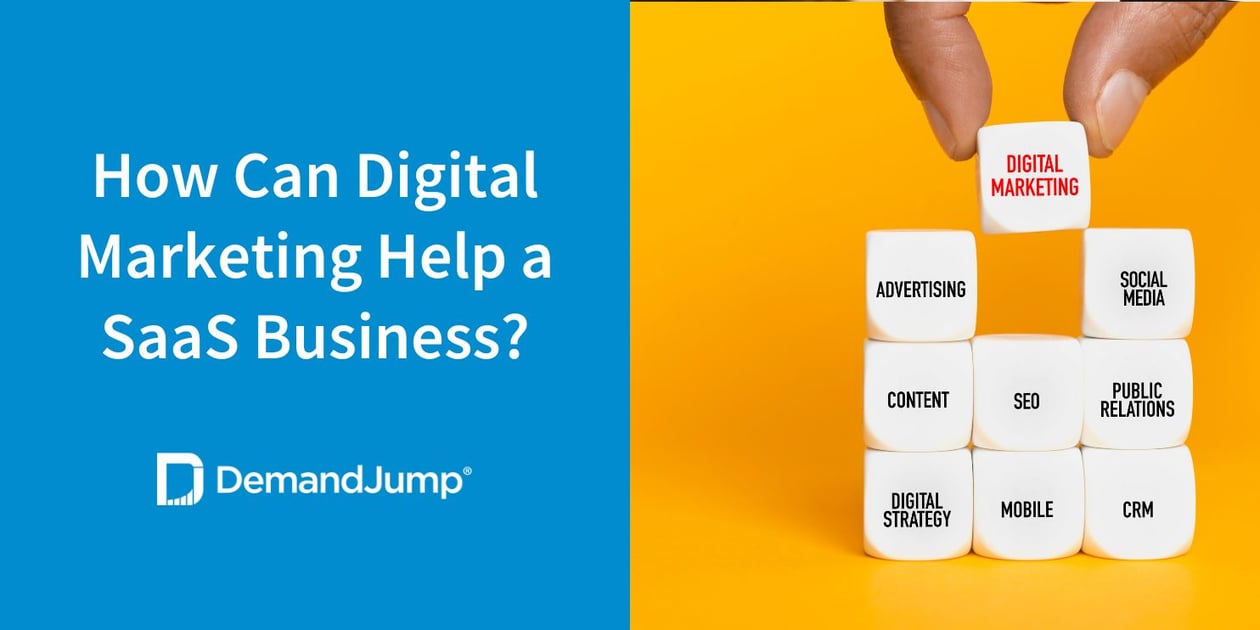 Digital marketing is the perfect fit for a Software-as-a-Service (SaaS) business. Since SaaS products are used in the digital landscape, focusing on digital marketing is the right way to reach a SaaS company's target audience. In this blog, we'll focus specifically on SaaS content marketing. This will likely give you a better return on your investment than paid ads alone in the super competitive SaaS market.
Marketing SaaS companies presents a specific set of challenges and opportunities that is different from marketing more traditional, tangible products. This means SaaS needs a different playbook than other types of marketing, and we're to share the first chapter!
How Is SaaS Marketing Different from Digital Marketing?
First things first, let's get some definitions out of the way.
Digital marketing means promoting your business on the internet. It can include a huge number of different strategies, like paid ads on search engines, sponsored videos on YouTube, and social media campaigns.
SaaS marketing means promoting your SaaS business to your target audience using whatever means you decide will be the most successful for the specific company.
So if you are asking yourself, "Is SaaS digital marketing?" the answer is no, they aren't the same thing. You can absolutely market a non-SaaS business using digital marketing. But the confusion is understandable, because nearly all SaaS marketing is done as digital marketing.
How Digital Marketing Can Help a SaaS Business
SaaS companies are trying to sell inherently intangible products, which makes them harder to show to customers for a quick sale. Instead, SaaS companies need to convince their customers that the software and service they provide will make things better for the customer in some way.
The problem is that SaaS solutions often require that a new user spend time and energy learning to use the product and then wait a while to see the positive results. This requires a much different marketing strategy to get someone to buy than selling, say, a new car.
So how can SaaS improve marketing using digital channels? Let's look at how you can use these channels effectively for marketing SaaS products. The three main types of digital marketing we'll explore in more detail are:
Website
Social Media
Paid Ads
1. How Do I Do SaaS Digital Marketing with a Website?
A website gives you a central hub to store information about your SaaS product, as well as a place to make sales and house the customer interface for the software itself. Done well, a website can provide a huge return on investment for the SaaS company.
Let's use DemandJump as an example. The reason we exist is to help SaaS companies' content rank highly on customers' search engines results on topics relevant to what the company provides. We use our own product to write blogs that will show up when someone is searching for articles related to "SaaS Marketing". Because our high-ranking blogs surrounding this topic are housed on our website, DemandJump.com shows up on page 1 of search results when potential customers are looking for solutions to their SaaS Marketing problems.
Once these future customers land on our website, they find more useful content to help them with their marketing pain points, as well as information on our pricing, our email newsletter signup, testimonials from our customers who have seen success with our platform, and the place to start using the freemium version to see results for themselves. Our website is the number one way we get around the unique challenges of marketing our intangible SaaS product.
2. How Do You Develop a SaaS Marketing Strategy for Social Media?
Social media marketing is another especially useful part of digital marketing for SaaS. It is a great way to connect with potential customers and engage with current ones in bite-sized chunks. Showing a snippet of how your product helps with a common pain point on social media can be a good way to let people know you exist, to start building brand recognition, and to establish your authority on a topic.
Again, let's look at DemandJump for a social media SaaS marketing strategy example. Since our target audience is other business owners, we focus on LinkedIn as the most useful social media platform to connect with our potential and current customers. We regularly share Hot Takes from our team or customers, highlighting how what we do makes reaching customers easier for businesses. We also share success stories with data from our platform users, engaging general interest posts that illustrate our company values, and highlights of newly published articles on our website.
All these posts get our name out there little and often, and build trust and relationships with our audience. These supplement and encourage people to learn more about us or visit our website to better understand exactly what we're all about.
3. What Is SaaS Marketing with Paid Ads?
Paid advertisements are not specific to digital marketing and have been used to promote businesses since printed media began. But paid ads are certainly a big part of digital marketing and work especially well if they're used alongside your SaaS company's website and social media as part of a complete digital marketing strategy.
You can put paid ads on search engines so that your website shows up at the top of search engine results for relevant search terms. This is especially effective when used in conjunction with high quality content like blogs that are also designed to make your website show up highly on searches. The combination of a paid ad and a useful and popular blog post can skyrocket your website traffic in a short period of time.
You can also put paid ads on social media platforms, again getting more eyeballs on your brand and how what you offer can help people solve problems. Increasing brand awareness in this way works well in combination with an active social media presence to drive overall traffic and signups.
Ready to Take your SaaS Digital Marketing to the Next Level?
Then see what DemandJump can do for you! We show you the exact content you need to write to show up on searches by your target audience. No more guessing and hoping, just data-driven results. Click the button below to try it free today!