How Can I Study SaaS Marketing?
December 21, 2022 •Erica Kempf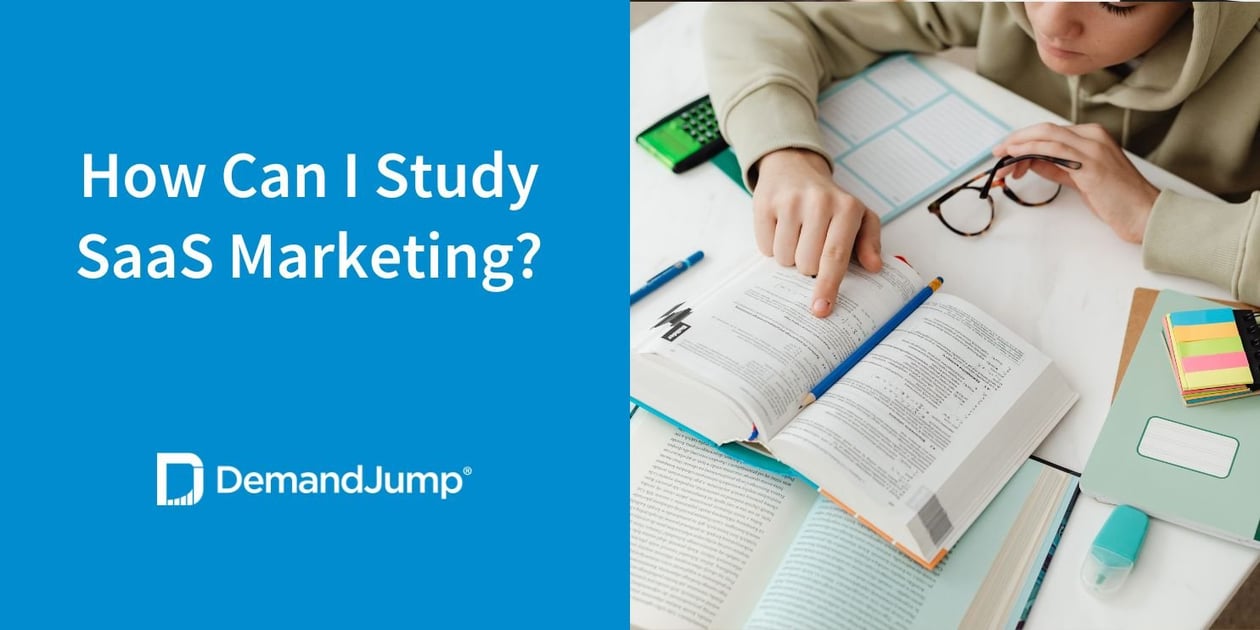 Software-as-a-Service (SaaS) companies are continuing to take off right now, with around 25,000 SaaS companies established and lots of projected growth worldwide. With all the job opportunities this industry offers, many people are contemplating getting in on the action and training to work in SaaS.
One of the ways to work in this industry is to focus specifically on marketing for SaaS, since marketing works a little differently in this world. Marketing roles here might include things like SaaS content writing and social media management.
One good place to start if you'd like to explore this career path is to take a SaaS marketing course to learn the basics. There are other ways to jump into the SaaS marketing world too, and we'll look at all the options in this blog. First, let's start with the basics and define what we mean by SaaS marketing in general and SaaS content marketing in particular.
What Is SaaS Product Marketing?
Product marketing for SaaS is all about generating knowledge about and demand for the solution being offered by a SaaS company. Because SaaS products are not tangible, it can be harder to market them in some ways. This is because they often can't easily be 'shown' to potential customers in the same way a car salesperson might show someone a new car.
This means SaaS marketing deals more in explaining the value of the product, how it will help solve a problem a future customer has. A marketer's job will be to show how their product can make life easier and consistently deliver the results they promise. Because there's often a lot of explaining and background information required to tell this story, content marketing is particularly relevant to SaaS marketers.
Content marketing simply means using written content as a tool to market what you're trying to sell. For a SaaS company, content marketing will likely involve writing blogs and articles that explain what problem their product is solving and how. It also can include things like writing whitepapers, social media posts, and scripts for webinars or podcasts.
Which Course Is Best for Marketing SaaS?
There are a lot of options when it comes to finding a SaaS product marketing course, and which one is the best for you depends on a few things. These might include:
What background you already have
What aspect of marketing SaaS products you enjoy the most
What requirements are for the type of jobs you want
Let's look at how each of these might influence what type of courses would be the best fit for your needs.
Continuing Education
If you are considering SaaS marketing as a future career, getting a degree in business or marketing may be your best option. Many SaaS companies prefer or even require their marketers to have formal education in the field, so a 2- or 4-year degree program will set you up for success.
But a college degree isn't the only option, especially if you have work experience in the industry or a degree in a different field. If this is the case, looking for courses or certifications that are widely-recognized and high-quality can give you all the specialized knowledge you need to achieve your SaaS marketing career dreams. Something like the Inbound Marketing Certification from HubSpot or the Fundamentals of Digital Marketing from Google may be a good fit.
Industry Knowledge
If you have a specific area of SaaS marketing you know you are interested in, you can tailor your course selection to topics related to what you want to do. So if you know that writing articles for SaaS companies is your special area of interest, you might search for "Is there a SaaS certification for marketing writers?" You might find that DemandJump University's free content marketing resource library is a good fit for this interest.
Upskilling
If you have your eye on a specific job or type of job, look at the skills and certifications they ask for as guidance on the best courses to take. For instance, if the software marketing companies that interest you specify they want someone with marketing strategy experience, the best option for you might be to take a course on strategy. Or if a certain coding language is specified on several job postings you are interested in, starting an entry level course on that language if you are unfamiliar with it could set your application apart when you apply. Having a good understanding of the product side of the SaaS company you work for can make it easier to market it effectively and make you better at the job you eventually take, too.
What Are Other Good Ways to Learn About SaaS Marketing?
With DemandJump! We are the originators of Pillar-Based Marketing, a content strategy that works particularly well for SaaS companies. Working through the free resources available through DemandJump University will help you understand important aspects of SaaS marketing better. You can even sign up for our freemium product and try your hand at developing a complete content strategy on your own to see how the process works firsthand. Click the button below to get started!