How do bloggers use content marketing?
November 24, 2020 •DJ Team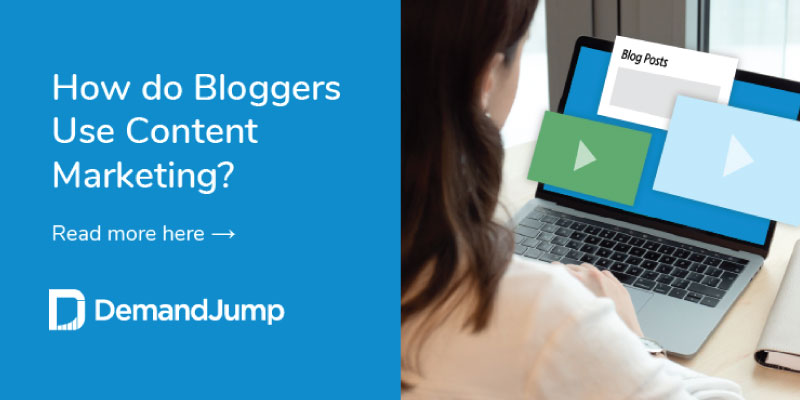 Marketers wading through the waves of digital marketing opportunities are faced with a very real challenge of building successful, results-driven campaigns. For many digital marketers, a regularly updated content marketing blog is the backbone of an effective strategy in reaching audiences, introducing them to your brand's offerings, and turning them into faithful customers. Before we can explore how bloggers use content marketing to promote their businesses online, it's important to review what content marketing is, and how it's used to drive results.
What is Content Marketing?
Content marketing isn't a new trend, but it's taking the world by storm as more and more businesses fuel their customer leads through their efforts online. New marketers searching for a good content marketing definition are faced with a number of inputs and strategies, but at its core, content marketing is summed up well by the Content Marketing Institute as:
"...a strategic marketing approach focused on creating and distributing valuable, relevant, and consistent content to attract and retain a clearly defined audience - and, ultimately, to drive profitable customer action."
What is a Content Marketing Strategy?
Every Content Marketing campaign is fueled by a strategy that dictates a desired outcome or goal, the types of content that will be created, and even what subject material that the content will be based on. A robust strategy will generally include marketing goals, key performance indicators (KPIs) to determine success, purposeful content for a targeted audience, recognized avenues of content distribution (like social media channels, blogs, digital ads, landing pages).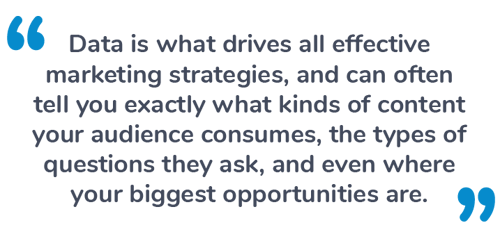 Bloggers should also stick to a marketing strategy that will boost their efforts with their written online content.
How to use blogging for content marketing
While there are many types of content marketing, blogs are often seen as the fundamental building blocks of many digital content marketing strategies. There are many valuable benefits to blogging for marketing.
Drive traffic to your website
Every piece of written digital blog content adds to your website's credibility with search engines. They get crawled and indexed by search engines and prioritized in search results based on your growing reputation with the engine and the relevancy of the content you create. The more blog content you create a share, the more traffic you will attract.
Gain leads, increase conversions
As your content marketing blogs begin to answer relevant questions and provide valued expertise within your industry, you'll begin to capture more leads and increase your conversions. Every new reader on your blog is a lead, and the more those users interact with your blogs and, in turn, your website, the more qualified they will become. Over time, analyzing blog content marketing performance will lend a hand in identifying the kinds of blog content that resonates with your readers and plays a bigger hand in achieving customer conversions.
Build authority as a thought leader
With a growing library of content that provides answers, thoughts, and tips for those working in your industry, readers will begin to recognize you as a credible expert. As consumers in your industry search for answers and thoughts and begin to find you at every search, they'll begin to see you as a credible resource and engage with your content more naturally. This in turn tells search engines that your content is quality assured and they'll bump you up within search results.
How to use blogging for content marketing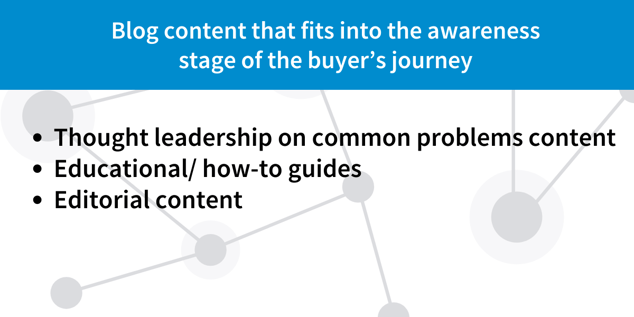 Because blogs are often the first entry point into your brand for many consumers online, they can carry the weight of several steps in a buyer's journey. Professional content marketers understand this responsibility comes with outstanding opportunity and will build their content marketing blog topics around building brand awareness for prospects online. Consumers caught within the awareness stage of their buyer's journey are actively searching for answers to a problem, but they might not be aware of your solution. Blog content that fits into this stage includes:
Thought leadership on common problems content
Educational/ how-to guides
Editorial content
We can help. Demandjump gives you automated content outlines on any topic important to your company. Outlines that will ensure your content gets seen by your target audience.
Instant Consumer Insights at your fingertips
Any blogger can find success by gathering and analyzing key data behind their content, their audience, and the best places to promote. Our instant Consumer Insights can bring all of these important metrics right to your feet, allowing you to spend less time guessing and more time seeing fruitful results with your content marketing blogs. Try our free trial and learn more about your competition and where your best opportunities for successful content marketing are.
Get Your Free Pillar Strategy Report