How Do Creative Content Agencies Work?
November 25, 2020 •DJ Team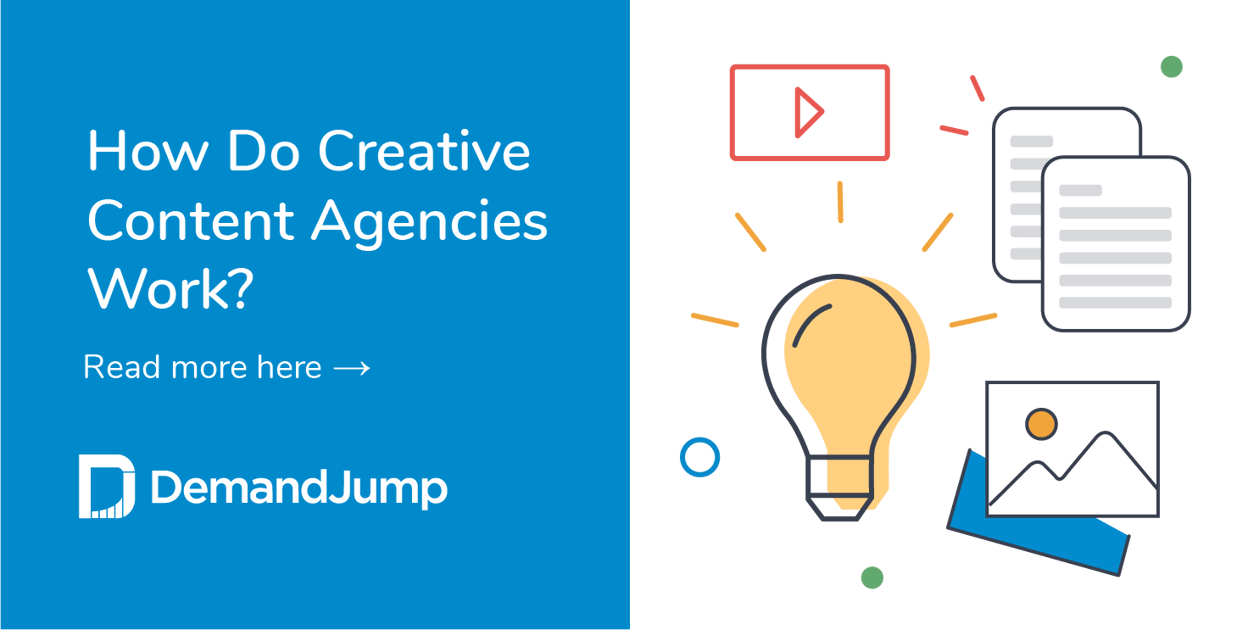 Every major business—and a lot of the minor ones too—are producing content on an almost daily basis. Where is it all coming from? In a lot of cases, creative content marketing agencies are behind the scenes. Is there some secret sauce that makes them work? Definitely not, and knowing the ins and outs of a content marketing agency can give you some insight into what you should do—or whether you should hire one yourself.
What is Content Marketing?
At its simplest, content marketing is the production and distribution of relevant, informative collateral materials. It's normally marked by things that help the audience. Think how-to videos on YouTube, or an ebook that breaks down the concepts of strategy building. Content is always created with an audience in mind, because if they're not reading, it, the content isn't working.
Which leads us to the purpose of content. Content is meant for an audience who has questions, or is looking for insights. As long as the content is meeting some need of the audience, it's also fulfilling one of its purposes.
On the brand side, though, there are several things we hope to get out of our content marketing. First, thought leadership, or establishing yourself (or your brand) as an expert in a certain field. People love to look to experts for help. Second, and perhaps more importantly, you're looking to get leads into your sales funnel. Content marketing can be the first hook that gets them in, then other digital and traditional marketing efforts can turn them into revenue.

Content Marketing Services
Every creative content marketing agency offers something a little different. Some, for example, are full-service. That means from the initial strategy to the creation to the distribution to the data analysis, you're working with one agency in particular. That may even be part of a much larger marketing agency. Other agencies will focus on specific tactics. These are some services you should expect from a content marketing agency.
Strategy - Like any other part of your business, your content marketing must have a strategy—ideally fitting within part of your grander marketing and advertising. A content marketing agency will have specialists on staff who can put together a strategy that fits your business and helps find your audience, allowing the content to be catered and delivered specifically to them.
Content creation - Blogs, emails, videos, ebooks, podcasts, and nearly anything else you can imagine are usually handled by a content marketing agency. They may have writers, videographers, and designers on staff to do the creation, or work with a team of highly-skilled freelancers to make sure it fits the needs of their client. The agency is able to make sure it fits both the brand voice and within the strategy.
Distribution - New media outlets are popping up regularly. A content marketing company will not only create the content, but also get it set up for distribution, whether that's through an email platform, something like YouTube, or the blog. They'll usually handle photography and any other assets that need to go with the content as well.
Data analysis - You have to know if your content is working. Thanks to the beauty of digital media, there's plenty of data that can tell you whether the strategy is on point, or whether it needs to be adjusted. The content agency will keep a close watch on the numbers and make adjustments to the content as necessary.

Hiring a Creative Agency
Is an agency right for you? As you're beginning to understand how they work, you may have questions that come up.
In short, hiring an agency is a great call if:
You or your team don't have time to create all of the content yourself.
You or your team don't have the necessary tools to create all of the content.
Your marketing team is transitioning and you don't want a halt in content.
Your current content strategy just isn't working.
As you approach a creative content agency, there are a few things to know. Don't be worried about being pushed out of the content. In fact, most agencies will need your expertise in order to formulate a strategy, editorial calendar, and even to put together the content itself. If you're the star of the show in video, you'll also be required to sit for that.
All of that said, hiring a creative content marketing agency will still give you plenty of more time to do other things—like run your business.
You're also hiring expertise in areas you may not be as fluent in. Content marketing has specific tactics that can make it more effective in the hands of professionals.
Those professionals also have tools that can help you deliver better content. If you'd like to get a look at some of those tools without hiring your own agency, try a free trial of DemandJump. Our software analyzes your content and puts all of the data in one place, and also provides you with recommendations where your content can really make an impact.
Get Your Free Pillar Strategy Report