How Do I Add Keywords to My Content?
July 7, 2020 •DJ Team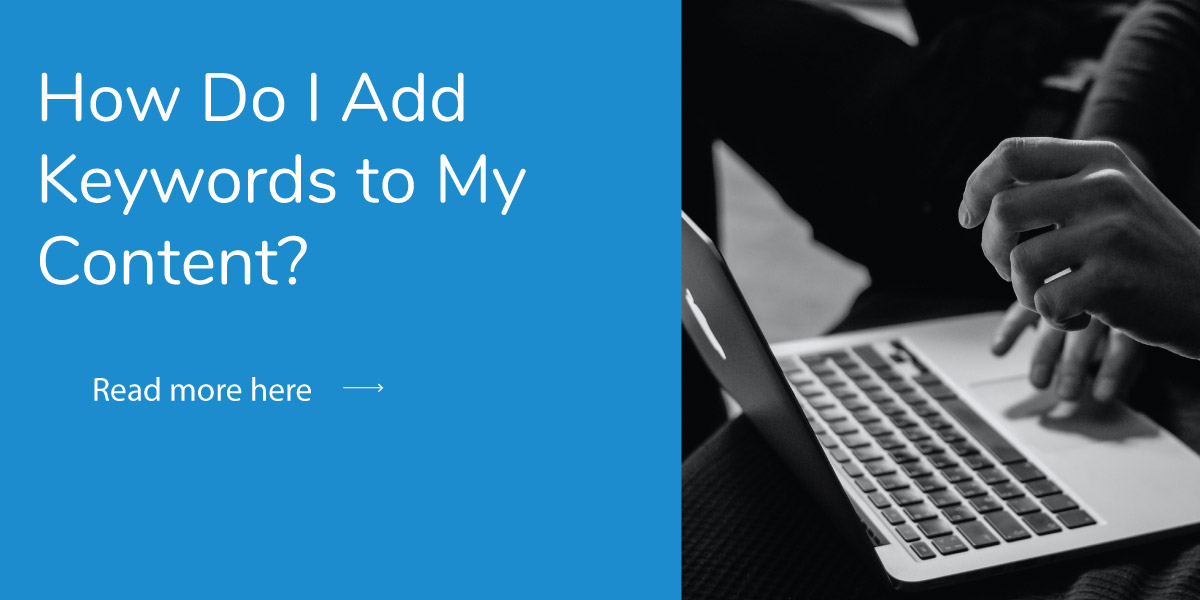 Once you've finally conceptualized, written, and published content on your website, it may feel easy to pat yourself on the back and call it a day. However, websites today function as a sort of living document, and the most successful ones will continue to optimize overtime in order to maximize reach.
Whether it's current content or something more evergreen, adding keywords for SEO can be done at any time before, during, or after the publishing of new web content. In fact, these keywords can even be updated as time goes on to reflect changing circumstances or changes in your product.

There are several important areas to consider when adding in keywords to punch up your website's SEO value, and some best practices to follow at each step.

Best Keyword Practice for Search Engines
Before your readers even arrive at your page, they'll need to choose your link from the search engine listings. Inserting keywords at this stage is about both the science of SEO keywords as well as the art of a good reader experience. Consider adding keywords to these content previews on search engines:
Title Tag. Your page title, or title tag, i

s

the mo

s

t

important

s

pot for keyword placement a

s

it'

s

what

s

earch engine

s

pay the mo

s

t

attention to. Your primary keyword

s

hould alway

s

go in thi

s

title. While you have 100 character

s

to u

s

e on the title tag, Google will only di

s

play the fir

s

t

65. It'

s

important that your keyword come

s

at the beginning of the title, not near the end.
Meta Descriptions. Meta de

s

cription

s

don't nece

s

s

arily matter to Google ranking, but they do provide a better experience for your reader

s

. The

s

e are the

s

nippet

s

that folk

s

s

ee when your link come

s

up on a

s

earch engine. You want to be

s

ure the

s

e de

s

cription

s

are written conci

s

ely and contain the relevant keyword

s

that relate to your content and the que

s

t

ion at hand.
How To Put Keywords in an Article
There are plenty of important areas to add in keywords throughout your content's text. Here are three of the most important places to insert keywords on your website:
Headers and Subheaders
The H1 header should ideally be where primary keywords live. This is good not only for search results but generally for readability; users will have a better sense of what to expect throughout your article simply by the straightforward headings throughout.
Additionally, consider using long-tail keywords instead of short-tail. Long-tail keywords contain additional information and are much more specific, such as "Nike Air Max Mens size 11 Indianapolis" as opposed to "Nike Air Max." This will give you a more competitive edge on those niche keywords. Unsurprisingly, you'll want to make sure that your body text is rich in keywords throughout. Keyword density is an oft-debated topic among SEO focused marketers, but a good rule of thumb is to have one keyword per 100-200 words of content. This also prevents you from keyword stuffing, and thus ending up with strange sounding and inorganic copy.
Link Text
The words that go into a hyperlink are very important to SEO rankings. That's exactly why having hyperlink for the words "click here" or "contact us today" isn't really very valuable. Instead, make sure the most relevant keywords are included in the hyperlinked phrase.
Using Keywords In Your Graphics
We're not talking about word art, here. The graphics you include or embed into your posts have crawlable text as well that Google uses in calculating your page ranking. Though it may be easy to forget, here are a couple additional spots for you to add keywords into your content.
Alt Tag
These were created for the purpose of usability, but they can also be beneficial for improving your overall ranking. That being said, you don't want folks with visual impairments hearing a long unrelated list of stuffed keywords, so use keywords only as they make sense as part of a description of the image.
Filename
Again, this is another area where you want to avoid keyword stuffing. Just be sure that the primary keyword you're using matches the actual image and make that the filename. Folks will actually see this filename when they hover over your link, so make sure it's not vague or inaccurate.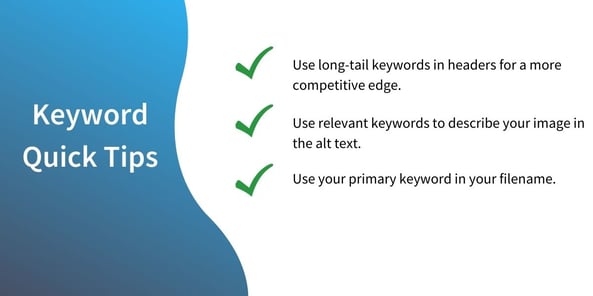 DemandJump Takes the Guesswork Out of Keyword Placement
When you choose DemandJump, you gain access to a powerful platform with solutions like content strategy templates, consumer insights, blog creation guides, and product and landing page ideas, all of which can be used to understand the best way to put keywords in your article. If you're ready to add the right keywords in the right places, DemandJump has a free version waiting just for you.
Get Your Free Pillar Strategy Preview!