How Do I Become A SaaS Content Writer?
January 17, 2023 •DJ Team
Becoming a SaaS content writer is as simple as knowing a few basic guidelines and having a consistent strategy for your content creation. Whether you're looking to spread the word about your SaaS company's offerings, or you're seeking SaaS content writer jobs, knowing the unique ins and outs of this type of content is crucial to your success.
If you're wondering "How do I write a SaaS blog?" wonder no longer! We at DemandJump are here to help you get a foundation underneath you. After reading this, you'll have a solid starting point for how to approach being a SaaS copywriter. We'll cover a few basics and even point you towards a few courses you can take to gain an edge. Let's get started!
What Is SaaS Content Writing?
SaaS content writing is creating SaaS content of any kind—typically in the form of a blog. The writing for SaaS is notably different from other industries, for various reasons. Firstly, SaaS products themselves are different: they are intangible and often provide nuanced solutions to nuanced problems. Both of these traits make them harder to explain, and by extension, harder to understand for a potential customer. This is why, for example, many technical writer jobs will seek and/or prefer writers who have a background in the tech industry; without an understanding of the products, it's much tougher to help customers understand them. That being said, don't feel discouraged from seeking work as a SaaS writer if you don't have tech experience. You just need to make sure you know a few things about the SaaS industry and its products.
How Do I Write Better SaaS Content?
Successful content for any industry depends on having consistent sources to draw from, and a good understanding of your goals with content. For a SaaS writer, that means knowing your:
Resources
Product
Audience
Quality SaaS content is important for marketing, but it can be challenging to write, and even more challenging to write well. But if you know the three things above, then you're set up for success in SaaS! With that said, let's dive deeper into each of these, and explore how writing with all of them in mind makes creating good content easier.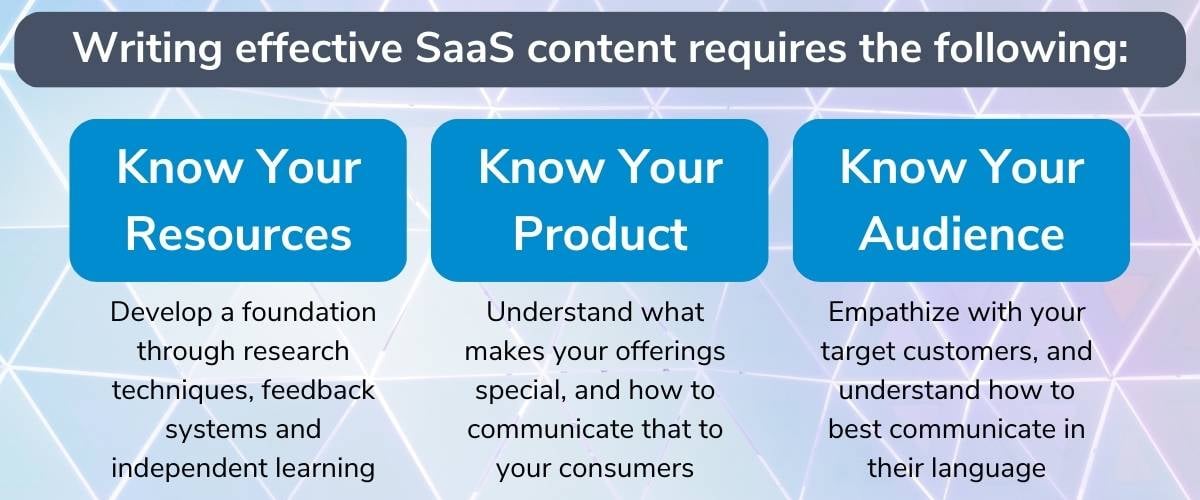 Know Your Resources
Firstly, let's make something clear: as far as we know, there's no writer on this earth that knows everything about any subject, so you shouldn't expect that of yourself. Good writers lean on research, their fellow writing staff, and professional development opportunities to stay at the top of their game. That means having reliable research methods, a consistent way to receive feedback, and even taking a SaaS content writing course to see how others approach the process.
Thankfully, the SaaS industry is very knowledge-driven, meaning many companies market by providing their customers information. So, you'll have plenty of sources to learn more about SaaS. As an example, we offer a series of courses via our DemandJump University platform, including subjects like writing, effective content strategies, and our own Pillar-Based Marketing.
Know Your Product
SaaS solutions bear a few unique traits, including being digitally-based and oftentimes specific to their audiences. For your writing, this means you not only need to understand your product well, but also understand how other people will perceive your product—including what things they may not perceive right away. You may have a great product, but if you cannot communicate what makes it great in an accessible way, you cannot market your product.
Know Your Audience
Since SaaS products often solve targeted pain points, make sure your choice of words and subject matter reflects your customer's wants and needs. Not every SaaS product will be heavily specialized, of course, but it's always beneficial to empathize with your reader. This means not just knowing what your reader is looking for, but being able to speak their industry's language in a way that communicates your knowledge, reliability, and trustworthiness. Bankers don't want to be sold a finance solution by someone who doesn't understand finance, for obvious reasons. Empathizing helps you make better content and form a better sales pitch around your product.

If you want to reach your audience, you have to, in a way, be that audience. At the very least, you need to be able to empathize with your audience. This doesn't have to be a strictly emotional process, either; DemandJump's Consumer Insights platform lets you collect search data around specific topics and keywords so you can see what your customer base is searching for online. This will almost always include key things you want to know about them, including their pain points, curiosities, and even how they see you compared to your competitors.
Take the Next Step To Making Good Content!
Whether you're a budding SaaS copywriter or a company looking to get better at marketing your product, DemandJump is here to help! Through our Pillar-Based Marketing strategy, we provide content creators and companies with the knowledge they need to not only be successful, but understand why that success is happening. Learn about optimal SEO strategies, data-driven marketing, and a whole host of other tools to craft your path to good SaaS content. Create a free account with us today, and see how well our platform works for yourself!