How Do I Become A SaaS Copywriter?
January 17, 2023 •DJ Team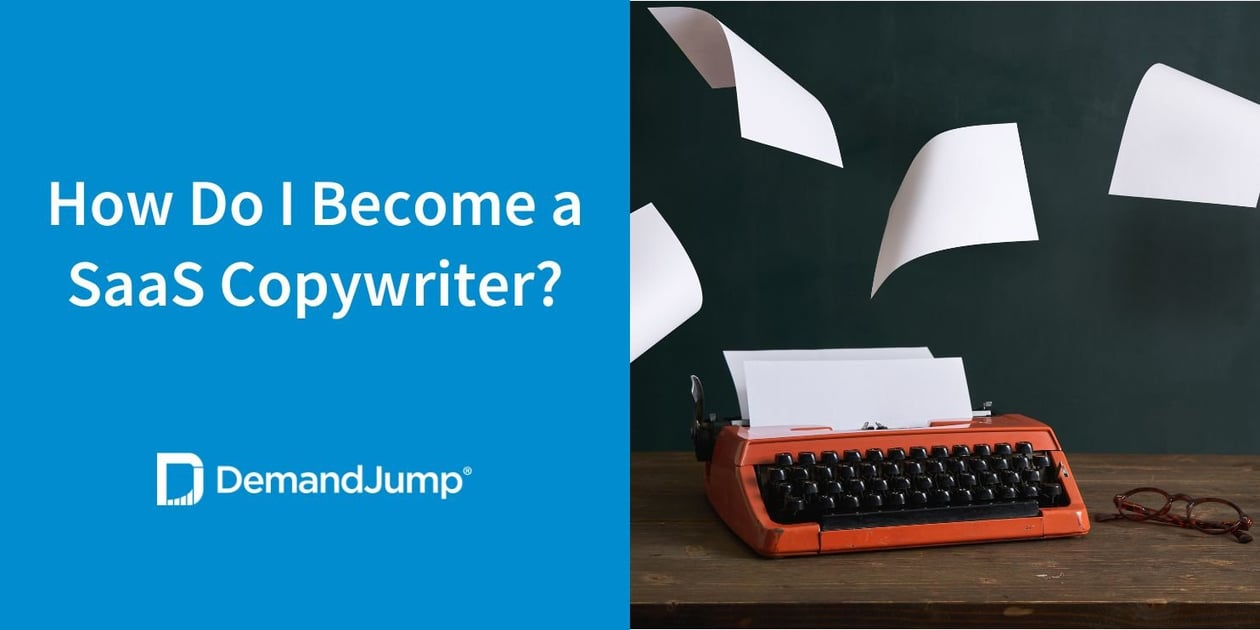 How Do I Become a SaaS Copywriter?
The very short answer is you become a Software as a Service (SaaS) writer by writing engaging pieces about a SaaS company and finding someone to pay you for doing it. If you're looking for a career in SaaS content writing, you're in the right place! This handy dandy blog's going to walk you through the basics of how to prepare for (and hopefully get) the SaaS content writer jobs you want.
What Does a SaaS Writer Do?
A SaaS writer's basic job description will usually include:
Researching the specifics of the SaaS company they are writing for, including getting background on the general industry and learning what pain points the company helps solve.
Writing specific pieces of content to advertise, educate, or increase awareness about the SaaS company. This can include blogs, social media posts, newsletters, webinar scripts, and more.
Editing their written content to make sure everything is easy to understand, factually correct, and error-free. This might seem like a tiny part of the job, but can be one of the most important pieces!
Posting content online using SEO best practices to make sure it has the biggest impact possible. This won't be part of all SaaS content writing jobs. It is often done by a manager or marketing department, especially in larger organizations.
Developing plans for future content to be written. Again, this is part of some copywriter jobs but not all.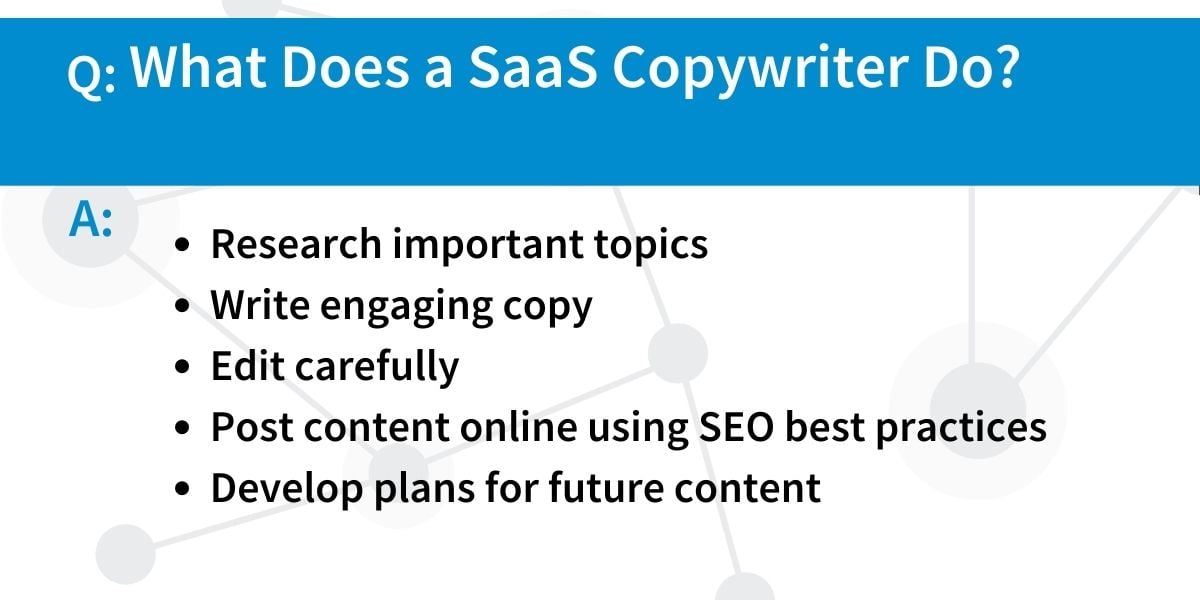 How Do I Become a SaaS Writer?
There are a few paths you can go down to start working as a SaaS writer, and a couple of different ways to work within this field. Here are some of the possible tracks:
Get specific writing qualifications, then apply for a content writing job. If you want your job to be only writing content (and not also more general sales or marketing), it will likely be for a large SaaS company or for a business that writes content for a variety of companies.
Get a more general degree in marketing or related fields, then apply for a job at a specific SaaS company that will include some SaaS writing. You may have a wider range of SaaS businesses that will be looking to hire a full time staff member if writing content is only a part of the job.
Develop a B2C or B2B copywriter portfolio and become a SaaS freelance writer. This option gives you more freedom to choose what kind of SaaS writing you want to do, but requires a lot of behind-the-scenes work to find and keep clients.
There is no hard and fast, one way to become a copywriter in the SaaS field, and these are just three possible routes you can take. Once you've decided this is a career you want to pursue, one of the most impactful things you can do is to actually start writing. Practice makes perfect (or at least makes better) and this is as true about becoming a good SaaS writer as anything else.

How to Become a B2B Copywriter
In terms of the actual writing, there isn't a huge difference between Business to Business (B2B) and Business to Consumer (B2C) copywriting. No matter what company you are writing for, considering your audience and writing pieces designed to speak to that target audience is a big part of the job.
If you plan to pursue B2B copywriter jobs, it can be useful to start a portfolio of your work as a B2B SaaS content writer. If you don't already do this type of writing, you can simply choose an existing company you're familiar with, or make up a hypothetical company, then write practice articles. Make sure to tailor your writing to other businesses as potential customers, and think about the pain points these businesses are experiencing to inform your topic choice.
How to Become a Freelance Copywriter
Freelance writing jobs can be a great option and give you more flexibility in what you write and your schedule. However, being a freelancer essentially means running your own business and will require additional skills outside of just copywriting. Offering your services on sites like Fiverr and Upwork can be a good entry point to get started on this path. Once you have built a good sized portfolio of written work in this way, you have more opportunities to secure a non-freelance job if that's your ultimate goal.
DemandJump: Helping Copywriters Write Better
No matter what kind of copywriting you do, it's always a challenge to make sure that people online actually find and read what you have to say. The internet's a noisy place, especially in the highly competitive SaaS marketing realm. That's why we created DemandJump–a tool to help you learn what words actual people are using to search for the answers your writing gives and publish them in a way so they show up on page 1 of search engine results.
Check out our guide to Pillar Based Marketing to learn more about how to create a network of related blogs that show customers and algorithms that your website is a topic authority worth listening to. Then dive right into our data-backed insight reports and content briefs for lists of the best keywords to include in each piece you write. Click the button below to try it free today!