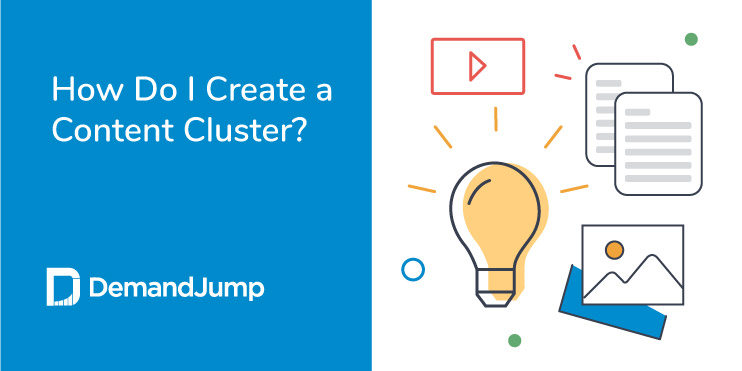 If you're a content marketer, you're probably familiar with some version of this popular statistic: that over 90% of webpages get *zero* traffic from Google. Now, even if only 10% of the content on the web truly deserves traffic, that figure is still pretty shocking, representative of a whole lot of content marketers effectively spinning their wheels.

They're creating content, but no one's seeing it—full stop.
Too often, content marketers rely on guesswork and an undeveloped understanding of search engine optimization (SEO) and ineffective SEO keyword research tools. They're basically just throwing their content on the web to see what sticks.
In this blog, we're going to introduce a better way—the topic cluster content strategy, also known as the SEO Pillar approach to content, with content cluster examples to illustrate how it works.
What Is a Topic Cluster Content Strategy?
Clustering content provides a compelling alternative to guesswork; a well-designed topic cluster content strategy is an organized approach to content creation. This strategy is based on the concept of how Google prioritizes contextual relevance when determining where to rank individual web pages within the search results.
What Are the Main Components of a Topic Cluster?
The main components of a topic cluster strategy are an in-depth pillar page and a cluster of related content exploring individual topics and questions.
A pillar page primarily serves as an informational resource, ideally around 3,000 words, demonstrating your credibility on the topic. For a pillar page to be effective, it should be intentional about including high-value keywords and questions in order to drive traffic to the site.
The topic cluster, then, is the network of related questions and topics that can serve as branches off of the main pillar page. Each of these "branches" can then be turned into a blog post, answering a specific question people are searching for.
What makes the topic cluster strategy really work, then, is a strategic hierarchy and the inter-linking of pieces. We'll delve a little deeper into this in the "How do You Create an Effective Topic Cluster and Pillar Page?" section below, but first, let's look at a quick example of what a topic cluster might look like.
Topic Clusters Example
Let's say you have a plumbing business and you're looking to improve your search traffic. We can visualize what a basic "content cluster" might look like. For the sake of this example, we'll say winter is coming, and you anticipate a lot of people (potential customers) needing to address a frozen/burst pipe.
If we type the phrase "burst pipe" in Google, that phrase stands in as our broad pillar topic. Our goal is to capture as much traffic as we can from people who need burst pipes repaired. For a rough way to come up with some initial blog topics that could make up our content cluster, then, we'll take a look at what appears within the first-page search results page. Specifically, we can look at two things:
The questions people are asking (so you can answer them)
The other related topics they're searching for (so you can be there, too)
For the burst pipe example, you can use the "People also ask" snippets and the related searches (at the very bottom of the results page) to populate an outline of topics.
Using this example, a topic cluster for "burst pipe" might look like this:
Pillar
This would be a 3,000-word article about burst pipes. While 3,000 words may sound like a lot, it's the perfect length for a deep dive into a topic. Building a topic cluster strategy not only helps you know what's being searched (and where you can rank), but also uncovers the sub-topics you can work into your pillar—and then blog about individually.
Topic Cluster
Based on Google's "People also asked" and related searches…

Based on these, we might opt to write blogs with keyword-leveraging titles like:
What are the Signs of a Burst Pipe?
How to Fix a Burst Pipe In the Bathroom
What to Do in the Case of a Burst Pipe Emergency
How to Minimize Burst Pipe Water Damage
If we wanted to go deeper, we could continue this process. Essentially, you could take any topic from the cluster, type it into Google, and then note its related questions and searches. This can be time-consuming, with the endless content on the web. For advanced insights, you'd need to repeat the process several layers deep—a major investment of time and energy. That's why tools like DemandJump exist—to leverage technology in a way that produces insights we just couldn't manually match.
How Do You Create an Effective Topic Cluster and Pillar Page?
Once you've identified your topics, then you're ready to start creating content. Here, it really pays to be strategic. A major factor in whether a pillar page topic cluster proves effective or not is a matter of how they are connected to each other (topically) and interlinked (literally).
The algorithms behind how Google ranks web pages in its search results work to prioritize quality over quantity, in a sense. What we're talking about here is "contextual relevance."
Contextual Relevance: The 30,000-Foot View
When you understand how search engines work, you can better devise a strategy for ranking within their search results. Now, this is a massive and complicated system, one it would take thousands and thousands of words to explain—and one that Google and other search engines aren't keen on pulling back the curtain on.
What you need to know about contextual relevance is this: Just making content that uses the right keywords isn't the magic bullet—establishing yourself as an authority on a (pillar) topic is. One of the main tactical pieces of the topic cluster content strategy is effective inter-linking.
Imagine a reader landing on one of our burst pipe blog examples, and someone's unsure whether they have a burst pipe or not. They Google the question and land on your page. As they're reading, they click on one or more links within your piece that leads them to another piece—ideally, from the hyper-specific blog to the longer, more wide-ranging pillar page. If you can get someone on your page, and clicking your links to see more of your pages, you've just achieved a basic, yet effective, content cluster.
As noted above, this is the 30,000-foot view, simplified for the sake of clarity.
To see an example of this in action, after you finish reading, scroll back up to the introduction. See where the words "SEO keyword research" are hyperlinked? That's anchor text, and clicking it will take you to the "SEO keyword research" pillar we've published previously.
What Is the Best Keyword Clustering Tool for Content Marketers?
When you're ready to jump into creating topic clusters and pillar pages, using the right tools can make the job much, much easier—with better results than guesswork. DemandJump's platform is built to optimize SEO results through robust keyword insights and auditing, topic clustering, content outlining, and more.
How do we do it? To vastly, vastly oversimplify the processes happening behind the curtain, our product replicates countless searches to provide a complete picture of what customers are searching for, what content your competitors are ranking with, and where you can make the most competitive gains.
Get started creating content that ranks today!
Get Your Free Pillar Strategy Report