How Do I Create a Content Strategy Framework?
August 2, 2022 •Amber Peckham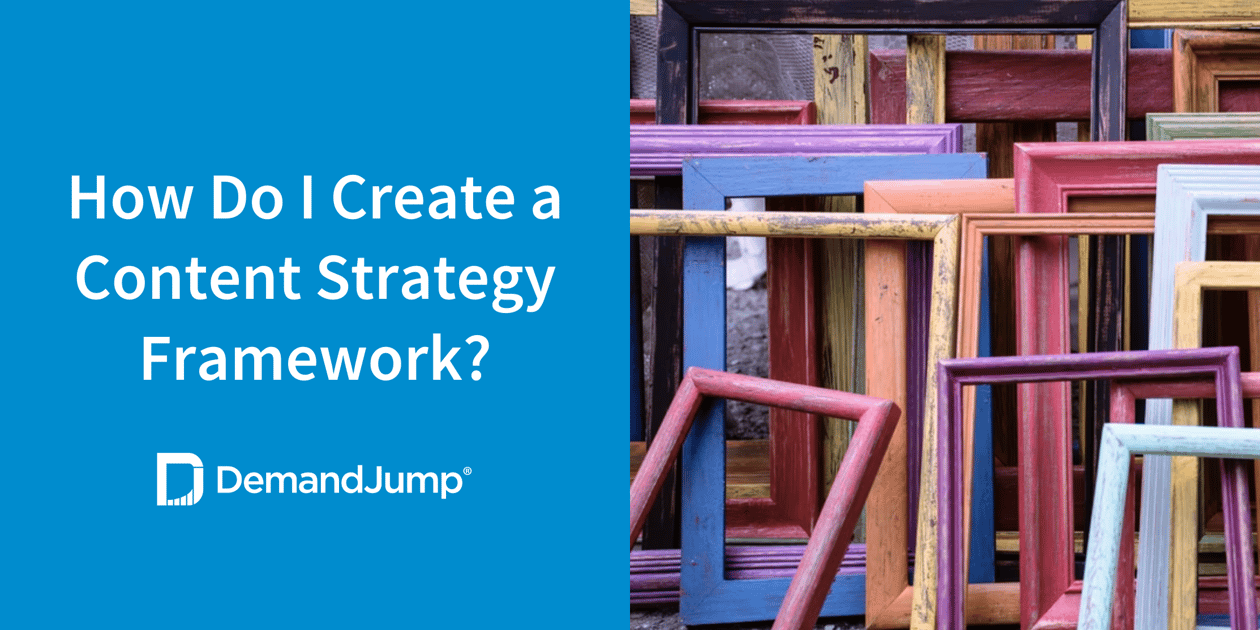 Creating a content marketing strategy framework helps marketers plan more effective campaigns faster. But downloading a content strategy template for free might not be enough to spark your inspiration. That's exactly why we wrote this blog, to walk you through:
How to develop a successful content strategy framework
How to develop content
The integral components of good content
What Is a Content Strategy?
A content strategy is the planning, development, execution, and management of marketing content. Usually, these strategies rely heavily on written content like blogs, website copy, whitepapers, newsletters and more. In addition to well-written marketing content, other forms of content can include:

Podcasts
Social media posts
Videos
There are several important components to a successful content strategy. To help make it easier to both build and execute a strategy, it's helpful to use a content strategy framework.

What Is a Content Strategy Framework?
A content strategy framework is a set of steps you follow every time you set a new goal for marketing. By following the framework, you come up with a content strategy to achieve your established goal. Different goals might be brand awareness, lead generation, and customer engagement. Each goal requires unique content and channels of communication to achieve the desired outcome. Some campaigns might rely heavily on email, while others depend on social media. At the same time, every channel can serve some purpose in support of every goal. The more useful question is whether or not it should. It ultimately depends on what your audience is searching for and which channels of digital media they prefer to find the answers.
How Do You Structure a Content Strategy Framework?
Here are the steps in a content strategy framework.
1. Goals and Audience Goals
The foundation of the content strategy is understanding the business' goals in delivering the project. Whatever this goal is, it must align with a related goal or need in your target audience. How does what you deliver help the audience member have an easier or better life? And what answers do they need to hear from you on their journey to trusting your business? Some marketers create buyer personas and conduct market research to hone in on these goals at different stages of an internal buyer's journey. We created DemandJump to deliver user behavior insights that can help inform these audience personas or even take their place in more broad-strokes marketing scenarios.
For instance, imagine you are a niche print shop and want to know more about expanding into selling temporary tattoos. Through a DemandJump Insight Report about the key topic your audience is focused on, you can learn all the related questions and keyword terms they are searching for around this topic. This gives you direct insight into your audience's learning goals.
>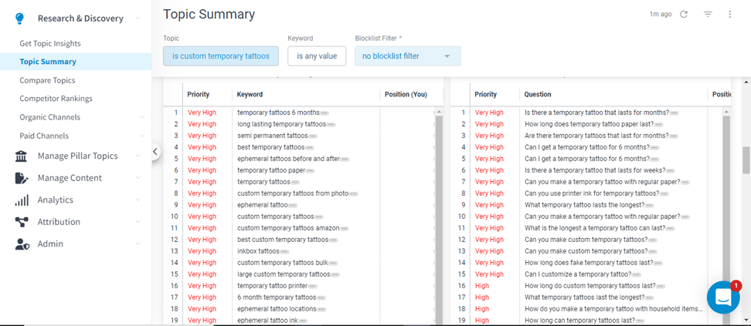 Some prime keywords like "best temporary tattoos" are pretty expected, while the high priority questions reveal audience concerns about how long temporary tattoos last (for example). You even get some insight into how people might try to make their own tattoos and in some cases, the main brands you might be up against.
2. Current Content Starting Assessment
Once you know what key outcome the content needs to achieve for the business, and more about the audience's interests and competitive search landscape, take some time to evaluate your existing content. Are there pieces you have already created on your website or other channels which answer the common questions? If so, expanding these to include more keywords and better-answer audience questions can be a great way to jumpstart a content strategy.
3. Content Process and Publication
The idea of upgrading existing content, as well as creating new content, leads to the need for a content publication plan. Who will be responsible for updating revised content on the back end once it is approved? Who will publish new content? What about sharing it on email and social media? It's honestly best to think about this part before deciding your content types and topics. This way you will have a realistic scope of the workflow and responsibilities as you brainstorm and develop each piece.
4. Content Types and Topics
Next comes deciding what content you want to create and the form it will take. Content topics are informed by the trends of the day, audience feedback, industry news, company news, showing subject authority—the list goes on. One excellent way to narrow focus and keep customer search behavior at the center of your topic decisioning is the DemandJump Pillar Strategy feature. This is available to DemandJump Premium and Pro users only.
Returning to our example of custom temporary tattoos, clicking the pillar topic node reveals the high value search terms and questions around the topic. This includes audience concern about how long custom tattoos last, what kind of ink they use, if temporary tattoos can look real, and more.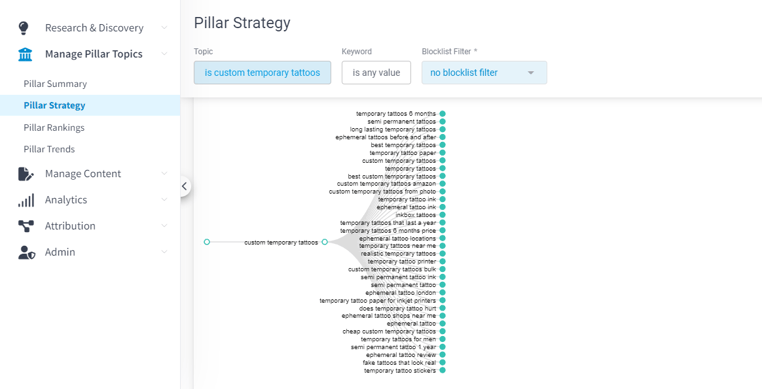 These could be titles for long-form content, inspiration for videos, or just tell you more about how your audience is trying to understand what you do.. Clicking into different high-value keywords reveals yet another layer of insights.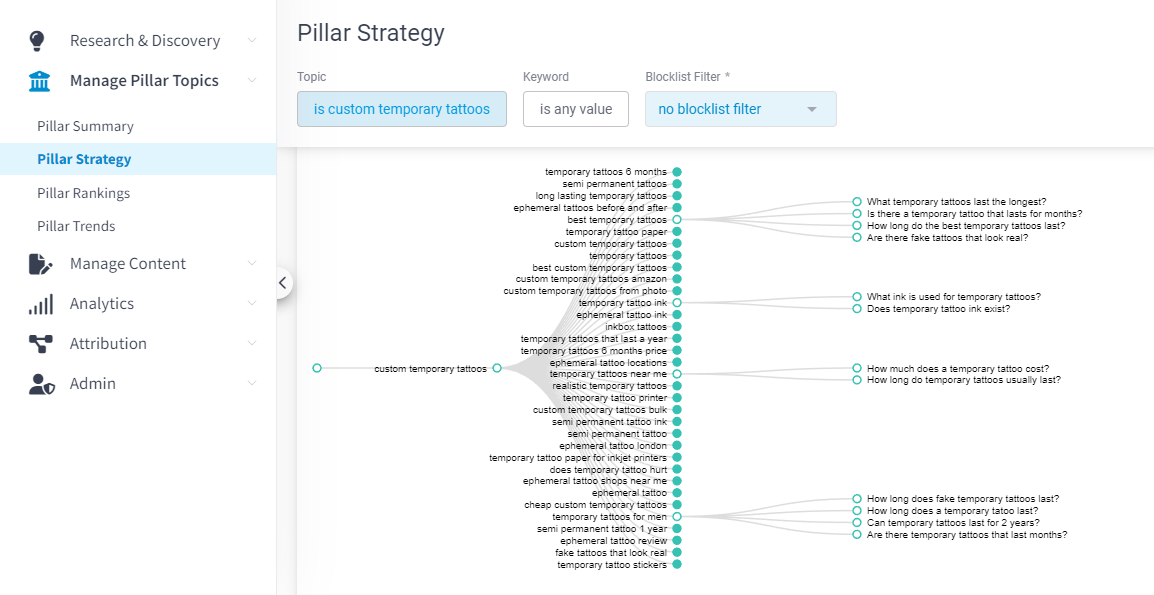 Sometimes our customers are surprised by the search terms that end up with the most potential to win organic traffic. Different paid tiers of DemandJump membership get you access to one or more pillar strategies each month. Without access to this feature, you can still use a free Insight Report like pictured in Step 1 to pick your topics and content titles with some data-backed insight.
You can even decide which keywords and questions will be included in your written content as the headlines or content sections. This allows each piece to attract organic traffic based on what users are searching for at key points in the customer journey.
5. Publication and Performance Management
Last, it's time to publish content according to the workflow decided in Step 3 of your strategy. This includes routing the content for review and approval of internal stakeholders, including any compliance authorities in some regulated industries. Once the content is published, it's important to monitor how it features in the user journey moving forward. Are some types of pieces creating better qualified leads than others? What low-performing pieces could be combined into longer content to better answer questions on the mind of your audience? All this strategic thinking and more is possible when you follow a great content strategy framework–enabled by DemandJump.
In an episode of DemandJump's podcast, Page One or Bust!, our content writers discuss their process for creating content strategy frameworks. To learn more, listen to this clip below or check out the full episode at this link.
DemandJump Helps You Pinpoint Integral Components of Good Content
DemandJump's Insight Reports and Pillar Strategies make it easy to follow a content strategy framework time after time. Our platform helps take the guesswork out of what audiences are looking for and empowers you to align your content strategy with those searches instead. By working with the SEO insights extracted from DemandJump, you'll create content that's more likely to win organic search rankings and capture the attention of target audiences. See the difference for yourself by creating a free account today!
Get Your Free Content Marketing Strategy Report