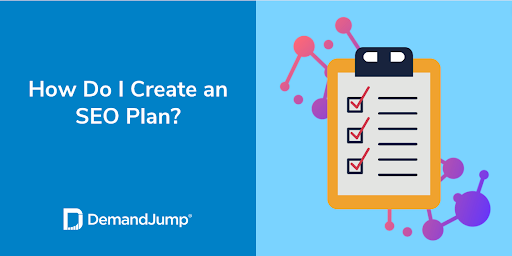 Developing an SEO plan starts with finding what your audience is interested in and ends with using that information to establish an effective SEO strategy. If you're asking "How do I write an SEO plan?" there are a few approaches you can take to be an effective content marketer. We know it's important to understand the ins and outs of SEO planning before you dive in. Finding an SEO plan template free online can be a helpful way to get started. In this blog, we'll answer these questions to help you begin:
What does an SEO plan include?
What SEO strategy should you use?
What is the best way to start an SEO strategy?
What Are the 3 Components of an SEO Plan?
Writing an effective SEO plan consists of three basic stages: determining a topic to focus on, identifying the right keywords and questions to include, and being intentional with SEO strategies. But what do those pieces of the puzzle look like? Here are three components of an SEO plan that are essential to driving results:
A topic is the general subject you choose to write about in your content marketing. You can choose broad topics like "SEO Techniques" or "Ransomware Protection," which you'll be able to break down into smaller, more manageable ideas for specific, short-form pieces of content. Finding the right topic for your content strategy will help you determine what audience you're trying to reach and how you should focus on their needs.
Finding high-value

keywords

is essential for an SEO plan to help you narrow your scope to what your target audience is actually interested in and searching for. You can find keywords using old-school techniques like sleuthing webpages from competitors and other sites discussing your selected topic. But a more efficient and effective way to find keywords is by using

DemandJump

. Our platform helps you find the top searched keywords by your target audience. No more spending hours or days searching!
By structuring your

SEO strategy

in digital marketing, you'll find your content ranks higher on Google, which means a better click-through rate and more quality conversions. The best strategy you can use is

Pillar-Based Marketing

(PBM)—developed by DemandJump! If you structure your content marketing strategy using PBM, you will see a major increase in organic traffic. We'll explain how to create a PBM strategy in the next section, but we've seen a lot of success for our customers and you will too!

How Do You Create an SEO Strategy?
To develop an effective SEO marketing strategy that drives organic traffic, we recommend using Pillar-Based Marketing. We're sure you've heard about magical cures to low traffic and leads outside of your ideal customer profile (ICP). But PBM actually works, and we can prove it. So how do you get started with PBM, and what does a successful example look like?
How Do You Make a PBM Strategy?
PBM is a framework that organizes your content marketing into Pillars, Sub-Pillars, and Supporting Blogs. But PBM goes beyond structuring your content—the approach you take also increases the value of that content for your target audience. How do you implement PBM in your own content marketing strategy? First, let's explain the pieces of content that are included in a PBM strategy:
A Pillar is the largest piece of content that approaches a broad topic from an eagle's eye view. By writing 3,000 words, your goal with a Pillar is to explain in detail the "Ultimate Guide" to your selected topic. Part of the way the Pillar gives value is through implementing ~20 high-value keywords, phrases, and questions. That means you're providing valuable content including keywords your audience is searching for. This is your chance to answer their general questions.
A Sub-Pillar is the second-largest piece of content that narrows down the broad topic of the Pillar. Sub-Pillars are 2,000 words in length and contain ~15 keywords. Sub-Pillars answer more specific and pointed questions than the Pillar, which means you can go into detail about ideas not covered in the broader piece. You'll need three Sub-Pillars connected to the Pillar.
Supporting Blogs are the most specific—and shortest—pieces of content in a PBM strategy. Each Supporting Blog should be laser-focused on answering a very specific question that your audience is asking—in detail. Supporting Blogs are 750 words and contain 7-8 keywords. You'll need three Blogs connected to each Sub-Pillar and three connected directly to the Pillar—for a total of 12.

What Is an SEO Plan Example?
Imagine a B2B SaaS company called Scriptd that developed a solution for content marketers to address how to streamline the writing processes. It would be beneficial for Scriptd to choose a Pillar topic like, "Copywriting Tools." This broad topic contains information about different tools for content marketers, whether that's software solutions or writing techniques. By writing a guide to copywriting tools, Scriptd is able to answer the general questions their audience has, while leaving room to get more specific in future pieces.
After their Pillar, Scriptd focuses on a more specific topic for the Sub-Pillar. They choose "Writing Techniques for Copywriters." This Sub-Pillar concentrates on different types of writing for copywriters and any techniques they can use to write better content.
Finally, Scriptd writes blogs that hone in on very detailed questions, like "What methods do marketers use to write engaging content?" Because this is a very specific question, Scriptd was able to focus on answering it directly.
By placing their efforts into writing killer content for this topic, Scriptd is more likely to reach their target audience of writers. This audience not only finds Scriptd as an authority on this topic, but it leads them to the website where they have the opportunity for a free trial.
How SEO Can Help With Your Digital Marketing Strategy
SEO is an important part of digital marketing, because it's how you get eyes on your content! But developing an SEO plan isn't complete without choosing the right strategy. Using DemandJump and Pillar-Based Marketing, you can find insights and keywords, and build a content pillar all in one place. You can try our platform for free and see just how powerful PBM is. You'll find higher rankings and more organic traffic to your website in no time!
DemandJump's podcast, Page One or Bust!, discusses in great detail this methodology called Pillar-Based Marketing and how it is shifting the way people think about how to target their ideal customers where they are in their search journey. Check out the below clip from a previous episode, or listen to the full episode at this link.
Get Your Free Pillar Strategy Preview!